Sound On: The Best Music of April 2019
This month, Lizzo makes crying seem extremely sexy and chill.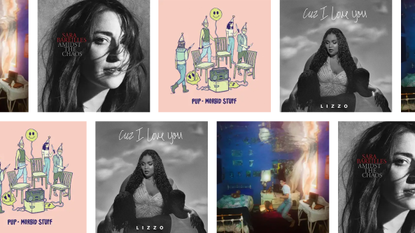 (Image credit: Courtesy)
Sara Bareilles, Amidst the ChaosWeyes Blood, Titanic RisingPUP, Morbid StuffLizzo, Cuz I Love You
MARINA, Love + Fear
Welcome to Sound On, where we'll highlight the albums and songs that you should know about each month—from the hits that landed to the tracks you might have missed. We'll even tell you which moods each album evokes, so you know just when to turn them on to maximize their effects. Happy listening.

April showers bring May flowers, which means we have Lizzo's numerous new tracks about crying to thank for how great next month's Sound On is going to be. Not that April was shabby. Several anticipated albums finally got their release dates—from long-awaited follow-ups to surprising comebacks. Below, five of the best from the month that was:

Sara Bareilles, Amidst the Chaos
Who:
The singer-songwriter and piano whiz behind mid-aughts earworm "Love Song" and the music and lyrics of the delightful Broadway show Waitress (yeah, Bareilles has been nominated for two Tonys) is back with a new album after six long years. Because she's a human, those six years were as weird for her as they were for you and now she's gonna sing about 'em.
What:
Bareilles' sixth album is full of singer-songwritery jams with poignant underpinnings. Single "Armor" nods to the #MeToo movement, while piano ballad "A Safe Place to Land" (which features Chrissy Teigen's husband, John Legend) is about the family separation crisis happening at the U.S.-Mexico border. Even so, if you didn't know that or don't want to think about it because you just want to escape politics for, like, two seconds, this a collection of very nice songs.
Best Time to Listen:
When you're driving in the car with your mom and want to play something you'll both agree on; in the background at a bookstore.
Weyes Blood, Titanic Rising
Who:
Weyes Blood, a.k.a. Natalie Mering, is kind of an indie darling who's known for ethereal, '70s-evoking songwriting and literary and cultural allusions. (Weyes Blood itself being a play on the Flannery O'Connor novel Wise Blood.)
What:
On her fourth full-length, Weyes Blood is giving me some very real Tapestry vibes and I'm not mad about it. It might be a little trippier than ol' Carole ever got—"Andromeda" is an ode to the actual galaxy—but this is a meditative, expansive album that you'll want to sink into and then keep on repeat. I like the that "Movies" mostly sounds like it was made in a cathedral, then surprises you with these unexpected instrumental flourishes at every turn.
Oh, also I actually got the reference of this album title! It's from the podcast Homecoming! Here's the backstory. I love getting a reference, this high will stay with me all day.
Best Time to Listen:
Driving down the highway at sunset; lying in bed slightly stoned and thinking about the universe.
PUP, Morbid Stuff
Who:
A Canadian four-piece with cult status, thanks to two (now three) albums of ragey but melodic, two-minute punk scorchers.
What:
The songs on Morbid Stuff average around three and a half minutes, and the angst is turned up much higher than their second record, 2016's The Dream Is Over. It feels like they're winking at the moody punk lyrics they're singing, like there's more than meets the eye here. The album is as surprisingly hooky as ever, like the chorus on "See You at Your Funeral" or on the single "Free At Last." Try it, you'll like it.
Best Time to Listen:
When you want to fantasize about breaking all the stuff in your bedroom with a baseball bat (maybe don't actually do this, but whatever you're into); when you need to don a serious "city face" so no one talks to you on a crowded subway
Lizzo, Cuz I Love You
Who:
Lizzo! The queen who don't need no crown makes her triumphant Atlantic Records debut after years of dropping infectious one-offs bops.
What:
I hesitate to say too much because I am worried the internet and the artist will both be mad at me, but I like this album! Lizzo really explores her vocal range in its entirety with the soulful but good-natured title track and "Jerome," in which she unleashes some hilarious snarky insults to a trifling dude. "Soulmate" is a self-love pump-up jam, while "Tempo" features Missy Elliott and is a sexy, clever ode to body acceptance. Also, I don't know if you saw this but it features Missy Elliott—why are you still reading? Just go listen to it!!
Best Time to Listen:
When you're trying to get excited for a party you're reluctant to attend (this can't just be me, right?); when you need a little reminder of how good you look right now.
MARINA, Love + Fear
Who:
Welsh songwriter/bandleader/producer Marina Diamandis (maybe you knew her way back when she was Marina and the Diamonds last album?) has a devoted following and a raucous live show. After spending four years without releasing new music, she's finally back with the double album Love + Fear.
What:
Sixteen meditative, swayable songs with minimalist production and trance-y beats ripe for the remixing. There aren't any straight-up MARINA anthems (a la my beloved "I Am Not a Robot") that I've found yet—correct me if I'm wrong—but I've listened to this album all the way through multiple times while working and felt motivated, happy, productive. My mind does return to the lullaby-ish "To Be Human," mainly because she names some really interesting countries and cities in it. Side note: This album sort of reminds me of the U.K. girl groups I loved when I was a tween.
Best Time to Listen:
At work; while a tween.
For more stories like this, including celebrity news, beauty and fashion advice, savvy political commentary, and fascinating features, sign up for the Marie Claire newsletter.
RELATED STORY
Cady Drell is a writer, editor, researcher and pet enthusiast from Brooklyn.