Nnedi Okorafor's barrier-breaking African superheroines are coming to HBO.
Nigerian American novelist and comic book author Nnedi Okorafor is working on a 'Black Panther' spin-off, and adaptation of her book 'Who Fears Death' with 'Game of Thrones' creator George R. R. Martin for HBO, and has a new memoir 'Broken Places & Outer Spaces' out this month.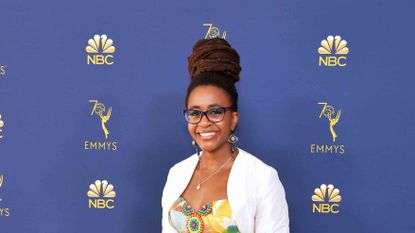 (Image credit: Neilson Barnard)
Marie Claire Newsletter
Celebrity news, beauty, fashion advice, and fascinating features, delivered straight to your inbox!
Thank you for signing up to Marie Claire. You will receive a verification email shortly.
There was a problem. Please refresh the page and try again.
The next big thing in the world of superheroes? Powerful African women. Strong female characters like Wonder Woman and Daenerys Targaryan have been flying high in recent years; now African superheroines are set to take the globe by storm, thanks to a host of high-profile projects authored by Nigerian-American sci-fi writer Nnedi Okorafor, whose memoir Broken Places & Outer Spaces is out this month.
Okorafor, 45, is writing installments of a hugely popular Black Panther spin-off about Shuri, princess of Wakanda and brilliant scientist, as she becomes ruler in her brother's absence. And her 2010 novel, Who Fears Death, which follows a young woman with magical powers in post-apocalyptic Sudan, is being made into an HBO series coproduced by Okorafor and Game of Thrones creator George R.R. Martin, among others.
Okorafor, whose award-winning work includes six novels and numerous comics, draws on ancient African culture, politics, and myths for her work, as well as the modern-day experiences of women. "I create black female characters who are strong and complex," she says, speaking from her home in Chicago's southern suburbs. "And they have to win."
In January, the Black Panther movie made history by becoming the first Marvel film to win an Outstanding Performance by a Cast award from the Screen Actors Guild (that ceremony's equivalent to Best Picture), as well as a Best Picture Oscar nomination. Its success highlighted the huge global demand for diversity in the mainly white world of superheroes. Okorafor's African female characters are transforming the genre even more by focusing on real life issues. In 2017, she created Ngozi, an ordinary teenage girl who develops superpowers when she is suddenly faced with terrible adversity. The comic story, published by Marvel, was inspired by the 270 or so schoolgirls who were abducted in Nigeria's Chibok region in 2014 by Islamist militants Boko Haram. "I wanted to draw parallels with the Chibok girls to show that young African women can overcome problems with determination and strength," Okorafor says.
In Who Fears Death, the book on which the forthcoming HBO series is based, lead character Onyesonwu uses her powers of shapeshifting and sorcery to battle evils endemic in African conflict zones such as genocide, rape as a weapon of war, and female genital mutilation. "Onyesonwu is an unapologetic, fully-rounded character—she is loyal and loving, but also brash and impulsive," Okorafor says. "She's a real person with flaws and virtues that women can relate to, who has extraordinary abilities to affect change as she moves through the world."
Deeply motivated by her Nigerian roots, Okorafor says her powerful female characters emerge naturally. "My imagination is fired by stories of strong African women that I have absorbed all my life," she says, "as well as my own background." In her new memoir she describes how she grew up in Chicago's heavily white southern suburbs in the 1980s, where she faced open racism and hostility on a daily basis. "I fought back every time, even if it was dangerous or crazy to do so," she says. "Definitely some of that fighting spirit has gone into my characters."
It's gratifying, Okorafor adds, to see women in her home country, and around the world, feel empowered by the characters she creates. "Whenever I go back to Nigeria, I see a spark, an exciting energy, in women who haven't experienced these kind of female role models before," she says. With her work about to hit the global small screen, the appetite for African superheroines is set to explode even further. "I'm a feminist, a fighter, a disruptor," says the author. "But that's nothing compared to my female characters."
A version of this story originally appeared in the June 2019 issue of Marie Claire.
RELATED STORY
Celebrity news, beauty, fashion advice, and fascinating features, delivered straight to your inbox!