All Hail Carrie Fisher's Marie, the Real Star of When Harry Met Sally…
As the flick turns 30, let's reflect on her perfection as a rom-com BFF.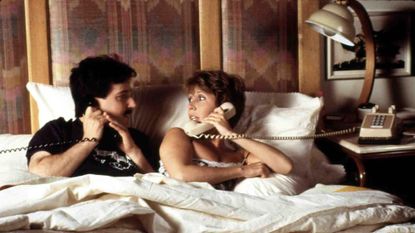 (Image credit: Alamy)
Marie Claire Newsletter
Celebrity news, beauty, fashion advice, and fascinating features, delivered straight to your inbox!
Thank you for signing up to Marie Claire. You will receive a verification email shortly.
There was a problem. Please refresh the page and try again.
It's not easy being the best friend in a romantic comedy. You're usually relegated to one-liners and reaction shots. You're often a flat stereotype of a black woman, a white gay man, or a brunette. Your story arc (if it exists at all outside of the scenes you share with the protagonists) is thin and easily wrapped up by making out impulsively with the nearest available person. Then the camera swings away to the couple the audience has been told to care about, and it's like you were never there.

Exceptions to this disappointing rule are rare and precious. And one of them is When Harry Met Sally…'s Marie, played by the late, great Carrie Fisher.
It's been 30 years since the world first watched Billy Crystal spit grapes at an open window and witnessed Meg Ryan pounding the table at Katz's Delicatessen. Or, Sally would say, this classic rom-com is going to be FORTY…eventually.

Like all rom-coms, WHMS is a love story. Unlike most rom-coms, it's one in which at least one of the heroine's friends gets to be a whole person, and their friendship feels real and lived in—a friendship that's not all about the protagonist.
When we meet Marie, she's telling her friends Sally and Alice (Lisa Jane Persky) about what she found in her boyfriend's pockets: a receipt for the dining room table he just bought with his wife. She worries aloud that he's never going to leave his wife for her, and Alice replies, "So what else is new? You've known this for two years."
And then, Marie utters the words that she'll say over and over throughout the movie, until she finally starts to believe them: "You're right, you're right, I know you're right."
Marie keeps having this realization—that she's never going to be more than a side piece—and conveying it to her friends like it's new information. They keep looking her in the eye and saying, essentially, "no shit, Sherlock." Not with judgment or unkindness, just with unflinching honesty. No "maybe he'll come around," or "maybe you're special." Because they're her friends, they tell her the truth, even when she only pretends to hear it.
Marie, who eventually finds love—or at least marriage—with Harry's best friend, Jess (Bruno Kirby), makes some less than great choices in her love life. But it's not for lack of trying. She is determined to set herself, and all her friends, up with as many men as it takes to find the right one. She has a literal Rolodex of men, and she carries it around in her handbag so she's always ready to cure the dreadful and debilitating illness that is Being Single At 31. She's like Florence Nightingale crossed with a first edition copy of Susan Faludi's Backlash.
We never meet Marie's cheating, lying, dining-table-buying boyfriend, but we do get to see her hit it off with Jess the first time they meet, when Sally is trying to set her up with Harry.
The audience knows that Sally and Harry are only staging the set up so they can avoid their own sexual tension, and you get the sense that Marie knows it, too. She is spectacularly unattracted to Harry, but there she is at the restaurant going through the motions of a blind date, making polite, boring conversation in an effort to support Sally.
It doesn't work because Marie isn't a prop, she's a person. And that person is attracted to Jess (Jess, as far as I can tell, is mostly attracted to the experience of someone quoting his own writing back to him, because this movie was written by a very honest former journalist).
In one of the movie's best-written scenes, Sally calls Marie for advice the morning after she's slept with Harry. At that same moment, Harry calls Jess for help himself. Jess and Marie sit in bed next to each other trying to advise their respective best friends without giving the game away ("It's Jane Fonda on the VCR," Jess tells Harry. "It's Bryant Gumbel," Marie assures Sally).
In that moment, Jess and Marie are the protagonists, and their blissful sleepy just-moved-in-together morning has been interrupted by their neurotic, wacky sidekicks. Marie gives Sally sensible, supportive, and sex-positive advice, while kind of ushering her off the phone, because sleep is great and Sally's going to be fine.

"Tell me I'll never have to be out there again," Marie sighs to Jess, after they've both hung up and settled back into bed. "You will never have to be out there again," he says, putting his arm around her. They kiss. A happy ending that's not an afterthought right before the credits roll, but the real—slightly rushed—deal.
Marie is what all the best best friends are: equal parts screwball and straight man. The kind of friend you can call the morning after bad sex, who will be ready with a rolodex of new options when you need it, who will tell you when there's someone staring at you in Personal Growth and slip away, like a well-practiced wing-woman, so you can talk to him.
WHMS is a love story, of course, and an answer to the question of whether men and women can be "just friends" without "the sex thing getting in the way." But it's also an ode to girlfriends, the ones who tell us the hard truths and never give up on us. Marie might have been written three decades ago, but she's still one of the best best friends the genre has to offer. I'm right, I'm right, you know I'm right.
For more stories like this, including celebrity news, beauty and fashion advice, savvy political commentary, and fascinating features, sign up for the Marie Claire newsletter.
Celebrity news, beauty, fashion advice, and fascinating features, delivered straight to your inbox!
Chloe Angyal is a journalist who lives in Iowa; she is the former Deputy Opinion Editor at HuffPost and a former Senior Editor at Feministing. She has written about politics and popular culture for The New York Times, The Washington Post, The Atlantic, The Guardian, New York magazine, Reuters, and The New Republic. Angyal has a Ph.D. in Arts and Media from the University of New South Wales.