Reactions to That Luke P. Moment on 'The Bachelorette' Are Apocalyptic
"There is no GIF that can capture Luke's abominable behavior tonight."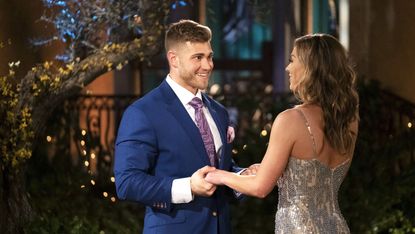 (Image credit: Getty Images)
Finally, the moment ABC has teased in previews for a full month happened: On the Fantasy Suite episode of Hannah Brown's season of The Bachelorette, season villain and living beacon of toxic masculinity Luke P. shamed Hannah for having sex. During the dinner prior to what would have been their Fantasy Suite date—an overnight date that, thankfully, did not happen—Luke P. announced that if Hannah had had sex with one of the other contestants, he would think less of her.
"If you told me you were having sex, or you had sex with one or multiple of these guys, I'd be wanting to go home," Luke said. "One hundred percent." He added that he wouldn't want his wife to have had sex prior to their marriage.
In the single most empowering, indignant moment of an entire season of Hannah being empowering and indignant, Hannah lost it. "There are so many things I don't want in a husband that you've shown," she said. Apparently speechless, she muttered: "It's like...oh, my gosh. That's a big...ew. That's what that is."
Collecting herself, Hannah told Luke: "You haven't shown me respect here. Especially right now. Honestly, you haven't shown yourself respect here...I've been praying for clarity, and I think I've finally gotten clarity. I do not want you to be my husband."
"I have had sex, And Jesus still loves me," she added. "From obviously how you feel, me f***ing in a windmill, you probably want to leave. And my husband would never say what you said to me."
Upon showing him out with some more choice words, Hannah said directly to the camera: "I didn't just go to the Fantasy Suite. I f***ed in a windmill. And guess what? We did it a second time." She looked proud, but not as proud as I am of her right now.
In that moment, Hannah became a national hero, or at least a hero to most of Twitter, which went nuts over Luke P.'s toxic and sexist comments. Don't get me wrong, Luke P. was no hero to Bachelor Nation–he's the most widely despised villain, to me, since Juan Pablo; Chad, at least, you felt deeply sorry for by the time he flounced out of Bachelor in Paradise—but this is next-level disgusting. This is the kind of awful that suggests Luke P., like Juan Pablo before him, will be exorcised from Bachelor Nation, never to appear on Paradise or from the lips of Chris Harrison after this season.
Everyone Applauded Hannah's Reaction
Even Former Contestants Were Appalled
This Episode Was Kind of...Empowering?
A Gentle Reminder
There Were Memes
People Were So Mad
And Hannah Responded on Twitter
Celebrity news, beauty, fashion advice, and fascinating features, delivered straight to your inbox!