On Set with 'Outlander': Go Behind the Scenes of the Show's Sexiest Season Yet
MarieClaire.com travels to Scotland, and we're taking you with us.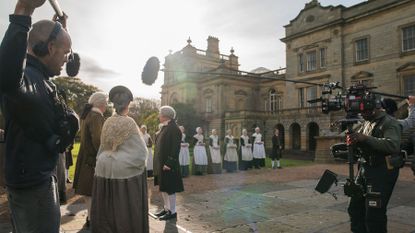 (Image credit: © 2016 Starz Entertainment, LLC)
Back in October, I traveled to Scotland to visit the set of Outlander—Starz's feminist drama about a time-traveling nurse who falls for an 18th century Highlander. But you already knew that, right? Chances are you've been suffering from #droughtlander for quite some time, and in anticipation of the show's third season being right around the corner (September 10, to be exact), we're taking you on set with us—starting with this extremely nerdy-but-I'm-not-ashamed-of-it Boomerang of me going through the iconic stones. Which, fun fact, reside on a sound stage when they're not in use:
HAIR, MAKEUP, AND COSTUME
First of all, the Outlander costume department is huge. We're talking multiple massive rooms full of gowns, and shoes as far as the eye can see, huge. In fact, costume designer Terry Dresbach's team recently started a digital inventory system called "Mother" to make finding everything easier. "We have so many clothes that we are now bar coding," Dresbach said during my visit. "Our entire world is on a computerized system."
The third season is the most challenging yet, as Outlander navigates both 18th century Scotland as well as 1960s Boston. "We are playing in two completely different worlds and it makes for a sort of schizophrenic process for our department as we bounce back and forth between the two," Dresbach says. But don't expect stereotypical bell bottoms or even Mad Men-esque couture, because Outlander is doing things differently: "This is Boston. This is conservative. This is real people. We are striving to reflect that as opposed to a very heightened fashion version of things."
Of course, that doesn't mean the costume team is taking shortcuts. Outlander's set is resplendent with designers painstakingly quilting and smocking material. Outfits are hand-dyed and aged to look well-worn ("It gets painted, it gets sprayed, it gets torched. We do everything."). Even the jewelry is custom-crafted.
Other fun costume facts? Claire's primary 18th century outfit had 12 multiples; it took two weeks to find the perfect 1960s knit for one of her dresses; and oh yeah—I got to take a look at the silicone scars that cover Jamie's back. They're so fragile that his shirtless/backless scenes have to be filmed before anything else.
TWO TRUTHS AND A LIE: 'OUTLANDER' SEASON 3
Fans of the Outlander book series loosely know what happens in Season 3, but you should definitely expect a lot of twists, turns, and surprises. So naturally—when confronted with Caitriona Balfe, Sam Heughan, and Tobias Menzies on set— I asked them play "Two Truths and a Lie" about their characters' upcoming drama. Pssst: we're completely baffled by which one of Caitriona's responses is a lie.
THE SET
When it comes to authenticity and attention to detail, Outlander is *extremely* legit. In other words, the production value is very high, and a lot of care is taken to teeny, tiny things on set that you've probably never given a second thought. One example of this? The food used in Outlander is real—not to mention of-the-era. I snacked on the below delightful plate of tablet (which came straight from a scene with Jamie) while waiting for my interviews:
But what's most impressive is that because Outlander's upcoming season will take place in Boston, the team had to create an entirely new set. And fun fact number 1,000? That set used to be Claire and Jamie's home in Paris, and it's completely elevated thanks to the original Paris set having a courtyard at the lower level.
Part of a believable set is believable props, and Outlander has a giant store of everything you could possibly imagine—from rubber swords, to an entire wall of shields, to fake dead people used to "build piles of dead bodies for battles." (BTW, I can say with complete certainty that randomly walking past fake dead people is the scariest thing ever.) The prop team even built era-appropriate radiators for the scenes in Boston, *and* created a working printing press for the famous Print Shop—which is the same set that was used for the apothecary.
Oh, and speaking of rubber swords, remember when Jon Snow's went wobbly on Game of Thrones and became a viral sensation? Yeah that doesn't happen on Outlander. "We're very very specific about things like that," Producer Matthew B. Roberts told us. "And I did hear about [Jon Snow's sword]. Not that there's a rivalry between us...but I don't see Jamie's sword being rubbery!"
In other news, here is me holding a prop gun, because yep, they have those too:
THE 'OUTLANDER' CAST PLAY "WOULD YOU RATHER: FEMINIST EDITION"
Because celebrities playing "Would You Rather" is great and feminism is even greater, we combined the two and asked Sam and Caitriona to take part. Watch to find out 1) Whether they'd rather close the gender pay gap or make Donald Trump stop talking, 2) Whether they'd want to watch Broad City or Girls on a loop forever, and 3) Whether they'd rather take body positive selfies with Kim Kardashian or be part of Emma Watson's feminist book club. And cute spoiler alert: they have the same answer to 2/3 of these questions.
Watch Outlander when it premieres September 10 on Starz, and check back here for more interviews and exclusives.
Follow Marie Claire on Facebook for the latest celeb news, beauty tips, fascinating reads, livestream video, and more.
Celebrity news, beauty, fashion advice, and fascinating features, delivered straight to your inbox!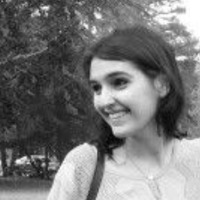 Mehera Bonner is a celebrity and entertainment news writer who enjoys Bravo and Antiques Roadshow with equal enthusiasm. She was previously entertainment editor at Marie Claire and has covered pop culture for over a decade.