'Honey Boy' Director Alma Har'el Is Changing the Equation for Female Filmmakers
Alma Har'el, director of the breakout film Honey Boy, is telling complex stories on-screen and changing the narrative for women and minorities behind the camera.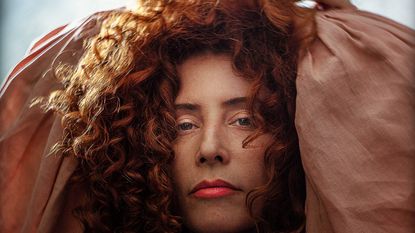 (Image credit: Joseph Rubinstein)
Marie Claire newsletter
Celebrity news, beauty, fashion advice, and fascinating features, delivered straight to your inbox!
Thank you for signing up to . You will receive a verification email shortly.
There was a problem. Please refresh the page and try again.
Alma Har'el calls herself a "directress" in her Twitter bio, but she didn't label herself as such until seeing male peers disproportionately climb the ranks. "That injustice made me declare myself a woman filmmaker," says Har'el, who, after directing music videos for six years, bought a $600 dollar camera from Best Buy and shot a documentary entitled Bombay Beach. The film won her Best Documentary Feature at the 2011 Tribeca Film Festival and the attention of Shia LaBeouf, who later sent Har'el a semi-autobiographical movie script from rehab. The work is realized in their emotional new drama, Honey Boy (Amazon Studios), out November 8, which explores the complex the relationship of a child actor and his alcoholic manager father. Below, the groundbreaking filmmaker talks her creative process, discrimination in the industry, and how she's moving the needle forward.
Marie Claire: The script of Honey Boy is deeply personal to Shia's experiences. You had worked together before, and he trusted you to bring his story to life. What was that process like?
Alma Har'el: There's nothing I write that I wont show Shia and nothing he writes that he doesn't send me. He's somebody that's on the same path as me, searching for our truth and searching to tell stories that are not often told. In this case, he was very conscious with his own story. He was in court-ordered to rehab, so he was literally court-ordered to write his memories, and he wrote them in the form of a script. It's a film that speaks to so many people with daddy issues around the world. He's someone I connect with, both emotionally and artistically. He's my art brother.
I grew up with an incredible family that was full of both love and pain. My father was and still is an alcoholic, and really his relationship and his addiction very much defined a lot of the dynamics in our family. It definitely was the reason that when I got the script, I felt that I just had to drop everything else and make it.
MC: Honey Boy illustrates the toxic masculinity passed from father to son. Have you found that you're expected to direct female-focused films?
AH: We are often trained to think that having a woman director would mostly benefit female characters. Before shooting, I was asked: Why would [you] make a film with male characters? It was really important for me because often in our society, men see themselves mostly through the eyes of other men. Not to mention, alpha male types. It perpetuates the same expectations of masculinity. In the same way that we talk about how women can be objectified, men can be objectified and women can be emasculated. I've had many experiences that left me feeling emasculated, not objectified. It's really important for me to explore those areas too.
MC: Why types of experiences?
AH: There have been incidents in my life where I've had a very strong, powerful vision and people have objected to it. When I started directing TV commercials, my main takeaway was that [women] don't even fucking get in the room. There were people who believed that the best talent was male talent, because women's reels were not strong enough. The reason that women's reel were not strong enough is that they weren't getting the opportunity to make those reel stronger.
MC: How does Free the Work, your talent discovery nonprofit platform, change the equation?
AH: Free the Bid [Har'el's first nonprofit, which she founded in 2016 when directing commercials] brought incredible results to the advertising world, taking brands like HP from no women directors on campaigns to 59 percent in a year and a half. Free the Work (opens in new tab)will bring the same tools to TV and film, as well as expand our mission to creators who are trans identifying, nonbinary, people of color, and all voices who are underrepresented.
MC: And dispel tokenism.
AH: Of course. There are organizations that are forward-facing to the press and audiences. Then when you go into meetings it's still 15 white men sitting around the table, making all the decisions. It's really a matter of providing opportunity and showing people what they're missing out on. Because the work that we have coming from younger generations and women that are already working in the field are just so exceptional and sometimes, it's really a matter of discovering the right talent at the right time in order to bring change. That's what we're here for.
MC: You came to the U.S. from Israel when you were 29. What roadblocks did you face as an immigrant?
AH: There are people out there, usually in the critical circle, that are trying to elevate and speak about work. But then, by the structures of power, you get dismissed and you go unnoticed. People act like they're doing you a favor when they give you work, so they always give you projects with no budgets that nobody else would take. It's equivalent to any immigrant treated the way immigrants are in this country: Assuming that they're here to do the work nobody else wants to do.
Then when they do that work, we don't celebrate them often and we don't reward them in the same way that we reward people that are not immigrants. I experienced that same thing in the world of film and television and it was very discouraging. If that's happening to me and I'm white passing, you can imagine what happens to other people that come in this country with dark skin.
MC: What do you credit as your breakthrough moment?
AH: To be honest, it's never one moment. It's 10 years in the making. Now, I want to make sure that women don't need to work 10 years when they're already ready to go. They don't need to be on some excel sheet about diversity efforts. I want women to be recognized for their talent across the board, all year long.
For more stories like this, including celebrity news, beauty and fashion advice, savvy political commentary, and fascinating features, sign up for the Marie Claire newsletter.
subscribe here (opens in new tab)
RELATED STORY
Megan DiTrolio is the editor of features and special projects at Marie Claire, where she oversees all career coverage and writes and edits stories on women's issues, politics, cultural trends, and more. In addition to editing feature stories, she programs Marie Claire's annual Power Trip conference and Marie Claire's Getting Down To Business Instagram Live franchise.