'The Fountains of Silence' Will Make You Fall in Love With Historical Fiction
"A historical fiction author has to carry a heavy weight when fictionalizing based on true events and Sepetys absolutely delivers."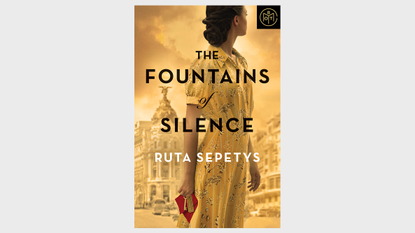 (Image credit: Design by Morgan McMullen)
Marie Claire newsletter
Celebrity news, beauty, fashion advice, and fascinating features, delivered straight to your inbox!
Thank you for signing up to . You will receive a verification email shortly.
There was a problem. Please refresh the page and try again.
Historical fiction sometime has the reputation of feeling a bit school-y, but bestselling author Ruta Sepetys is dispelling that myth. Her latest, The (opens in new tab)Fountains of Silence (opens in new tab), takes readers on a journey through 1950s Spain under the dictatorship of General Francisco Franco from the perspective of an 18-year-old tourist named Daniel. When he meets Ana, a young maid, she shows him the daunting reality of life under Franco and the secrets hidden behind the country's beauty.
#ReadWithMC agreed that while they learned so much from Sepetys' seven years of research she incorporated throughout her novel, they still felt immersed in a story filled with friendship, family, and romance. Here, readers explain exactly what they enjoyed about the novel, and why we should all ditch the stigma behind historical fiction.
"I loved this book! It was so well-written. I got caught up in the love story and the secrecy and intrigue of the lost babies. Ruta Sepetys does an excellent job of bringing obscure history to life!" —@michelliebean

"In need of some weekend reading? Allow me to recommend The Fountains of Silence by Ruta Sepetys, a captivating look at post-WWII Spain. It's @marieclairemag's #ReadWithMC pick this month, AND (!) we partnered with @bookofthemonth, so new members can get it for a discount. I wrote my full review for their website. Read it here. (opens in new tab)" —@danismcnally
"After finishing The Fountains of Silence, I definitely want to try more Ruta Sepetys books! The Fountains of Silence was such an immersive read. The powerful and insightful writing transported me back to 1950s Spain with all its beauty and postwar horror.
I definitely learned a lot from reading this book. I'm studying history and learning about Hitler and Mussolini, but I don't know why Franco's Spain isn't part of the curriculum? It's such an interesting topic about an equally dark and terrifying period of time in history I would love to learn more about.
What throughly brought the story to life was the genuine characters with their unique voices that were easy to distinguish from one another despite their many POVs. There is Daniel who is an American visiting Spain, Ana and her family who are struggling under Franco's oppressive rule. Every one of them were such memorable characters. Daniel's kindness and how he wanted to help expose the cruelty of Franco's regime, how Ana and her family worked so hard to support their family, protecting each other. Fuga, Miguel, Nick, and Ben. They were all such great characters I don't think I'll forget for a long time. That open ending really frustrated me though. I need more!" —@teacupbooks_
"Loved the October #ReadWithMC pick, which was also my @bookofthemonth pick! Four stars for this historical romance that was set in post Civil War Spain, a time period I wasn't all that familiar with. I really enjoyed the way Sepetys weaved stories of what it was really like for people who had gone through the Civil War vs. what Franco wanted the world to think was happening. This book had matadors, adoptions, nuns, rich Americans, and lots of secrets! So much going on—I can totally see this as a movie! I really appreciated that even though it may be considered YA, it most importantly made historical fiction a bit more accessible to a wider range of readers. I may have shed some tears at the end of this story. Looking forward to reading more by Ruta Sepetys!" —@readtotheend
"At first I could not find the words to express my rating process. Alas, the author's note at the end supplied me with the keyword: Ruta Sepetys is a "crossover" author, meaning her books are picked up by both teen and adult readers. An adult reader of historical fiction might view this book at a slightly different angle than a predominantly YA reader. As a fan of both, I must admit that I went in expecting an adult novel and felt that it was falling short. Then I researched this book a bit and, combined with Sepetys' note near the end, my whole viewpoint changed. That is why I believe placing The Fountains of Silence in children's fiction was more than a strategic move for publishing and marketing purposes; it was the author's way to infuse the new generation with knowledge and curiosity because they are the fresh blood, whereby lies the hope of a brighter future with them as protagonists and catalysts.
What you've most probably heard about Ruta Sepetys is true; she creates well-researched projects that inspire you to learn more about the story, the place, the people, the history. She helpfully provides the reader with so many sources of information, making individual research more accessible whilst offering a plethora of reference points and historical sources. A historical fiction author has to carry a heavy weight when fictionalizing based on true events and Sepetys absolutely delivers. On a more subjective note, the fact that the events take place in Madrid brought back such amazing memories from my trip there.
The intrigue of the plot itself comes from following different characters with different backgrounds and seemingly separate sub-stories that end up becoming a part of a bigger jigsaw. It was so engrossing witnessing how all the pieces came together." —@bookellenic
"This book was absolutely amazing, and I expected nothing less from Ruta Sepetys as all of the books I have read of hers have been exceptional. The research that she puts into her historical fiction novels is so accurate and the novels are so real. FOS is no exception. This is a story that takes place right after the Spanish Civil War, which I literally know nothing about. I didn't need to either because so much background was provided throughout the novel. The four main characters are all young adults in Spain living completely different lives and they all meet and end up connected in different ways. Daniel, Ana, Rafa, and Puri all have problems and deal with them in different ways. It is sad but also hopeful. I absolutely loved this book! Highly recommend it! Worth every second! Looking forward to her next novel!" —@jennifers1028
"'What similarities could he possibly see between them? Daniel can travel anywhere in the world. He is an heir to an oil dynasty, lives a life of privilege, and enjoys every freedom imaginable. He can vote in an election, pray to any God of his choosing, and speak his personal feelings aloud in public.'
While I've read a few books in recent years set in Spain post-Civil War, there are details in this story I haven't seen anywhere else. And those details are heartbreaking. The 'war after war' portrayed in this book is excellent storytelling, made more poignant by the photos included in the back." —@erica.covey
"I cannot even begin to describe how much I loved this book. Ruta Sepetys has outdone herself...because this book is a masterpiece. I was hooked from the very beginning, and it was so easy to form a connection with all of the characters. I loved how there wasn't a typical romance between the characters as well. She did an excellent job of describing the characters' lives and hardships. I'm also a sucker for historical fiction. ALSO, I was so excited to see that one of the characters shares my name: Lali. I never see that in books so that was really cool! I would definitely recommend The Fountains of Silence; it's a five out of five stars from me!" —@lali.the.legilimens
Missed out on our October pick? Starting November 1, we'll be reading New York Times bestselling author Jojo Moyes' The Giver of Stars. Learn more about the book (opens in new tab) and read an exclusive interview with the author here (opens in new tab).
For more stories like this, including celebrity news, beauty and fashion advice, savvy political commentary, and fascinating features, sign up for the Marie Claire newsletter.
SUBSCRIBE HERE (opens in new tab)
RELATED STORIES
Rachel Epstein is an editor at Marie Claire, where she writes and edits culture, politics, and lifestyle stories ranging from op-eds to profiles to ambitious packages. She also manages the site's virtual book club, #ReadWithMC. Offline, she's likely watching a Heat game, finding a new coffee shop, or analyzing your cousin's birth chart—in no particular order.