Snoh Aalegra Talks Fashion, Love Songs, and Being Unstoppable
With her new album, -Ugh, Those Feels Again, the Swedish-Iranian songstress proves she's ready to take over the charts.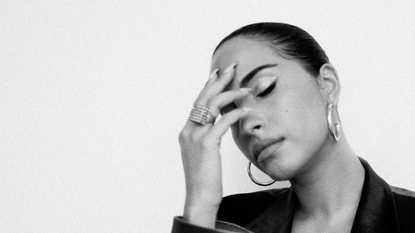 (Image credit: Danielle Quebrado Jimenez )
If you're not already listening to Snoh Aalegra, put in your AirPods and get to it, pronto. The Swedish-Iranian singer has a knack for smoothly mixing elements of pop, soul, and alternative R&B to create a musical aesthetic that's uniquely her own. After gaining notoriety in Europe, Aalegra (birth name: Shahrzad Fooladi) quickly established herself in the U.S. For her 2017 debut album, FEELS, she collaborated with the likes of Logic and Vince Staples. The Guardian called her "one to watch," and Drake sampled her song "Time" in his track "Do Not Disturb." In August, Aalegra dropped her heartbreaking second album, -Ugh, Those Feels Again, and, man, are we feeling it.
"I just have this otherworldly love for music," Aalegra, 32, told Marie Claire backstage following a performance in New York City. "I can't even really explain it with words. It's like a force that's taken over me. There is nothing else I've wanted to do." Here, Aalegra opens up about finding her place among a growing audience, ambition, and writing love songs.

Marie Claire: What led you to be a musician?
Snoh Aalegra: I've always wanted to make music, ever since I was a kid. I fell in love with it early. I was super inspired by Whitney Houston, Michael Jackson, and a bunch of artists that I grew up listening to. I really had a strong connection to music and I've focused on it ever since.
MC: You seem to have a nuanced take on love songs. Some, like "Fool for You," really idealize relationships, while others, like "Nothing to Me," are more cautious or skeptical. What's your approach to writing and singing about love?
SA: It's interesting that you describe my music as love songs, because I don't always think of it that way. My music is literally my real and personal life. It's just what I've been through, what I've experienced, in all the different nuances. I'm telling my story, and I try to tell all sides of it. It's really just my truth, which is maybe why you think it's honest.
I'm just trying to tell stories in the most vivid way possible. Everything I write and sing about, I've experienced.
[pullquote align='center']Honestly, I'm singing for myself. I think of writing songs as writing in my diary. [/pullquote]
MC: Your music feels vulnerable. What was it like to build your image as a musician, and stay true to yourself as your audience grows bigger?
SA: I would say I've definitely grown into where I am today. When you've worked hard for something, you appreciate it more. You stay grounded and you don't take it for granted. I always want to grow and be better. I'm also very close to my family, so I'm connected to my roots in a way and that helps me stay consistent.
MC: Do you have an audience in mind when you're writing songs?
SA: Honestly, I'm singing for myself. I think of writing songs as writing in my diary. I want to be that personal and honest when I'm writing lyrics.
MC: One of your opening acts on this tour is Baby Rose, an on-the-rise singer. Are you close with any other female musicians in the industry?
SA: I heard about Baby Rose and I just thought she was so dope. I'm a fan of her music and I'm proud to have her on the set. My other opener, Giveon, was also amazing. I just like to support other musicians as much as possible; it feels genuine to me. Eryn Allen Kane supports me a lot, and a bunch of other dope singers like Yebba Smith, Ari Lennox, and H.E.R. Some are supportive in public and some in private; I appreciate both.

MC: What sort of music do you listen to?
SA: I'm a music lover, or maybe even a music junkie. I take a lot of inspiration from different sounds and eras. Right now I'm listening to Party Next Door's new single with Drake—I listen to that on repeat. I listen to Frank Ocean almost every day. And then the oldies.
MC: You have such a distinct sense of style. Who are your fashion icons and how do you get inspiration for your looks?
SA: I'm Iranian and I'm Swedish, and I feel like I show both sides of me [at different times]. I love less-is-more and simplicity in terms of Swedish design, so off-stage I'm probably in a hoodie and sneakers. But on-stage it's usually the opposite. My fashion inspiration has always been Micheal Jackson, Janet [Jackson], Stevie [Wonder]—that's why I'm always glittering on stage. I'm trying to do my own version of that. I've always been into extravagant stage attires. I want to give my audiences something visually stimulating.
MC: How did you find your place in the industry?
SA: I've been shut down many times by people who say I won't get far. I've learned you have to have patience and faith in yourself. Patience is the hardest thing, but for me I felt like I really didn't have a choice. I have really big faith, and I won't take no for an answer when it comes to music. I went through some fire, but I think at this point, nothing can really stop me.
For more stories like this, including celebrity news, beauty and fashion advice, savvy political commentary, and fascinating features, sign up for the Marie Claire newsletter.
RELATED STORY
The Best Love Songs of 2019 to Cry to Then Post a Thirst Trap Afterwards
Celebrity news, beauty, fashion advice, and fascinating features, delivered straight to your inbox!