Book Club: The Likeness
The group debates whether a detective investigating a brutal murder is in over her head in Tana French's page-turner of a murder mystery, The Likeness.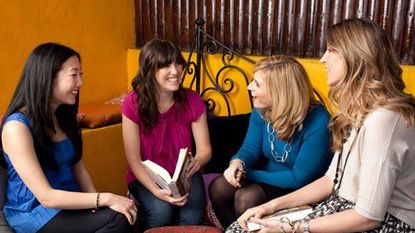 (Image credit: Mackenzie Stroh)
This month, the group debates whether a detective investigating a brutal murder is in over her head in Tana French's page-turner of a murder mystery, The Likeness. Worth the 466 pages? Read on . . .
THE PLOT: Off-campus housing goes modern gothic in Tana French's latest murder mystery: Dublin Detective Cassie Maddox is investigating the death of Lexie Madison, who happens to look exactly like her. So Cassie—after ostensibly staring at her own dead face—goes undercover as Lexie, to the house in rural Ireland where the victim lived with four grad students. There, Cassie resists getting sucked into their quirky, communal world (they share everything), as she tries to solve the mystery in this nail-biting sequel to French's Edgar Award—winning In the Woods.
LEA (FEATURES EDITOR): I loved this book. It was a bit like Agatha Christie, except French is a much better writer—it was moody and scenic without being overwrought or schmaltzy. I loved the idea of them all living in this beat-up house that smelled of "old wood and tea leaves and a faint whiff of lavender," and how the light "lay along the scarred floorboards."
YING (BEAUTY & HEALTH DIRECTOR): It was sort of cultlike in the way that the only friends they had were one another--there was no family, they were all sleeping together. I mean, how could anyone new ever find a place in their clique?
PAULA (MARKET EDITOR): But Lexie did. What made her such an interesting character was her ability to transform into a person who could fit in anywhere--even with Daniel, Abby, Justin, and Rafe, who were all but shut off from the outside world. She knew exactly what this group was missing, and she became it.
YAEL (ASSOCIATE EDITOR): I did think it was odd how easily Cassie slipped into Lexie's life. I know she was Lexie's doppelgänger, but how could she assume all of Lexie's quirks and mannerisms and live that way without anyone noticing?
PAULA: Well, they're two sides of one coin. Lexie's the escape artist, and Cassie's too afraid to leave. And she admired that in Lexie. She says: "Lexie had run. When exile somehow hit her out of a clear blue sky, she didn't fight the way I did . . . She had had the sense and the guts to let go of her ruined old self and walk away."
LEA: But Lexie was ruthless—the way she disappeared on her fiancé in North Carolina? I don't want to say she deserved to die, but she kind of had it coming . . .
YING: And Cassie definitely got too emotionally involved in the case.
YAEL: Well, she's an orphan, a little unstable, and she's plopped into this situation with four people who become the family she never had. I could get into that lifestyle. Not forever, but for two months—you're with your friends, you cook dinner every night, drink wine, play house . . .
YING: And nobody had serious jobs, so they didn't have any real responsibilities.
LEA: I loved the scene when they drop everything and get drunk on that punch. It was almost hallucinogenic. Who gets drunk and sees colors and feels transcendent and euphoric? Drunk has never been like that for me. I wish it were.

SHOULD YOU BUY IT?
YING: YES
YAEL: YES
LEA: YES
PAULA: YES
NEXT MONTH: I'm So Happy for You by Lucinda Rosenfeld
(Back Bay Books)
» To read our full conversation, get more book reviews, and to add your thoughts, visit Marie Claire's Book Club.