The 13 Best TV Shows on Hulu Right Now
Time to beg for your best friend's aunt's neighbor's Hulu password.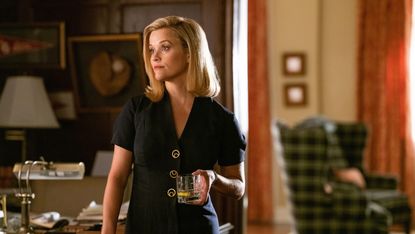 (Image credit: Hulu)
When Hulu first launched, it was simply the place to go to catch up on all your cable TV needs. Since then, however, it has turned into a veritable heavyweight in the so-called streaming wars. It's responsible for hit original shows like The Handmaid's Tale and Little Fires Everywhere, earned an Oscar nod in 2019 for the documentary Minding the Gap, and is now the exclusive home of countless binge-worthy favorites. And, yes, it still remains the place to go for cable-cutters looking for a way to keep up with Saturday Night Live or The Masked Singer.
Somehow, despite that already very impressive list, that's not all: In the next few months alone, Hulu will debut the much-hyped screen adaptation of Sally Rooney's Normal People (you know, that book with the blue and green cover you couldn't escape on Instagram for most of 2019?), as well as The Great, which will star Elle Fanning in a kooky, satirical retelling of Catherine the Great's rise to power.
In short, Hulu is loaded with gems, some hidden and some aggressively marketed on its landing pages–but for good reason, as you'll learn approximately five minutes into High Fidelity. Here are the best TV series Hulu has to offer watchers of all tastes, from empowering originals like Shrill and PEN15 to high-octane dramas like Killing Eve and Veronica Mars to cult comedy favorites 30 Rock and Letterkenny.
High Fidelity
Starring: Zoë Kravitz, Kingsley Ben-Adir, David H. Holmes, Da'Vine Joy Randolph, Jake Lacy
This updated and gender-swapped remake of the John Cusack classic is exactly what the 2000 rom-com needed. Zoë Kravitz plays the sulky, idiosyncratic, kinda pretentious Rob, who spends the show's first season over-analyzing her "top five biggest heartbreaks" to figure out what, exactly, is wrong with her. It's hilarious and heartbreaking and, as an added bonus, it's backed by a killer soundtrack.
The Handmaid's Tale
Starring: Elisabeth Moss, Joseph Fiennes, Yvonne Strahovski, Alexis Bledel, Ann Dowd, Samira Wiley
If you've been hiding under a rock for the past few years and want to catch up on both pop culture and the state of American society in one fell swoop, this show's got you covered (kidding...sort of). This one can get a little too real for extended binge-watching, but in small doses, it's a dark, impeccably cast drama about women breaking free of the limited roles thrust upon them by the patriarchy. Just remember to take plenty of breaks before you start noticing too many similarities between Gilead and the real world.
Killing Eve
Starring: Jodie Comer, Sandra Oh, Fiona Shaw, Darren Boyd, Owen McDonnell, Kirby Howell-Baptiste
A thriller-comedy about a psychopathic, high-fashion, globe-trotting female assassin who becomes obsessed with the MI6 agent hunting her down doesn't sound like it would work, but it does; just ask the Emmys, the BAFTAs, the Golden Globes, the Peabodys, and pretty much anybody else with a pulse. Come for Villanelle's drool-worthy closet (minus the Crocs she was forced to don in season two), stay for the disturbing moment when you start rooting for the assassin and the government official to run away together and live happily ever after.
Letterkenny
Starring: Jared Keeso, Nathan Dales, Michelle Mylett, K. Trevor Wilson
This quirky sitcom about small-town Canadian life has become something of a cult favorite in recent years. It may not be for everyone, and Letterkenny's particularly crude brand of humor may take a couple of episodes to settle into, but if you're looking for an oddball comedy to fill the Schitt's Creek-sized hole in your heart, this might be your best bet.
Veronica Mars
Starring: Kristen Bell, Enrico Colantoni, Percy Daggs III, Jason Dohring, Francis Capra, Ryan Hansen
A 16-year-old decides to pick up where her former police chief father left off in investigating the unsolved murder of her best friend. What could go wrong? Start from the very beginning to watch a baby Kristen Bell go full Nancy Drew in a host of increasingly high-stakes whodunits (and increasingly embarrassing mid-aughts fashion). It'll only take a few episodes for you to be sucked into the fandom that not only crowdfunded the Veronica Mars movie in 2014 but was also passionate enough to get Hulu to bring the show back for a reboot last year. Marshmallows unite!
Shrill
Starring: Aidy Bryant, Lolly Adefope, Luka Jones, John Cameron Mitchell, Ian Owens
Based on Lindy West's memoir by the same name, this show is a heartwarming and laugh-out-loud funny story of a woman finding that her confidence and worth come from within, not from the people around her. More Aidy Bryant, more Shrill, and more shows about women coming into their own power, please.
30 Rock
Starring: Tina Fey, Alec Baldwin, Jane Krakowski, Tracy Morgan, Jack McBrayer, Scott Adsit, Judah Friedlander
You can tell a lot about a person by their favorite of the golden trio of NBC workplace comedies: The Office, Parks and Rec and 30 Rock. This bizarro show about a group of truly lovable weirdos may be the most overlooked of the three, but that doesn't make it any less hilarious, endlessly quotable or, yes, weird (in the best way possible).
PEN15
Starring: Maya Erskine, Anna Konkle
I think we can all agree that middle school was the worst time of our lives. This show, in which two 30-year-olds play semi-fictionalized versions of their 13-year-old selves among actual 13-year-olds, captures all the awkwardness and earnestness of early adolescence. You'll laugh, you'll cry, you'll cringe so hard your body physically hurts.
Younger
Starring: Sutton Foster, Hilary Duff, Nico Tortorella, Peter Hermann, Debi Mazar, Miriam Shor
Sure, a Lizzie McGuire reboot about 30-year-old Lizzie's life was in the works over at Disney+, but real Younger fans know that we've basically been watching grown-up Lizzie, here named Kelsey, played by Hilary Duff, take over the N.Y.C. publishing scene for the past six seasons in this TV Land series. Her glamorous-yet-relatable storyline is just one of many that makes Younger feel like a never-ending rom-com, complete with love triangles, quirky sidekicks and a wacky scheme in which a 40-year-old pretends she's 26 for an improbably long time.
Little Fires Everywhere
Starring: Reese Witherspoon, Kerry Washington, Joshua Jackson, Rosemarie DeWitt, Lexi Underwood
Reese Witherspoon has an eerily spot-on knack for taking all the books you see people reading on public transportation and turning them into hit shows and movies. And, folks, she's done it again. If you somehow missed all the Little Fires Everywhere hype when it came out in 2017, catch up on that first, then settle into this miniseries that stars Witherspoon and Kerry Washington as the matriarchs of two families whose lives become dramatically intertwined.
The Act
Starring: Patricia Arquette, Joey King, AnnaSophia Robb, Chloë Sevigny, Calum Worthy
You might remember this story that swirled around the internet a few years back about a young woman who teamed up with a man she met online to kill her mother; the mother had been keeping her daughter ill and is now believed to have had Münchausen syndrome by proxy. Patricia Arquette and Joey King play the mother and daughter, Dee Dee and Gypsy Blanchard, respectively, to creepy perfection in this true crime series so intense and terrifying you won't be able to tear your eyes away.
Ramy
Starring: Ramy Youssef, Mohammed Amer, Hiam Abbass, Dave Merheje, Amr Waked, May Calamawy
So many shows and movies are still playing into Islamaphobic beliefs and stereotypes, but not Ramy. This series about a Muslim 20-something trying to figure out how to balance his family's expectations with his upbringing as an American millennial is a refreshing and nuanced look at the universal struggle of honoring your roots and culture while forging your own path forward.
Broad City
Starring: Ilana Glazer, Abbi Jacobson
Don't cry because it's over, laugh until your face hurt because of all of Abbi and Ilana's shenanigans. Seriously, just try and find another show that not only gets female friendship so exactly right, but also shows those friends getting trapped in a hole in Central Park, befriending an unhinged Kelly Ripa and starting a woman-centric version of WeWork on a trash-laden street corner. You never will, but thanks to the magic of streaming, we never actually have to say goodbye to Broad City.
---
For more stories like this, including celebrity news, beauty and fashion advice, savvy political commentary, and fascinating features, sign up for the Marie Claire newsletter.
Related Stories
Andrea Park is a Chicago-based writer and reporter with a near-encyclopedic knowledge of the extended Kardashian-Jenner kingdom, early 2000s rom-coms and celebrity book club selections. She graduated from the Columbia School of Journalism in 2017 and has also written for W, Brides, Glamour, Women's Health, People and more.