How 'Little Fires Everywhere' Became a Time Capsule of the '90s
The Hulu show's production team spill on creating a 1990s period piece.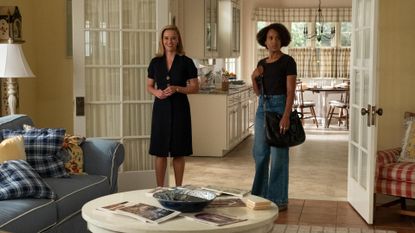 (Image credit: Hulu)
Marie Claire Newsletter
Celebrity news, beauty, fashion advice, and fascinating features, delivered straight to your inbox!
Thank you for signing up to Marie Claire. You will receive a verification email shortly.
There was a problem. Please refresh the page and try again.
Annie Lennox's "Little Bird" bops in the background. Petite Reebok-clad feet, complete with scrunched white socks and ankle weights, tap down a ginormous carpeted hallway. I know I'm in a familiar place.
Hulu's Little Fires Everywhere—an adaption of Celeste Ng's New York Times bestselling novel by the same name—is about two clashing mothers, Elena Richardson (Reese Witherspoon) and Mia Warren (Kerry Washington), from two clashing worlds, battling it out in suburban heaven. But as much as the show is an intimate and dramatic look at motherhood, gender roles, racism, and privilege, it also doubles as a time capsule of the 1990s.
The eight episode mini-series expertly transports millennial viewers, like myself, to our childhood bedrooms where we flipped through Tiger Beat and Sassy, with their pages dominated by Got Milk? ads and *NSYNC posters. The show gives us a chance to relish in a time when pagers, car phones, mom jeans, vests, the Counting Crows, and chokers reigned supreme.
"My pitch deck included an entire 'Teens in the '90s' section with pop culture and fashion references," the show's lead director Lynn Shelton tells Marie Claire. To craft the nostalgic cocoon, the creative team dove headfirst into Friends, Dawson's Creek, 90210, Boy Meets World, and ER and referenced magazines like Allure, Teen, and Rolling Stone. Hair designer José Zamora had throwback photos of Witherspoon and teen icon Joshua Jackson (who play picture-perfect husband-and-wife in the show) on hand. Jennifer Aniston's "The Rachel" haircut was used as a cultural touchstone.

Whether you grew up on the East or West Coast, in the South or Shaker Heights, Ohio—like the characters in this show—the '90s were an aesthetically stand-out decade. (Good or bad, that's up to you to decide.) Marie Claire chatted with Shelton, as well as the show's creator and writer Liz Tigelaar and key crew members, to find out how they jumped back in time to recreate the decade through fashion and design.
Marie Claire: What did the 1990s mean to you?
Liz Tigelaar, creator and writer: It's my decade, man! I graduated high school in 1994 and college in 1998—the decade was my entire coming of age. I remember each year of the '90s so specifically. Before the show started, I threw a "1994" party because I could be that specific to how '94 was very different than '93 or '95. It feels like 20 years wasn't that long ago, but look at a Dodge Caravan with wood paneling on the side and it feels like a lifetime [ago].
Jessica Kender, production designer: I graduated from college in 1997, which meant this time period holds a very special place in my heart. Memories of bodysuits, SnackWell's [cookies], and butterfly hair clips came to mind [when I] read the book.
MC: How did you create the world the Richardsons and Warrens lived in?
JK: The characters are so well written that they already tell you who they are. My goal was to find the visual reference that backed up what I saw in my mind's eye. For Elena, I knew that I wanted to find what was the Nineties' equivalent of the "all-white house." She is all about control of her story and her home; someone who wants to be able to have every surface clean and right. The Nineties' equivalent to that "white" is beige, and we built from there.
MC: Tell us about the picture-perfect house the Richardsons inhabit.
JK: I used a lot of old Ralph Lauren and Ethan Allen for the first floor of Elena's house to get that "East Coast money vibe." If you look closely at the living room, the curtain fabric has been reversed to create pillows on the sofa; in the dining room, the fabric runner down the table matches the chair cushions and the drapes—a very '90s idea that also expresses Elena's control over her space. Laura Ashley and Calico Corners were the inspiration for the second floor, where things were softer. [So we matched] the wallpaper to the bedspread to the drapes.
MC: And Mia's home is quite different. What influenced you there?
JK: Mia is much more transient. I wanted to be able to create a space that felt both put-together with found pieces and organically cohesive. She brings the outside world in and is not afraid to mix styles. She has pieces pulled from all decades, the idea being that she heads to a thrift shop and is able to pull together a living space that shouldn't work but does. My decorator, Lisa Clark, and I referenced a lot of the way we decorated our spaces back in college, where you made a home from what you could find.
Because the '90s is not a beloved decade in the world of design, the usual places we would go for furniture did not have the same stock. And there aren't collectors out there restoring stuff, the same way you see furniture from the 1950s through '70s getting cared for. We turned a lot to eBay and Craigslist to find people who were just trying to sell their old furniture. We could take these pieces and repair and reupholster them. A lot of the fabrics were from discontinued lines where Lisa had found the very last bit of a roll. [It] meant we had to be very specific in how we used every single yard.
MC: What about the character's hairstyles?
José Zamora, Hair Designer: I asked if we could go authentic '90s. I've been on projects where the powers that be wouldn't let us get authentic with the period, [but they did here]. So, we really went for it. I dug out the old beauty schoolbooks and started practicing on mannequin heads; twists, Bjork knots, braids, butterfly clips on the girls; curtain haircuts, sideburns, spiked hair, and lots of gel for the boys. This was set in Shaker Heights—these people had money. I'm positive they were influenced by MTV and Teen Vogue. Mia and Elena both had personal hairstylists. But I know they wanted it natural for Mia, and for Elena, she never left the house without a proper blowout.

MC: Like their homes, Elena and Mia are polar opposites when it comes to clothing. What were your visions there?
Lyn Paolo, Costume Designer: Because this time period is so recent, it's going to resonate with many who watch the series. I felt it was important to be nuanced in my approach to each character's look. The outfits are a mixture of custom-made pieces, found items sourced from vintage stores and rental houses, and brands like DKNY, Brooks Brothers, Gap, Dooney and Bourke, Coach, Sperry, and Steve Madden loaned us pieces from their archives.

Elena is the pinnacle of mid-western fashion from the period. She's "Ralph Lauren Americana:" argyle twin sets, shirt-waisted dresses, and pearls. [By contrast], Mia is more "thrift store:" t-shirts with iconography from the time [represent] her travels across the country—concerts that happened in different cities she's lived in. Her Birkenstocks suggest her time in San Francisco. I love that Mia repeats so many of her outfits, you feel that she has one small bag of clothing in contrast to Elena who does not repeat outfits. Also, each character has their own color story. Mia in her dark tones, grey, black, and darker tones of denim. Elena, in her red, white, and blue. Each of the teens in the story also has their own color palette. And as each character evolves, their color choices change, like when Pearl [Mia's daughter, played by Lexi Underwood] starts to echo the Richardson family.
MC: Though this story is steeped in the '90s, do you see any connections with the present?
LT: I think it's really interesting how the '90s relates to the present. In the '90s, as Celeste said in the book, we thought we had it all figured out. We thought we were post-racial, 1992 was the year of the woman, high schools were all about unity. But of course now, in 2020, with hindsight, we can see how truly far we still had to go. Then in other ways, when we look at how we are violating a women's right to choose and how we are treating illegal immigrants, we can see how much we have regressed. It's a good time to be drawing those parallels and looking at who we were as a culture versus who we are now.
---
For more stories like this, including celebrity news, beauty and fashion advice, savvy political commentary, and fascinating features, sign up for the Marie Claire newsletter.
Related Stories
Celebrity news, beauty, fashion advice, and fascinating features, delivered straight to your inbox!
Valentina Valentini (yes, that's her real name) is a freelance journalist writing about movies, TV, travel, food and humans (herself included) for Vanity Fair, Los Angeles Times, Variety, New York Magazine and more