Hilary Duff Just Revealed the 'Lizzie McGuire' Reboot "Isn't Going to Happen"
Disney won't air a Lizzie McGuire reboot starring Hilary Duff on its new streaming platform, Disney+. Here's everything we know about it.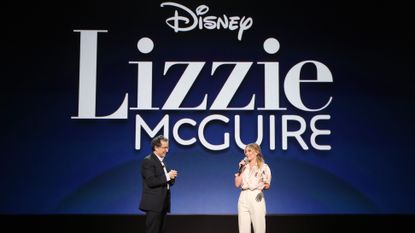 (Image credit: Jesse Grant)
Marie Claire Newsletter
Celebrity news, beauty, fashion advice, and fascinating features, delivered straight to your inbox!
Thank you for signing up to Marie Claire. You will receive a verification email shortly.
There was a problem. Please refresh the page and try again.
Update, 12/16: The final nail has gone into the coffin that is 2020, for the long-awaited Lizzie McGuire reboot is officially a no-go. Our queen Hillary Duff announced the sad news on Instagram in a post to fans, writing that despite efforts made by everyone involved, they just couldn't make it work.
"I've been so honored to have the character of Lizzie in my life. She has made such a lasting impact on many, including myself. To see the fans' loyalty and love for her, to this day, means so much to me," Duff wrote. "I know the efforts and conversations have been everywhere trying to make a reboot work, but sadly & despite everyone's best efforts, it isn't going to happen."
Duff continued writing that she wanted any reboot of the famed Disney character to be "honest" and "authentic."
The actress signed off, saying, "We can all take a moment to mourn the amazing woman she would have been and the adventures we would have taken with her. I'm very sad, but I promise everyone tried their best, and the stars just didn't align. Hey now, this is what the 2020s made of."
Original post: Get ready to jump around on giant bouncy balls and draw Mickey Mouse ears with your inner preteen because the long-rumored Lizzie McGuire reboot, starring Hilary Duff and the rest of the original cast, is happening. Here's everything we know about the latest early-aughts classic to get a modern-day revisit.
Hilary Duff is officially asking Disney to move the reboot to Hulu.
After hinting that production on the Lizzie reboot stalled because the version in the works may have been deemed "not family-friendly" enough for Disney+, Duff took to Instagram to explicitly ask Disney to move the series to Hulu, where it wouldn't be stuck under "the ceiling of a PG rating."
In a screenshot posted to Instagram, Duff wrote:
We have more details about why it stalled.
Both Hilary Duff and Terri Minsky, the original showrunner of the series, which was fired in January, have spoken out about the reboot's current (halted) status on Disney+. Initially, Duff made a cryptic comment on her own Instagram on Tuesday: The image was a screenshot of an article, "Love, Simon TV Show Pulled From Disney+ as It's Not 'Family-Friendly.'" The subhead reads: "The production about a gay teen will now be airing on Hulu under a new title." Duff captions the photo with, "Sounds familiar..." It's not explicit, but fans took it as a pretty clear reference to her own rebooted show—and, perhaps, a hint at where it may end up eventually.
Minsky talked to Variety and said, "I am so proud of the two episodes we did." She added,
Variety's sources also provided a little detail into the creative differences. Apparently, Disney+ originally signed off on Minsky's idea to have the series be about an adult Duff (more on that below), then pivoted to ask that it be made more family-friendly, like the original. And Duff is reportedly not happy that Minsky's been fired.
Here's Duff's sneaky Instagram story:
The plot thickens...
Why did production stop?
Don't start putting up all your Lizzie memorabilia yet! The show is coming, but it may look a little bit different than what you were expecting.
According to Variety, the OG creator of one of our favorite childhood shows, Terri Minsky, is stepping down as showrunner of the upcoming series.
"Fans have a sentimental attachment to Lizzie McGuire and high expectations for a new series," a Disney spokesperson said in a statement. "After filming two episodes, we concluded that we need to move in a different creative direction and are putting a new lens on the series."
So while it's unsure where the show could go next, it's still coming. A new showrunner has yet to be named, and therefore production has stopped during the transition. It's perfect timing, really, because newly married Hilary Duff is on her honeymoon with her husband, Matthew Koma.
We have the first clip!
Okay, it's super-short, but it's our first actual clip from the new series. It's at the very end of this Disney+ promo, which features all the different kinds of content that'll hit the platform in 2020 (meaning we can expect it this year!). We see Duff as Lizzie, grinning widely and saying breathlessly, "It's me."
When is the release date?
Details about the premiere of the new Lizzie McGuire reboot are still scarce. The only thing we knew for sure about the reboot's premiere date is that it would be sometime after November 12, 2019. The above trailer, too, suggests that it'll be sometime in 2020. The show had only filmed two episodes before Minsky stepped down, so the premiere date will probably be pushed back now.
Where can you watch it?
The reason we can say with total certainty that the Lizzie McGuire reboot won't premiere until after November 12, 2019, is that it's set to air on Disney's highly-anticipated new streaming platform, Disney+, the company announced on Twitter.
"Hey now, hey now, this is REALLY what dreams are made of. @HilaryDuff IS BACK AS LIZZIE MCGUIRE in an all-new series, coming soon to #DisneyPlus," Disney wrote.

Hey now, hey now, this is REALLY what dreams are made of. 😍 @HilaryDuff IS BACK AS LIZZIE MCGUIRE in an all-new series, coming soon to #DisneyPlus.August 23, 2019
See more
Hilary Duff took the stage at Disney's annual content convention, D23, with veteran Disney Channel director Kenny Ortega to officially announce the series on Friday, August 23 and the actress also posted about the new series on Instagram, where she confirmed that The Lizzie McGuire Movie would also be available on Disney+.
What's the cast like?
Speaking of Hilary Duff, it's not really a surprise that she's returning to her iconic tween role, is it? She's been dropping hints about the reboot since late 2018, and she's officially signed on to reprise her role as Lizzie in the reboot.
"SURPRISE!!! I've been trying to contain this excitement for a loooong time while this has been in the works! I am beyond excited to be home again, back with my girl ♥️...and into her 30's," she wrote on Instagram in her announcement of the news. "Also, If you needed yet another reason to get Disney+ ....the #lizziemcguiremovie will be living there!"

There's no word yet on which exactly other members of the original cast will reprise their roles in the new series. Still, we're definitely hoping to see Lalaine and Adam Lamberg, who played Lizzie's BFFs, Miranda and Gordo, on the series—and it sounds like those hopes might come true.
After the D23 announcement, Hilary spoke to Entertainment Weekly about some additional details about the show—and the actress dropped in a little tease about other OG cast members signing on for the series.
"The whole cast is such a big part of the show, and we have a lot of surprises in store for viewers," she teased.
During an interview with E! News at Love Leo Rescue in November 2019, Hilary was asked about two of the most iconic men from Lizzie's preteen life: Her BFF/eventual love interest Gordo and her longtime crush, Ethan Craft.
When it came to the official word on Gordo, she was coy and said she "can't give away too much."
The actress was more forthcoming in discussing modern-day Ethan, though—and even teased a possible romance (or at least continued attraction) between him and Lizzie.
"He is hot. He's very hot," she said. "I'm pretty sure there's going to be, there's going to be a thing."
What will the Lizzie McGuire reboot be about?
Again, there isn't a ton of information just yet. All we really know about the plot of the Lizzie McGuire reboot is that it will follow Lizzie in her 30s. No word yet if she'll be a mom with a tween of her own, a la Girl Meets World, or if the series will be aimed more at adults and follow Lizzie figuring things out as a single, childless millennial (but how great would the latter be?).
During her chat with EW after the D23 announcement, Hilary teased more about what the series will cover.
"Now Lizzie is turning 30," she said. "She was everybody's best friend. She was there for such pivotal moments in their preteen life. Entering your 30s is a really big deal. I think – and I think Disney agrees – but I think it's just the right time for her to step back in and to have her go along with you in your 30s. All of the fun times and all of the big monumental moments that you're faced with, I just thought that was such opportunity there for her to be grown up and for her to be there for women again."
She added that revisiting the iconic character is daunting.
"I'm not going to lie, I'm a little intimidated," Hilary added. "I'm like, 'Where is she in there?' She is in there. She is me. When I was 13, shooting the show, it was such a big part of me. I really just brought to the table myself, and so I just have to tap into that and be really authentic. Our lives are very different. She's not a mother, I'm already a mother, but I think that's what's exciting, to step into someone's world that looks a little different than yours."
She added, however, that she "can't wait for her adventures, her heartbreak and to see her goals and to see what she's done. There's a lot of questions that need answering and a lot of new things on the horizon for her. She has a few really cool quirks, and her job is really cool, but she still hasn't totally found her way, and that's going to be part of the journey."
During her talk with E! News at Love Leo Rescue, Hilary teased more details about what the reboot will focus on and where her iconic character, Lizzie, is now.
"It's been fun to find the new version of [Lizzie]. She's a little less frantic and a little more confident. She has some years of life under her belt. There's that relatability that I think that everyone loves in her," she said. "She is going to be coming across some challenges that the show is gonna serve up and a lot of what people want to see or the answers to questions that they never got."
In the same interview, the actress confirmed that Lizzie is living in New York City and working for a very well-known interior designer as an assistant.
"She has an awesome boyfriend, and they've been together for two years, so everything's looking pretty promising for her," Hilary said.
We'll update this post as more information about the Lizzie McGuire reboot becomes available.
For more stories like this, including celebrity news, beauty and fashion advice, savvy political commentary, and fascinating features, sign up for the Marie Claire newsletter.

RELATED STORIES
Celebrity news, beauty, fashion advice, and fascinating features, delivered straight to your inbox!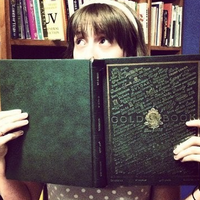 Kayleigh Roberts is a freelance writer and editor with more than 10 years of professional experience. Her byline has appeared in Marie Claire, Cosmopolitan, ELLE, Harper's Bazaar, The Atlantic, Allure, Entertainment Weekly, MTV, Bustle, Refinery29, Girls' Life Magazine, Just Jared, and Tiger Beat, among other publications. She's a graduate of the Medill School of Journalism at Northwestern University.