This Is How to Take a Mirror Selfie You'll Love
No matter where you are.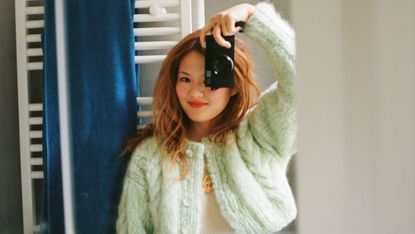 (Image credit: Wanyi Jiang)
My theory is this: If you're going to display your vanity to the world, you might as well do it from the best angle. And nowhere else is vanity displayed to such perfection than with the mirror selfie. We see the mirror selfie everywhere: Shirtless guys' Tinder profiles. Millennials and Gen Z's WFH outfits on Instagram. My own photo album. I have, by no means, gotten my Ph.D. in this matter, but since my friends have nominated me for this lesson in how to pose in front of the looking glass, I figured I would share my knowledge, starting from the basics.
But first, here is 13-year-old Grand Duchess Anastasia (yes that Anastasia of Romanov legend) in possibly the first mirror selfie known to man in 1913. Gotta give the princess credit for paving the way.
Now, for the actual advice...
Choose an angled mirror, and shoot from the chest up.
As you'll notice here, my legs look super long. But are they actually this long? Let me ask you this: Would the last scene of Call Me By Your Name be as gut-wrenching without that shot of Timmy Chalamet? Negative. Angles are everything. Shooting from the stomach up on a slanted mirror will create the illusion that you are model-esque, even if you aren't (I'm 5'6 and I have an extra long torso). That is why many store mirrors are angled. Have you ever gone home and tried on that Reformation dress only to wonder why you looked better in the fitting room? This is why.
Stretch your neck, tilt your head, and jut your chin out.
Chugged three glasses of wine last night? We got you. Ate all your quarantine snacks in one sitting? No sweat. Put on some bronzer and cock your head. You'll look like you're flirting with your reflection and inviting a vampire bite, all while being too aloof to notice your jawline can cut glass. TikTok's jawline check challenge is based on the miracle of a jutted out chin. It'll feel awkward when you do it, but you will look great. (This is non-discriminatory to the double-chin, which I deeply, deeply respect and has kept my neck warm through many winters.)
S marks the spot—or, "find your silhouette."
Sex appeal leads from the hips. Ever seen The Birth of Venus? Even though she's demure, what with her hair covering her privates, she's undeniably alluring. It's because she's making the S curve with her body. Botticelli knew what's up. When you stand straight up and down, there is less invitation to look. Think of when someone is described as "square." It means their personality is devoid ebbs and flows—crescendo-less, if you will. The human body has crescendos too; they're the roundest parts of your silhouette.
Cut out your camera.
You may be off-centered, but at least it's interesting. It almost looks like you didn't take your own selfie. And what a sweet illusion it is to appear as though you have a traveling photojournalist accompanying you. One who documents you looking fabulous while doing the most mundane of things, like sitting there with a cup of coffee and a book all the while thinking about butter pecan or the resurgence of mom jeans.
Flirt with thyself in broad daylight.
Go ahead: Wave at yourself. Maybe if Narcissus did it, he would have realized it was his reflection he was staring at and not an object of desire. It also helps if the background is well-lit, but not in direct sunlight (it will blow your features out), and you match your environment. One color scheme (greens + yellows, blue + purples) pleases the eye and mother nature is always soothing.
Be a little messy.
True illusion is perfection. Don't make your bed in the morning. Don't brush your hair. Scatter your clothes like your racing anxieties and take the picture. Mirror selfies don't have to scream LOOK AT ME. That they so often do has made social media seems like a collective cry for help. The goal is to invite the look, but not beg for likes. You can love yourself without them.
Take a picture with your mirror in the dark.
This requires a little bit of a setup, but if you can stand your phone and work your self-timer, you can take a mirror selfie next to the actual mirror. Get prepped and stand up straight. So what if you did it yourself? Be proud of yourself. The best part about this is that it'll create a spark in the photo where the flash went off. It's Starry Night without the Van Gogh. I am very much stretching. The result is still sweet.
Conceal your face.
Sometimes the best expressions are not seen. Sitting will automatically relax you. And if you're one of those people who freezes when the camera is on you—even if it's your own selfie-cam—this is a solution that won't make you look like you're hiding. Shoes are optional.
You better shape up.
Round mirrors are the unsung heroes of the mirror selfie. Circles make you feel enclosed, protected, whole (psychologically, this is true—the phrase "full circle" means leading back to Source. In this instance, you are Source). Think of it as though the spotlight is on you.
Smile big and surround yourself with color.
The power of the smile is a trope for a reason. The bigger you smile, the happier you look. And happy people just don't take bad selfies. That was a Legally Blonde reference that went too far, but I truly think smiling will change your mood and posture, both essential aspects of a good picture.
Give yourself the side-eye.
Sometimes the best shapes are from the side. Think vintage sartorial photos like this and this. Then exaggerate it by wearing something with volume. I like gauchos for this reason. From the front you look like a tulip, but from the side you look like a '70s fashion ad. Highly recommend. Would do again.
Lastly, be present.
In the 1996 film The Mirror Has Two Faces, Rose (played by Queen Barbara Streisand) says, "Myth or manipulation, we all want to fall in love. That experience makes us feel completely alive. Our everyday reality is shattered, and we are flung into the heavens. It may only last a moment, an hour, but that doesn't diminish its value. We're left with memories we treasure for the rest of our lives." To sum it up: A good picture is a memory of you at your most present. So make it beautiful and make it last.
---
For more stories like this, including celebrity news, beauty and fashion advice, savvy political commentary, and fascinating features, sign up for the Marie Claire newsletter.
RELATED STORIES
Celebrity news, beauty, fashion advice, and fascinating features, delivered straight to your inbox!