I'm Fasting. During Quarantine.
For millions of Muslim Americans, Ramadan means no eating, drinking, or even snacking from sunrise to sunset for 30 days. Coronavirus lockdowns have made that task infinitely harder.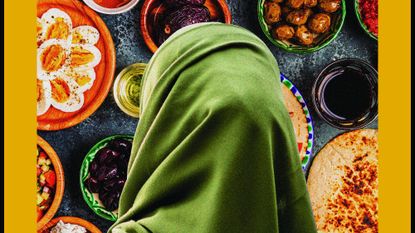 (Image credit: Getty/ Designed by Hanna Varday )
Marie Claire Newsletter
Celebrity news, beauty, fashion advice, and fascinating features, delivered straight to your inbox!
Thank you for signing up to Marie Claire. You will receive a verification email shortly.
There was a problem. Please refresh the page and try again.
Though April 24, my 36th day in quarantine, felt like Groundhog Day once again, it was, in fact, much different than the 35 days that came before it. That's because the date marked the start of Ramadan, a month-long spiritual diet during which I, and other Muslims, abstain from eating and drinking (yes, even water) from sunrise to sunset each and every day.
As hundreds of millions of people across the country shelter in place to slow the spread of COVID-19, it feels like Ramadan couldn't come at a worse time. Ramadan is the Islamic holy month devoted to practicing self-discipline and reflection. I usually look forward to the holiday; it's a time for me to realign my priorities, eat thoughtfully, and repent for my heathen ways. It's bigger than religion: It's a spiritual state that forces me to press pause and take stock of my life.
Normally during Ramadan, I am the best version of myself. For 30 days, I curse less—quite an achievement for this foul-mouthed New Yorker. I don't inhale Tastykakes shamelessly. I exercise every day for half an hour before breaking my fast. I am more charitable. I don't yell at children on the subway.
But I didn't have "fasting through a global pandemic" on my 2020 bingo card.
Ramadan this year brings a whole new set of challenges. Muslims are used to fasting, but now we must fast during a moment when food serves as a unifying factor. For many of us, grocery shopping is our only outing of the week (and thus, the most exciting). In our copious spare time, our culinary skills have reached new Gordon Ramsay heights. Like every other person on Instagram, I, too, have baked seven loaves of chocolate-chip banana bread since becoming an ungroomed recluse.
Now, we must give up the one thing that feels like it's holding our fraying lives together. And do it alone. Fasting, albeit difficult, is made easier in the company of others sharing the struggle. For Muslims, iftaar, or the breaking of fast at sunset, is normally celebrated daily via a feast with friends and family. "Aunties" host lavish dinner parties, their concerns about marriage prospects as core a component to Ramadan as fasting. Other elements essential to Ramadan are Nanna's homemade samosas, grape leaves, and 4 a.m. trips to IHOP with friends for suhoor (an Islamic term referring to the meal had before sunrise). These cultural moments shape the holiday—it's not just about fasting, it's about community. Now, due to social distancing orders, we start and end each day in solitude, not celebration.
Social distancing, while totally necessary, has rendered normal Ramadan traditions impossible. I can't stroll the mall aimlessly for hours with friends, passing the time until dinner, shopping for a jumpsuit I'll never wear. I can't lock myself in a movie theater for a double feature to forget about all the food I'm not eating. I can't attend large gatherings with my probing relatives, where I spend far too much time explaining why I don't need a life partner. Instead, I am trapped at home with the food in my fridge, taunting me.
The workday keeps me preoccupied (I have a now-remote job in news production), but as soon as I shut down my computer for the day, my mind drifts to food. To pass the hours until I can eat, I engage in a bit of pseudo-masochism and watch cooking tutorials on YouTube. Finally—finally the sun sets and I break my fast with a typical "meal:" a date, boxed macaroni and cheese, carrots, hummus, and two slices of cold deli meat. (Okay, fine six slices.) After almost 16 hours without food and my inner Iron Chef burnt out weeks ago, this assemblage of snacks is all I have the energy to make. After three episodes of Love Is Blind and the conclusion that marriage is a trap, I chug water, brush my teeth, and fall asleep. The days take on a painfully consistent pattern: Sleep, fast, (finally) eat, repeat.
It's hard and it's lonely. But despite what feels like an endless, monotonous cycle, I have decided to remain resolute in my decision to practice self-discipline. I refuse to let this situation best me. I will quench my thirst with a glass half-full attitude. This period in history could not be more in need of the spirit of Ramadan, a key pillar of the faith that promotes willpower, charity, and working on one's self. Isolating from others is the most charitable thing a person can do right now, Muslim or otherwise.
No, the family can't go to the mosque and stand shoulder to shoulder to perform the special evening prayer, taraweeh. But they can pray at home. Eid celebrations, which mark the end of the holy month (May 23), are cancelled this year, but we should not dwell on that. At a time when food banks across the country are facing mass shortages, let's focus our attention on giving zakat, or charity, to those who are fasting not because they choose to, but because they can't afford to eat.
So perhaps Ramadan's arrival this year could not be better timed. Meditation takes a new form in fasting: My self-imposed restraint has shifted my perspective on the state of the world in which I live. Each day is easier than the last, even if only by a small margin. May we all emerge from whatever spiritual journey we are on right now, renewed and triumphant.
---
For more stories like this, including celebrity news, beauty and fashion advice, savvy political commentary, and fascinating features, sign up for the Marie Claire newsletter.
Celebrity news, beauty, fashion advice, and fascinating features, delivered straight to your inbox!
Erum Salam is a freelance journalist and a digital producer at The Guardian. She writes about news, culture, and travel. Her debut novel has yet to be written.