How Betty Broderick's Children Feel About Their Mom Today
She was convicted for the infamous murder of their father and stepmother.
Marie Claire Newsletter
Celebrity news, beauty, fashion advice, and fascinating features, delivered straight to your inbox!
Thank you for signing up to Marie Claire. You will receive a verification email shortly.
There was a problem. Please refresh the page and try again.
Alert, true crime fans: The second season of Dirty John, this one called Dirty John: The Betty Broderick Story—which originally premiered on June 2, 2020, on the USA Network—has hit Netflix. Season two is bringing the real-life story of Dan and Betty Broderick to the streamer. The couple made headlines when Betty shot and killed Dan and his new wife, Linda Kolkena, at their home while they were sleeping. Betty and Dan, who had had an ugly and public five-year divorce, shared four kids together: Kim, Lee, Daniel Jr., and Rhett.

In her 2015 memoir, Betty explained this was not the ending she had in mind for her family. "I absolutely adore my children, from the first moment of the day to the last, and still do. They were my priority and I wanted so badly for them to have a happy childhood."
At the time of the couple's 1989 divorce, Dan had full custody of all four kids. According to her memoir, Betty was pregnant nine times during her 16-year-long marriage to Dan. (She reveals in her memoir, her husband did not allow her to use birth control.)
In the 30 years since the murders, the couple's kids have grown up and married and even remain close—based on her Facebook, Kim, Lee, and Rhett live near each other in Idaho—yet they are largely divided about their mother's fate.
Kim Broderick
Kim testified at Betty's murder trials, highlighting her mother's erratic behavior post-divorce. Kim stated in the trial that Betty had told her in a phone call, "I wish you were never born," and "I hate your guts." Betty allegedly also called Kim a "traitor" on more than one occasion.
Kim spoke to People in 1992 to share what her mother would tell her in calls from jail: "If it weren't for you, I wouldn't be here." Kim added: "But I think she's handling it better now." Kim has denied requests from her mom to write a letter supporting her release from prison, per Distractify. (Betty won't be eligible for parole again until 2032.)
Kim released a 2014 book titled Betty Broderick, My Mom: The Kim Broderick Story, and opened up about how she and her siblings handled what happened (essentially agreeing to disagree). In her book, Kim describes visiting her mother in prison as "the worst heartache and sorrow I could ever imagine" outside of her dad being murdered.

In the TV show, Kim's name is changed to "Tracey." Her graduation is shown as a major point of contention for Betty, who was upset that Dan's new girlfriend Linda was also in attendance for her daughter's big day.
Lee Broderick
Lee, the second-oldest Broderick child, also testified in court; Lee was the first person her mother called after firing the gun in Dan's home. Betty reportedly told Lee on the call, "The bitch is dead."
Distractify reports that Lee had a troubled relationship with her father. Dan reportedly amended his will before his death to exclude his second daughter from inheriting any of his fortune (though, it reportedly was due to her problems in school and with drugs, not because of Lee's relationship with her mother). According to the L.A. Times, Dan's will stated his estate be divided equally among his other three children.

Despite her role in the trial, Lee vouched for her mother's release in 2010. She said she missed her father, but told the board that her mom could live with her if released. "She should be able to live her later life outside prison walls," she said, according to The San Diego Union-Tribune.
According to the San Diego Reader, Betty claims Lee is most like her.
Daniel Jr. Broderick
At that same parole hearing in 2010, eldest son Daniel Jr. said that his mother was still "hung up on justifying what she did" and shouldn't be released, per The San Diego Union-Tribune. (You can check out the hearing for yourself here.)
Despite his feelings on the subject, Daniel Jr. and his siblings visit their mother for her birthday, for Mother's Day, and at least once in the summer. The conditions were set by Betty, who didn't want her children to come for Christmas or other big holidays. "I didn't want for all their memories of those times to be of visiting Mom in prison," she said to the San Diego Reader.
Rhett Broderick
The youngest of the four Broderick kids, Rhett learned about the death of his father and stepmother through a family friend.
Oprah interviewed Rhett on her show after his mother's crime. "I just remember thinking, 'Wow.' I wasn't really surprised," he said at the time. "On multiple occasions [my brother and I] went to my dad and said to him that we wanted to live with my mom and that not having her kids was driving her crazy—and that she could do something extremely irrational if she didn't have us."
More than once during Rhett's childhood, he was sent to live with family relatives or in boot camps for troubled kids. "I constantly felt like I was under the microscope, like everything I did, they were trying to blame on my parents' situation," he told Oprah.
Like his sister Lee, Rhett also vouched for his mother's release from prison. On Oprah, he said, "She's a nice lady. Everyone here would like her…if they spoke with her on any topic other than my dad. Keeping her in prison isn't really helping her. She's not a danger to society—the only two people she was a danger to are dead."
RELATED STORIES
Celebrity news, beauty, fashion advice, and fascinating features, delivered straight to your inbox!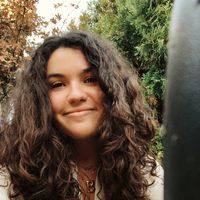 Bianca Rodriguez is the Fashion & Luxury Commerce Manager at Hearst Magazines, covering fashion, beauty, and more for Cosmopolitan, Elle, Esquire, Harper's BAZAAR, and Town & Country. She likes lounging about with a good book and thinks a closet without platform sneakers is a travesty.