'Dirty John: The Betty Broderick Story' Is an Experience in Gaslighting
The show's star, Amanda Peet, and creator, Alexandra Cunningham, tell Marie Claire how the true-life drama came together.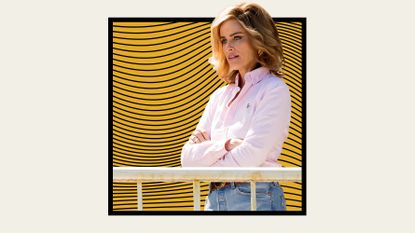 (Image credit: Getty Images)
Marie Claire Newsletter
Celebrity news, beauty, fashion advice, and fascinating features, delivered straight to your inbox!
Thank you for signing up to Marie Claire. You will receive a verification email shortly.
There was a problem. Please refresh the page and try again.
Minutes into Dirty John: The Betty Broderick Story, the titular character (played by Amanda Peet) utters seven words that will come to define the show's eight-episode arc: "I'm not the crazy one, he is."
The statement not only encapsulates the "he said, she said" nature of the show's plot but, more so, who Betty and Dan Broderick were as a couple. A couple whose wealthy, picturesque Southern Californian life and eventual divorce turned so sour it ended in a double homicide, capturing headlines and even Oprah's attention in the late '80s. At the time, Betty was painted as a housewife scorned. But more than 30 years since the real-life incidents that inspired the second season of USA Network's Dirty John took place, show creator Alexandra Cunningham is seeking to reexamine Betty's story through modern perceptions about mental health and emotional abuse. It's no longer "he said, she said," but "she said this because he said this."
"I've watched and read a lot of takes on Betty at this point and for the most part they all present her the same way: That she's hysterical, crazy, evil, irrationally jealous, full of hatred, and somebody who was an emotional extremist," Cunningham tells Marie Claire. "And they really focused on the 'what' that happened and not the psychology of the 'why.' But I just don't think that hatred and jealousy spring up in a vacuum. To call somebody evil...[is writing] them off as, Their actions can't be explained. And I don't think that's ever true. That explanation can be hard to find and [it can be] painful and frightening. I'm not saying Betty shouldn't have been convicted, but to not speak about why this happened guarantees no one is going to learn anything from it."
The show provides one clear explanation for Betty's actions: She was being gaslit. Cunningham leans so strongly into that narrative that an entire episode is framed by a psychologist's thorough definition of this kind of psychological manipulation. It comes across as pedantic to viewers in 2020, at a point when the term has permeated into everyday conversation (in part, thanks to Donald Trump). But as Cunningham explains, it was a foreign concept at the time Betty went to trial.
"There was no discussion or discourse [at the time] of how one person in a relationship can influence the other's behavioral psychological autonomy by isolating them, by calling them 'crazy,' by limiting their access to money, or by making them feel like they are losing their position in society and their identity," Cunningham says. "There was no acknowledgment [then] of how often a woman with a legitimate grievance could be undermined or dismissed by calling her 'angry.' That's still a weapon today. But we're calling it out now."
At times, Cunningham's references become heavy-handed. If the psychologist's trial definition doesn't hit you over the head, just wait for the mid-season scene in which Betty literally lights her husband's possessions on fire as the psychologist narrates what can happen to victims of gaslighting. But the show also uses subtle camera work and intimate moments to demonstrate psychological trauma, forcing the viewer to feel as exhausted and alienated by Dan's actions as Betty does.
Overt or not, the effects are the same: The viewer grows increasingly sympathetic of Betty. Audiences will be confused as to who the show's real villain is, who is crazy or not, who is right or wrong. Ultimately, Cunningham's own filmmaking might be the strongest case of gaslighting she presents.
Cunningham admits feeling greatly sympathetic for Betty "right up until the moment that she let herself into Dan and Linda Broderick's bedroom while they were sleeping." She says: "When the people make the active choice—whether it's informed by mental illness or whatever other factors—to murder, that's the point where I no longer have sympathy."
Cunningham's ability to commiserate with Betty likely stemmed from her decades-long fascination with the Brodericks. She explains that she first learned of their tragic story as a teenager, finding the story "salacious" and "fun." But as she revisited it over the years she realized she had become a stand-in for Betty: a white, suburban, upper-middle class wife and soccer mom.
"It was something that I could understand on a deep psychological level: the impact of being betrayed and losing your trust in the person who knows you better than anyone," she explains. "And everyone would tell you to move on, but if you were consumed with that much rage would you be able to? Would I be able to? I don't know. Sometimes I get incredibly angry and I get worried, What will I do with all this anger? Clearly Betty asked herself the same question and we know what the answer was. That's how it began to resonate with me: once I had the same things to lose that Betty had lost."
While Cunningham was familiar with the tabloid tales of Betty Broderick, star Amanda Peet only discovered the saga when presented with the show's script. The actress tells Marie Claire she was drawn to the character because of Cunningham's ability to present the situation "complexly" showing all the "facets of Betty, even before the murders."
"[Cunningham] was really interested in looking at how Betty grew up in the social mores of the '50s," Peet says. "I think she was, in a strange way, even though she had this community, very isolated. She didn't know how to ask for help. She was mentally ill and she didn't have any resources—or, she thought she didn't have any."
The actress reveals that she did watch several of Betty's interviews from jail. But she and Cunningham were more focused on painting a full "psychological portrait" of Betty "rather than an imitation of the actual woman," so Peet never considered reaching out to Broderick (who remains in jail, having been denied parole twice). Instead, they relied on more than 6,000 pages of courthouse transcripts to paint that portrait.
"I wanted to tell a story about the narrative she constructed for herself about what happened to her marriage. And about the meaning of fairness. And how she was treated, because that narrative is the reason she became a murder," Cunningham says. "And I don't think the Betty of 30 years later is better equipped to help me understand that, or to want to, than the Betty of the time, so I chose to not speak to her."
They achieved a multi-faceted Betty. In the show, Peet is funny and wild and unhinged and smart and surprising and wounded and uncomfortable. She carries the first few slow episodes, giving emotion to boring legal jargon. And when the scene calls for her to be sadistic and cruel, Peet doesn't shy away, giving the audience moments to strongly question being Team Betty.
"It's possible the audience will have many moments of feeling angry and sympathetic towards Betty, at the same time, and Dan too, because they are human beings and this could happen to anyone," Cunningham says.

Peet adds, "It was important for me that Alexandra wasn't going to vilify Dan Broderick and that she wasn't interested into glorifying Betty."
Despite their best intentions, Dan feels vilified. Perhaps that's because Daniel Broderick is played by Christian Slater, who embodies a villain remarkably well, turning from doting husband to vindictive adulterer on a dime. (As does Chris Mason, who plays young Dan—meanwhile Tiera Skovbye as a young Betty is unmemorable, save for how jarringly she doesn't look like Peet.) And Rachel Keller as Linda Kolkena, Dan's receptionist-turned-assistant-turned-second-wife, is often clichéd, dull, and unlikeable. (The colorful and tacky '80s fashion and the suburban country club of it all helps carry a few episodes, but not enough to sustain the whole season.)
Which is all to say, the series really is Betty Broderick's story. Something audiences should've known all along since she's never stopped telling us the story is hers—perhaps next time, we'll believe her.

For more stories like this, including celebrity news, beauty and fashion advice, savvy political commentary, and fascinating features, sign up for the Marie Claire newsletter.
RELATED STORIES
Celebrity news, beauty, fashion advice, and fascinating features, delivered straight to your inbox!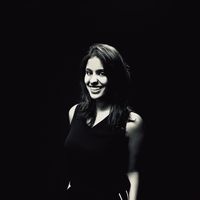 As Marie Claire's Entertainment Director, Neha oversees and executes strategy for all editorial talent bookings and culture coverage across the brand's print and digital entities, including covers, celebrity profiles and features, social takeovers, and video franchises as well as handles talent relations for MC's flagship summit, Power Trip. She's passionate about elevating diverse voices and stories, loves a hot-take, and generally hates reboots. She's worked in media for more than 10 years and her bylines about pop culture, film & tv, and fashion have appeared on Glamour, Vanity Fair, GQ, Allure, Teen Vogue, Brides, and Architectural Digest. She is a graduate of the Columbia School of Journalism.