TV's Mythical Lesbian Bar
Gay women looking for a cool night out will find better prospects on their screens than their streets.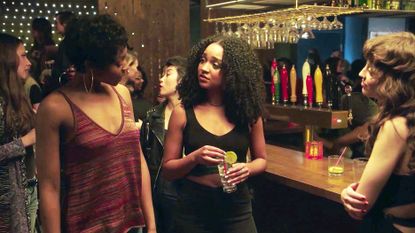 (Image credit: Handout)
Marie Claire Newsletter
Celebrity news, beauty, fashion advice, and fascinating features, delivered straight to your inbox!
Thank you for signing up to Marie Claire. You will receive a verification email shortly.
There was a problem. Please refresh the page and try again.
Kat and her chic friends sip cocktails at a packed lesbian hotspot in Manhattan on The Bold Type. In Almost Family's version of Brooklyn, Tiffany lamps adorn a retro sports bar full of athletic queer women. In Vida's East Los Angeles, queer folks call the neighborhood dive bar home, hosting elaborate theme nights in the multigenerational space. Meanwhile, the characters of The L Word: Generation Q frequently gather at a recently renovated gastropub catering to L.A.'s lesbian crowd. And in Younger's New York, ex-girlfriends clink wine glasses in a bar packed with attractive women.
The problem: None of these venues exist outside our screens.
Bars and restaurants have long been fictionalized for serial TV (Friends' Central Perk, Crazy Ex-Girlfriend's Home Base) but in popular queer shows, trend-forward bars divert far from the reality we experience. Lesbians, like myself, who seek dedicated spaces to gather in, have just a few bars across America to choose from. A study published last year estimates only 15 Lesbian bars remain—dwindled from more than 200 in the late '80s—with more poised to shutter due to COVID-19. Lesbians' night out in 2020 is often just special "girls" nights at a gay club.
So why, when lesbian bars are disappearing from major cities and small towns alike, are imaginary lesbian social utopias consistently popping up on women-centric TV shows? The out-of-reach depictions make me scream at my screen, à la Liz Lemon, I want to go to there!

We watch TV because it's not realistic. Who wants to watch characters run errands and balance budgets? Carrie Bradshaw couldn't sustain her Manolo-filled lifestyle writing just one weekly column and the living spaces in Friends are mansions compared to an actual 20-something's Manhattan apartment. These shows depict a simpler, savvier (sometimes problematic) lifestyle that's entertaining above all else.
Without imagination, queer culture as we know it today likely wouldn't exist. LGBTQIA+ creators who put our experiences onscreen push both mainstream and queer culture towards a better future.
"None of the now-shuttered dyke bars I went to in my 20s were fancy, bright, or totally hygienic spaces with $15 dollar drinks served up neat in martini glasses," says Candace Moore, a gender and cinema studies professor at Carleton College in Minnesota, reminiscing about former real-life haunts like San Francisco's The Lexington and L.A.'s The Palms. "They smelled a little, bathrooms had multiple uses, there was cheap, crappy beer." She notes that, in contrast, the The L Word, the lesbian-centric series that aired on Showtime from 2004 to 2009, offered queer women the chance to congregate in luxe West Hollywood spaces all the time.
"This constructed an upscale imaginary lesbian bar that pretty much only existed, and still pretty much only exists, on TV," Moore says. "This seems partially about TV delivering aspirational ideas about wealth, power, and fame for the viewer. It offers a fantasy element. What if queer women had all kinds of capital—social capital, cultural capital, and economic capital? What if they could afford fancy salads and tequila shots 'for the house' on a regular basis? That's not to say there aren't wealthy lesbian, bi, and queer women out there, but I don't know of many who plan to open up bars anytime soon."
"I write the world I want to see, not necessarily the world I live in," says Marja Lewis-Ryan, showrunner of The L Word: Generation Q. For the sequel, she worked to create a nostalgia-inducing, lesbian-owned, queer-centric hotspot: Dana's. The fictional space became so pervasive that Semi-Tropic, a Los Angeles gastropub that is used as Dana's exterior, now hosts a monthly "Dana's" night. "It's awesome, that's really the dream," Lewis-Ryan says. "I envisioned this thing and someone actually put it into practice. I'm making community spaces that are safe and hoping that other people make them real."
Meanwhile, Los Angeles-based architect Lauren Amador has been designing her own real-life lesbian bar—one that is partially inspired by the original L Word's hangout, The Planet. Last year, she launched Fingerjoint, a pop-up lesbian cocktail bar serving women-produced wines and spirits on an "unpretentious but thoughtful" menu. Seeing Dana's on-screen felt "surreal," she says. It was a glossy depiction of the space she hopes to build once she raises enough capital—a challenge plaguing several aspiring bar and restaurant owners who don't have the budget of a Hollywood production company.

Beaming lesbian bars into living rooms can create stronger allyship. Wendy Straker Hauser, showrunner of The Bold Type, says she was"shocked" to learn that there were only a couple lesbian bars left in Manhattan. So in season three of the show, Kat, who has newly found community in lesbian bars, runs for city council to save a lesbian bar going out of business—art imitating life. "I always want to be accurate as a storyteller," Hauser says. "For me, it was just realizing how powerful it was for lesbian women to not just have a queer bar, but to have an actual space specifically for them. It's eye-opening, how important that was and is," Hauser says.
Molly Bernard plays the bubbly queer publicist Lauren on Younger. Being well-acquainted with Manhattan's "only two dyke bars," Cubbyhole and Henrietta Hudson, she loved that writers decided to include a lesbian bar, albeit fictional, in the series."Wow, this is what we're missing [in real life]," she says.
Lesbian social utopia is only on-screen. And that's okay—for now. Over the past year, lesbian representation has increased dramatically on screen. Vida, Gentefied and Feel Good have expanded the boundaries of diverse, lesbian characters on television, but there's still more work to be done—on screen and in reality. Problematic stereotypes regularly tie queer identity to nightlife. So Lewis-Ryan—inspired by Los Angeles' sober queer coffeeshop, Cuties—is considering more inclusive, realistic spaces to write into Generation Q's second season. In real life, Amador made sure to include non-alcoholic and low ABV drinks on Fingerjoint's menu and New York's Butch Judy's is developing a lesbian bar concept centered around conversation, rather than clubbing.
It's impossible to depict the lived experiences of every LGBTQ person in America in media. We stream to escape, which is what makes the lesbian social utopia of a nonexistent bar so powerful.
"Even though the real world lesbian bar may no longer exist in the same way and in the same places, I hope it remains a staple of visual culture. The fictional bar was never realistic, but it provided a glimmer of something approximate to it—a space where lesbians could find one another," says Kelly Hankin, author of Girls in the Back Room: Looking at the Lesbian Bar. "Whether a confectionary glam version as in The Bold Type or a raucous neighborhood bar as in Jane The Virgin, these images offer lesbians a vision of community that remains as important as ever."
For more stories like this, including celebrity news, beauty and fashion advice, savvy political commentary, and fascinating features, sign up for the Marie Claire newsletter.
RELATED STORIES
Celebrity news, beauty, fashion advice, and fascinating features, delivered straight to your inbox!
Melissa is a writer based in Brooklyn.