Editors handpick every product that we feature. We may earn commission from the links on this page.
The 21 Best Lesbian TV Shows to Stream
Diverse, queer, female experiences are far from dominating on TV, but these titles are a great start.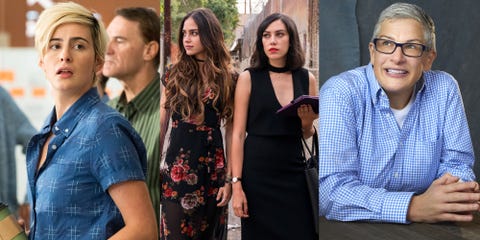 When social distancing began a brief 700 years ago, I half-heartedly tweeted that we (queer women) didn't have enough lesbian content to get us through this. At the time, I had no idea how long this pandemic-induced isolation would stretch, but, regardless, I had evidence: a lifetime of searching for women-loving-women entertainment that often turned up empty results.

But that finally seems to be changing. In 2020, there are a (limited, but decent) plethora of shows which depict lesbian and bisexual women, from a Los Angeles chief of police to a candidate for mayor to a trendy women's magazine editor to a Midwestern adult in middle-aged crisis. While the diversity of queer, female experiences is far from being comprehensively captured on TV screens, these lesbian TV shows are a great start.
Queer content, of course, isn't just for queer people. Embracing fully developed, complicated, lovable (and sometimes unlikable) queer characters is also an important part of being an ally. When there are still so few LGBTQ characters on TV, sometimes we have to actively seek out queer women onscreen.
And thankfully for all of us, there's a wide range of lesbian-led TV shows streaming for free right now. From half-hour sitcoms to movie-quality dramas to family-friendly ensemble shows to reality classics, here's what you should be watching to become an expert in contemporary lesbian TV canon.

This content is created and maintained by a third party, and imported onto this page to help users provide their email addresses. You may be able to find more information about this and similar content at piano.io