The 21 Best Lesbian TV Shows to Stream
Diverse, queer, female experiences are far from dominating on TV, but these titles are a great start.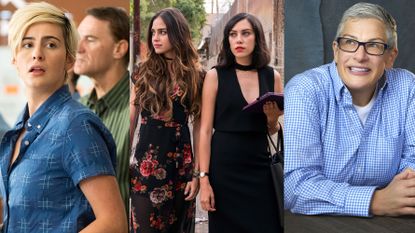 (Image credit: Starz+Showtime)
Marie Claire Newsletter
Celebrity news, beauty, fashion advice, and fascinating features, delivered straight to your inbox!
Thank you for signing up to Marie Claire. You will receive a verification email shortly.
There was a problem. Please refresh the page and try again.
When social distancing began a brief 700 years ago, I half-heartedly tweeted that we (queer women) didn't have enough lesbian content to get us through this. At the time, I had no idea how long this pandemic-induced isolation would stretch, but, regardless, I had evidence: a lifetime of searching for women-loving-women entertainment that often turned up empty results.
But that finally seems to be changing. In 2020, there are a (limited, but decent) plethora of shows which depict lesbian and bisexual women, from a Los Angeles chief of police to a candidate for mayor to a trendy women's magazine editor to a Midwestern adult in middle-aged crisis. While the diversity of queer, female experiences is far from being comprehensively captured on TV screens, these lesbian TV shows are a great start.
Queer content, of course, isn't just for queer people. Embracing fully developed, complicated, lovable (and sometimes unlikable) queer characters is also an important part of being an ally. When there are still so few LGBTQ characters on TV, sometimes we have to actively seek out queer women onscreen.
And thankfully for all of us, there's a wide range of lesbian-led TV shows streaming for free right now. From half-hour sitcoms to movie-quality dramas to family-friendly ensemble shows to reality classics, here's what you should be watching to become an expert in contemporary lesbian TV canon.
'Twenties'
Lena Waithe's single-camera semi-autobiographical sitcom, chronicling a queer Black aspiring screenwriter (Hattie, played by Jonica T. Gibbs) and her two straight best friends' life in Los Angeles, didn't receive the attention it deserved when it debuted on BET in March 2020 (blame the pandemic). But thankfully, all eight episodes are currently streaming. Catch up before the second season premieres in 2021.
'Ratched'
Ryan Murphy's bingeable backstory of the mildly (okay, very) deranged Nurse Mildred Ratched from One Flew Over The Cuckoo's Nest stars Sarah Paulson as the titular character and Cynthia Nixon as her love interest, Gwendolyn Briggs. Briggs seduces Paulson's character over oysters on the California coast, and the series is only uphill from there. It even includes a stop at a women's bar that would make an excellent setting for most of season two.
'Everything Sucks'
While the title seems apt for 2020, this Netflix original is actually perfectly-suited for our collective 1990s nostalgia. Set in Boring, Oregon, this coming-of-age story explores a small-town high schooler embracing her sexuality—with an epic soundtrack to match.
'Hightown'
Starring out Latinx actress Monica Raymund as Jackie Quiñones, a National Marine Fisheries Service agent on Cape Cod, Hightown is the type of show that makes you hold your breath until you compulsively finish each episode. The series starts with Jackie finding a body on the beach and resolving to solve a murder, all while battling with sobriety.
'Feel Good'
Netflix's lesbian-centric series by standup comic Mae Martin tells a fictionalized version of her coming-of-age as a Canadian expat in England, while she recovers from drug addiction, falls in love with unattainable (previously straight-identifying) women and figures out their gender identity through comedy. Lisa Kudrow plays Mae's delightfully unlikeable mom, which is just another reason to binge the six-episode first season of Feel Good.
'One Mississippi'
Tig Notaro's series about moving from Los Angeles to her Southern hometown after her mother's sudden death is loosely based on her own tragic year battling grief, illness, and complicated family dynamics. The comedy delves into hard-to-talk about issues like abuse and harassment, cleverly using humor as a coping and narrative mechanism to further each episode arc.
'Work in Progress'
Chicago-based comedian Abby McEnany slipped under the radar until her semi-autobiographical half-hour sitcom debuted on Showtime in December 2019. The dark comedy centers on Abby, a lesbian in her 40s, whose therapist suddenly dies mid-session. The unexpected tragedy spurs a series of unprecedented events as Abby falls for a transgender man in his early 20s (Theo Germaine), attempts to manage her OCD without professional guidance, and looks at her hurtful past relationship with new perspective. A new season is on the way, so catch up before it premieres.
'One Day At a Time'
The Netflix reboot of the 1970s sitcom re-envisions the central family, the Alvarezes, as a close-knight Cuban-American grandmother, mother, daughter and son living in current-day Echo Park, Los Angeles. The ensemble show isn't like the after-school specials of your childhood. Now, the Alvarezes openly deal with sexism, homophobia, racism, sex-positivity, and more, in quick, laugh-out-loud episodes. The best part? Teenage daughter Elena coming to terms with her sexuality, falling in love with a nonbinary teen, and wearing a tux to her quinceañera (light spoiler, sorry).
'Dickinson'
What if Emily Dickinson hooked up with her best friend (also her brother's fiancée), spoke like modern day Millennials, and had no qualms about being herself? It's feasible, in the new beautifully anachronistic Apple TV series that loosely tells the story of the 19th Century writer.
'Vida'
The 2018 series follows two Mexican-American siblings, Lyn and Emma, reunited in their childhood home with their mother's (secret) wife after their only parent passes away unexpectedly. It's heart-wrenching and timely in all the right ways, with plenty of Starz's signature sex scenes. The unlikely trio deal with gentrification, maintaining their family's rundown bar, and caring for each other, all while coming into their own identities and community roles. Each episode is charming, surprising, and will keep you hooked through the third season's series finale.
'Lip Service'
Is BBC Three's melodramatic riff on The L Word's early-2010s success the best lesbian-centric show out there? Absolutely not. But if you're craving women-centric drama, deep Scottish accents, and a few plot twists that will leave you yelling at your screen, this Glasgow-set ensemble series is all yours. Only 12 episodes exist, so savor them.
'Tommy'
Abigail Thomas a.k.a. Tommy (Edie Falco) is Los Angeles' (fictional) first-ever lesbian chief of police. And the recent New York transplant is really, really good at her job. Whether cop dramas are your thing or not, it's hard not to be drawn in by Falco's acting and her character's aptitude for crime-solving in less than 40 minutes. Complicated family dynamics as well as Falco's first-ever on-screen kiss with another woman are additional reasons to watch the network drama.
'Gentleman Jack'
Prepare to have the show's eponymous ditty stuck in your head after every episode of this period dramedy. The BBC-produced show tells the story of Anne Lister, England's first "modern lesbian," as she begins an on-and-off romance with her IRL wife-to-be, Ann Walker. It that doesn't have you ready to binge, the catchy theme song, incredible 19th Century costumes, and awkward breaking of the fourth wall should.
'Take My Wife'
Imagine a same-sex couple helming a goofy weeknight sitcom, and you have Take My Wife. Wives (now exes, but don't let that deter you), comics, and co-workers Cameron Esposito and Rhea Butcher loosely based the series on their romance off- and on-stage, detailing the experiences of being queer comics, working alongside your partner, and getting married amid career success. Relatable jokes about the way queer people exist in the straight world are interwoven with intimate, sweet moments that are still rarely seen between LGBTQ characters on sitcoms.
'I Am Not Okay With This'
Based on a comic book of the same name, this 2020 Netflix series tells the story of Syd, an angsty Pennsylvania teen with inexplicable kinetic powers. Think Carrie, but queer. Episodes progress rapidly, and even those who aren't convinced by the sci-fi element will be swept in by Syd, her quirky friends, and her early exploration of her sexuality.
'The L Word'
The original L Word and the 2019 reboot, Generation Q, are streaming on Showtime, for seemingly endless lesbian, bisexual and queer entertainment. Reality spin-offs, The Real L Word and 90-minute docu-series The L Word Mississippi: Hate The Sin are also streaming, if you really want to dive into the canon. (Do it.)
'Trinkets'
Think The Bling Ring but the most popular kid in school is played a nonbinary person of color (Quintessa Swindell, who plays the wealthy and deeply confused Tabitha) and the crew of shoplifters has a charming lesbian ringleader, Elodie. In this series, coming out isn't an issue; queerness is just a fact of life. Instead, the drama focuses on theft, friendship and first love.
'Batwoman'
Ruby Rose stars as a Jewish, lesbian superhero tasked with saving Gotham in Batman's absence. Yes, Batwoman is the first out hero (or villain, for that matter) in the DC Comics world, and, naturally, she has an awkward relationship with her ex, Sophie, who's also working to protect the city. Lesbian drama in an alternate universe? Perfect escapism.
'The Bold Type'
Two of the three main characters are straight but we'll take 33% for this narrative arc. In the show, protagonist Kat deals with the realization that she isn't straight and perhaps isn't a lesbian either. Her forays at fictional lesbian cocktail bars, dating and breaking up with a woman for the first time, and running for office, are both relatable and aspirational, and, most importantly, very binge-worthy.
'Tales of the City'
Ellen Page plays herself, i.e. a scrappy young lesbian who looks really good in a hat, in this ensemble reboot based off the Armistead Maupin books of the same name. Taking place in current day San Francisco, Page's character, Shawna, struggles to rebuild a relationship with her estranged mom, attempts to figure out her crush on Claire (Zosia Mamet), and helps support her landlady and dear friend, 90-year-old transwoman Anna Madrigal. Those who zip through the miniseries can also go back to the 1993 original, also on Netflix.
Honorable Mentions
These titles might not have snagged a spot on our list, but that doesn't mean you shouldn't watch them after you've already binged the previous 21 shows.
Orange Is The New Black (Netflix)
Gentefied (Netflix)
The Fosters (Netflix)
Visible: Out on Television (Apple TV+)
Transparent (Amazon Prime)
Celebrity news, beauty, fashion advice, and fascinating features, delivered straight to your inbox!
Melissa is a writer based in Brooklyn.