Rosamund Pike on Playing a Flawed Yet Brilliant Marie Curie in 'Radioactive'
Pike stands out in a film that is both a dull bio-pic and an engaging love story.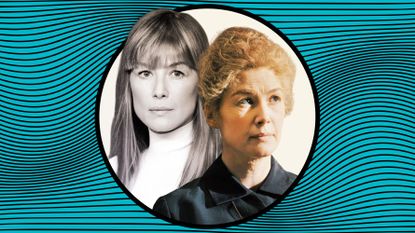 (Image credit: Getty + Amazon Studios)
In 2020, in the midst of a pandemic, there could be no more important a film than one about a scientist—a female scientist, at that—who made unprecedented leaps and bounds in her field. Yet, Radioactive, which tells the true story of Marie Curie and her discovery of polonium, radium, and radioactivity, was created long before COVID became part of our daily lexicon. Which is perhaps why the movie never truly embraces what it means to tell an engaging story about science and the power it can have to instantaneously change the realities of the world.
Instead the film—which debuted at the Toronto International Film Festival in September 2019 and became available on Amazon Prime on Friday—is an all-out romance. Science is Marie's true love and her husband and work partner, Pierre Curie, is her mistress. Marie, played excellently by Rosamund Pike, is constantly torn between her two passions, equally seduced and scorned by both. (It's clear you've been baited-and-switched from a science bio-pic into a rom-com of sorts as early as Marie and Pierre's Parisian meet cute.)
It's not so surprising that Radioactive romanticizes Marie's two greatest relationships considering that the film, directed by Marjane Satrapi, is adapted from Lauren Redniss' 2010 graphic novel, Radioactive: Marie & Pierre Curie: A Tale of Love and Fallout. And it was the complex relationship between Marie and Pierre, played by Sam Riley, that Pike says drew her to the role.

"The moment when Pierre was killed [in an accident while crossing the street], I was so shocked by it. It just felt so unfamiliar in this structure that one's expecting in any film," Pike says. "I cried. I loved them as a couple. I loved the oddity of their relationship and really felt the loss of him."
Pike's chemistry—no pun intended—with Riley is so strong that his presence is truly missed in the second half of the film; unfortunate considering his absence should've given Marie her time to shine. But perhaps that is Satrapi's genius? After all, an epic love story should feel incomplete without one half of a couple.

One of the film's most electrifying scenes is when Pierre returns from Sweden after accepting the Nobel Prize in psychics (on behalf of both of them) and Marie lashes out at him for "stealing her brilliance." (This is not known to have happened in real life.) The heated moment ends with Pierre accusing his wife of "not being able to see past her nose" to which Marie scoffs back, "No, my problem is you, and that I love you so utterly." It's delivered with a perfect mix of heart and vitriol and wit that seems to encapsulate what the film is actually about: Can a woman have it all?
"She was at the end of her tether," the actress explains, "feeling furiously frustrated with the way a woman's biological life restricts her. She couldn't do it all. She couldn't be there in Sweden right after giving birth, and that maddened her. And then you choose to lash out at someone else, but in a way the fury was towards being a woman herself. Here she was, looking after the children. It was a deviation from her true path."
Pike continues: "I think it's about the fact that, I can't just be my own singular person. Because, I love you and you've come into my life and made me have to have concerns about other people. She's almost the definition of a 'singular entity,' who has found herself in a partnership with children and that's caused everything. She has found she loves someone, and it's just complicated her life in a manifold direction—which we all find. If we all didn't have children and have a partner, life would be a lot simpler but also less rich."

Despite the feminist subtext anchoring the film (at times the imagery can read heavy-handed, consider a slow-motion standing ovation led by women as proof) Satrapi and Pike did not have conversations about "women having it all" on set.
"I think those are very contemporary discussions," Pike says. "[Marie] led with being a scientist, before she was a mother. I think it was very, very rare then, nor was she judged for it. We've raised our expectations of what a woman is capable of [today], but we also judge mothers so much more harshly than ever before. The standards women impose on themselves has gotten so exacting and terrifyingly rigorous."
It seems almost scripted that at one point Pike's son wanders into our interview, curious about his mom's whereabouts. Pike handles the interaction with exceptional patience, offering her child the phone and humoring his questions.
Though the actress describes Marie Curie as "not the best mom," it's evident throughout the movie that Pike's own experience with motherhood colored her views of the character. She imbibes the scientist with that same patience and adoration, this time toward radium, that Pike exhibits toward her own kids.
"Radium was like her child," Pike admits. "In a way that was the most significant birth of her life, more so than either of her children... You can see Marie and Pierre passed out on the floor, the night [Marie] finally isolates that tiny pinprick of radium. It's so powerful to me that moment... It's like when new parents have a baby but haven't told everyone that he's been born. That sort of moment when some wonderful new thing is just yours for such precious moments."
Marie and Pierre were known to have doted on their findings so much so that they slept with vials of radium under their pillow; strapped it to their bodies until they coughed up blood. Seeing the comfort and familiarity with which the scientists dealt with radioactive elements proved to be quietly the most exhilarating moments of the film.
But Satrapi unfortunately doesn't allow those moments the space to thrive. She mires the film with jumps in time in an attempt to show the future ramifications of Curie's discoveries. Shots of Hiroshima and a sick child undergoing radiation therapy are interspersed with neon lit dream sequences and earnest dialogue resulting in several awkward and laughable moments.
Pike felt those juxtapositions were important in painting a "balanced" picture of Marie Curie—even though the actress seems aware the decision might not be well-received.
"Everything has its shadows," she says. "You don't have great good without evil, and you don't understand great power unless you can respect not only its magnificence but its destructive potential.

"[Satrapi's] so unruly and unpredictable and original and clever and funny. And she just has such an original eye on things. I thought, This is going to be an adventure and we're going to do this woman justice in someway. It might not be everyone's cup of tea, but we're certainly not going to do something boring."

Boring, no—but not enthralling either. Those expecting a story in which Curie is a superhero powered by radium will be disappointed to find a somber tale about love and loss. Pike wonders if that has more to do with our modern perception of superheroes than Curie's legacy.
"Why could Marie Curie not be just as good a role model as Wonder Woman?" she says. "I would like girls to see this and think, I could occupy that space. I could change the world like Marie Curie did."

Only time—or one of Satrapi's flash forward jump cuts—will tell.
RELATED STORIES
As Marie Claire's Entertainment Director, Neha oversees and executes strategy for all editorial talent bookings and culture coverage across the brand's print and digital entities, including covers, celebrity profiles and features, social takeovers, and video franchises as well as handles talent relations for MC's flagship summit, Power Trip. She's passionate about elevating diverse voices and stories, loves a hot-take, and generally hates reboots. She's worked in media for more than 10 years and her bylines about pop culture, film & tv, and fashion have appeared on Glamour, Vanity Fair, GQ, Allure, Teen Vogue, Brides, and Architectural Digest. She is a graduate of the Columbia School of Journalism.