Who Is Peter Sawkins, the Youngest Baker on 'The Great British Baking Show'?
"Righty ho, rinky dink, okie dokie!"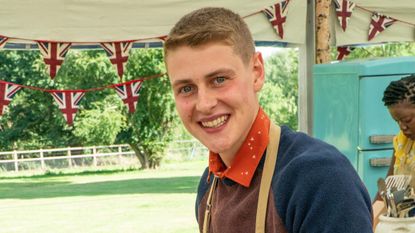 (Image credit: Mark Bourdillon/Netflix)
Luckily for anyone needing a periodic break from the often overwhelming daily flood of breaking news, a new season of The Great British Baking Show began airing at the end of September, offering a kinder, more peaceful alternative to that other ongoing competition blending reality TV and regular people from working-class backgrounds. Because of this innate kindness and the pure joy that comes from watching a group of nice, normal people create mouthwatering desserts in absurdly short amounts of time, however, it's easy to forget that the show is, at its core, a classic reality competition with winners and losers.
As much as we'd love to see every baker take home the coveted first-place cake stand, that is (unfortunately) not how reality TV works. And within just a few episodes of the latest season of the beloved baking competition, a few clear frontrunners had already emerged from the pack of all-around delightful amateur bakers. Perhaps most promising of all was Peter Sawkins, the youngest of the bunch, who was the first Star Baker of the season and fits right into the very specific mold of many Great British Baking Show finalists before him: enthusiastic but underconfident twentysomethings with a wry sense of humor. Here's everything we know about Peter.
What's Peter's background?
Peter hails from Edinburgh, Scotland, and is currently a student at the University of Edinburgh. He's majoring in accounting and finance, and is also the president of the university's badminton club. At just 20 years old, he's the youngest baker on this season of The Great British Baking Show, and one of the youngest in the show's history. (For the record, the youngest-ever contestant was Martha Collison, who appeared on the show in 2014, when she was just 17.)
What is Peter's baking style?
In an all-too-perfect twist of fate, Peter was inspired to start baking when he watched the first-ever season of The Great British Baking Show when he was 12 years old, and has not missed an episode since. He likes to honor his Scottish background by incorporating traditional ingredients into his bakes, and has also impressed the judges with his solid grasp of gluten-free baking, thanks to his experience baking for his gluten-intolerant brother.
Additionally, according to his baking-centric Instagram page, Peter also loves to celebrate his family members and honor his hobbies and interests—tennis, the NBA, and Paddington Bear, to name a few—with themed confections.
Early on in the season, he confessed that while time management and planning would be among his greatest assets in the Great British Baking Show tent, he might struggle with artistic decoration and bread-baking. Though he did indeed have some trouble in the "Bread Week" episode, Peter pulled through and will likely see his time management, creativity, and spot-on flavors carry him through the rest of the season—after all, all style and no substance makes Paul Hollywood a disappointed judge.
What did Peter bake in the competition?
In his Star Baker-worthy first episode, "Cake Week," Peter turned in a gluten-free chocolate and orange Battenberg cake and an edible bust of Scottish olympic cyclist Sir Chris Hoy, who shouted out his cake-ified likeness on Twitter. He also took second place in the technical challenge, with a near-perfect batch of mini pineapple upside-down cakes.
During "Biscuit Week," Peter took 10th in the technical (a dozen coconut macaroons), but impressed the judges with his sticky toffee florentines and an all-biscuit table set for the Scottish celebration of Burns Night.
Peter's "Bread Week" was a bit of a roller-coaster: The judges found his black pudding- and ginger beer-flavored soda breads less than stellar, but he jumped back up to fourth place in the technical challenge of creating six rainbow bagels, before missing the mark with his bread plaque depicting the Edinburgh cityscape.
During "Chocolate Week," Peter's technical abilities and attention to detail helped redeem him in the judges' eyes after a wobbly few days of bread-based challenges. He started by whipping up a batch of "upside-down brownies" that were deemed too cinnamon-y, but pulled into fourth place in the tricky technical challenge to create a chocolate babka, then wowed the judges with a gluten-free celebration cake to honor his brother's college graduation, which had been derailed by COVID.
Peter continued his post-Bread Week redemption arc in "Pastry Week," when he presented perfectly flaky Kedgeree pasties in the signature, a first place-worthy tray of raspberry and caramel eclairs in the technical, and a blackberry and lemon tart under a gorgeous pastry cage dotted with delicate edible flowers in the showstopper. He didn't take home the Star Baker title again, but his showstopper was decreed to be a "happy tart" by Paul Hollywood—incredibly high praise from a notoriously prickly judge.
Peter earned first place in the technical challenge for the second week in a row during The Great British Baking Show's first-ever "Japanese Week," by presenting a near-perfect matcha crepe cake. However, he stumbled in the other two challenges, with Paul ripping his adorable lamb steamed buns to shreds and his "Dizzy the Shuttlecock" kawaii cake—a nod to his love of badminton—earning a disappointing response from the judges.
Despite being born well after the '80s had concluded (like, a full decade later), Peter put up a pretty solid showing in a series of challenges developed in the era's honor. He started with Thai curry and salmon quiches, which were apparently much tastier than they sounded, then took second place in the technical with a fluffy batch of deep-fried doughnuts, before beating the oppressive heat by ringing in Christmas in July with a festive ice cream cake.
With only five bakers left in the tent, Peter had his most nerve-wracking week yet during "Dessert Week." He earned a spot in the bottom three with his mediocre lime and ginger mini cheesecakes, his second-to-worst batch of Sussex pond puddings, and his snowglobe-themed jelly art cake. Thankfully, he pulled through and was granted a place in the semifinal, but let this be a lesson to amateur bakers the world over: You can only serve so many winter-themed desserts in the summer heat before Paul Hollywood completely loses interest.
In classic Peter fashion, the young Scot pulled off yet another amazing recovery in the semifinal, jumping from the bottom three to Star Baker in "Pâtisserie Week." He offered up a beautiful batch of strawberry and elderflowers babas that impressed the judges, despite their initial wariness at his brave decision not to include the traditional rum in his recipe; then clocked yet another technical challenge victory with his mind-boggling Danish cornucopia cake; and capped it all off with an ambitious and very aesthetically pleasing chocolate, raspberry, and pistachio cube cake.
Peter's Chocolate, Raspberry & Pistachio Cube Cake. #GBBO pic.twitter.com/Qz2Jxr4ZyqNovember 17, 2020
See more
In the spirit of the generosity and compassion at the core of The Great British Baking Show, I won't spoil the results of the finale here. What I can tell you, though, is that, with his confidence-boosting second Star Baker title still fresh in his mind, Peter showed up with his eye on the prize. He baked up a gorgeous custard slice inspired by a traditional Scottish cranachan, took second in the technical with a batch of delicate walnut whirls, then went all-out with his "Bonkers Bake Off Bubble Cake"—but you'll have to tune in to see if the "random vibes" he imbued into his multi-faceted showstopper paid off.
Andrea Park is a Chicago-based writer and reporter with a near-encyclopedic knowledge of the extended Kardashian-Jenner kingdom, early 2000s rom-coms and celebrity book club selections. She graduated from the Columbia School of Journalism in 2017 and has also written for W, Brides, Glamour, Women's Health, People and more.