The 2020 'Great British Baking Show' Cast: Who's Who
A beekeeper, a radiographer, and a pantomime producer walk into a tent...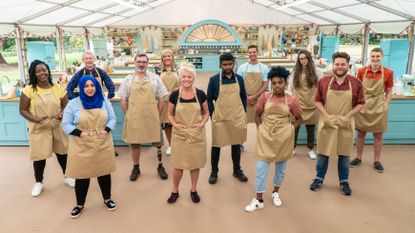 (Image credit: Mark Bourdillon/Netflix)
In this time of unrest, uncertainty and general unease, perhaps the only antidote is a gentle reality show about regular people trying their best and being kind to one another in a tent in the English countryside. Enter: The Great British Baking Show. The 11th season of the beloved baking competition is already in full swing on Netflix, and although the COVID-19 pandemic has certainly had its effect on the show, it's still the uplifting break from reality you know and love. So while each of the judges, hosts and contestants were required to quarantine for two weeks before moving away from their loved ones and into a Great British Baking Show "bubble," we can still expect the usual emotional rollercoaster ride from the triumph of a Paul Hollywood handshake to the heartbreak of an underbaked showstopper.
Here, meet the 12 amateur bakers we'll be rooting for each week (new episodes arrive on Netflix every Friday). On your mark, get set, bake!
Sura, 31
Sura is a London-based pharmacy technician who's not one to shy away from adding finnicky floral flavors to her culinary creations. Beyond baking, she's passionate about architecture and travel, and her celebrity hero—immortalized in cake in the season premiere's showstopper challenge—is Sir David Attenborough.
Dave, 30
Dave, who works as an armored guard, is a bread fanatic with a penchant for filling his kitchen with professional-grade kitchen gadgets. His other interests include cars, DIY projects and his pets—a cat and a dog—and the hero he chose to personify in cake form was Blink-182's Tom DeLonge.
Rowan, 55
This music teacher and avid swimmer is a major history buff whose love of French baking and Georgian-era recipes is sure to dazzle the judges. Case in point: His spot-on cake sculpture of Marie Antoinette from the season premiere.
Hermine, 39
Hermine has been challenging herself as a baker since constructing her first solo savarin cake at the tender age of 8. The London-based accountant has also been known to gift jars of homemade marmalade to her loved ones—so the Great British Baking Show judges would do well to stay on her good side. Her cake-ified celeb hero was Lupita Nyong'o, dressed in a jaw-droppingly realistic fondant gown.
Peter, 20
The youngest baker in this year's crop of amateur bakers, Peter is a student majoring in accounting in finance. The Scottish lad started baking when he was 12, inspired by none other than the first season of The Great British Baking Show. Peter dedicated his first-ever showstopper to Sir Chris Hoy, an Olympic cyclist from Scotland.
Laura, 31
A digital manager and volunteer for UK crisis hotline Samaritans, Laura spends her free time watching, appreciating and performing in musical theater. She's also a self-professed organizational wiz with a gift for staying calm under pressure, which will undoubtedly serve her well throughout the competition. And speaking of "Under Pressure," her cake bust took the shape of a yellow jacket-clad Freddie Mercury.
Mark, 32
Mark's science-driven baking journey began with the task of perfecting a lemon drizzle cake and has since progressed to the point of building multi-tier wedding cakes. He's a project manager for public health research programs, and, true to his scientific background, his celebrity hero is Charles Darwin.
Linda, 61
East Sussex-based Linda finds much of her inspiration in the world around her, from the family farm where she first learned to bake with fresh milk to her local beach and backyard garden. She's a retirement living team leader who wowed the judges with a technicolored cake bust of Bob Marley in her first showstopper challenge.
Marc, 51
No stranger to adventure, Marc is a mountain climber and former landscape photographer whose current challenge is making his daughters proud with each of his Great British Baking Show creations. The Cornwall-based support worker modeled his cake sculpture after David Bowie, complete with full Ziggy Stardust makeup.
Loriea, 27
Loriea, a diagnostic radiographer, made a name for herself right away this season by infusing her first Great British Baking Show bake with a hefty pinch of chili powder. She's a crafter in her free time, and prefers to improvise in the kitchen. Her showstopper bust paid tribute to Jamaican poet Miss Lou.
Mak, 51
An accountant by day and beekeeper in his spare time, Mak is a pro at pastry who has taken to incorporating his homegrown honey into baked goods. He's a self-taught baker with a knack for measuring ingredients by eye, and he built travel author Bill Bryson out of cake in the season premiere.
Lottie, 31
Each of Lottie's bakes are infused with her perfectionism and dark humor, both of which will likely make her stand out in the tent. The pantomime producer turned a skull-shaped cake into the spitting image of British filmmaker and journalist Louis Theroux in her initial showstopper.
Paul Hollywood and Prue Leith
Baking pros Paul and Prue are back again to judge every bake of the season with their signature combination of brutal honesty and good-natured charm, respectively. Expect plenty of bold accessories from Prue and, just maybe, a couple of reluctantly congratulatory handshakes from Paul.
Noel Fielding and Matt Lucas
While everyone's favorite goth has returned for another season of pestering contestants with bad puns at their most stressful moments, Noel Fielding's new partner in comedy crime is actor and comedian Matt Lucas, who you might recognize from Bridesmaids or from his dual role as both Tweedledee and Tweedledum in Alice in Wonderland and its sequel.
Andrea Park is a Chicago-based writer and reporter with a near-encyclopedic knowledge of the extended Kardashian-Jenner kingdom, early 2000s rom-coms and celebrity book club selections. She graduated from the Columbia School of Journalism in 2017 and has also written for W, Brides, Glamour, Women's Health, People and more.