All Points West 2009: Music, Mud Wrestling, and Beer Gardens
With headlining sets by Jay-Z, Tool and Coldplay, music fans trekked through fields, which felt more like rivers, throughout the three-day festival.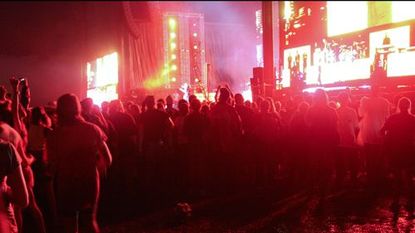 (Image credit: Archives)
Despite torrential downpour, tornado and hail warnings, thousands of people packed a very wet and muddy Liberty State Park this past weekend for the second annual All Points West Music & Arts Festival. With headlining sets by Jay-Z, Tool and Coldplay, music fans trekked through fields, which felt more like rivers, throughout the three-day festival.
Referred by many as All Points WET, Sunday's four-hour rain delay resulted in multiple canceled performances and scaled down sets. New Jersey favorites The Gaslight Anthem was just one example. The band recently released a statement requesting fans to bring their APW ticket stub for a free drink at their upcoming October 15th New York show.
Rain aside, festivalgoers had many performances to choose from. With three main stages, acts ranged from comedy to music with a carnival-esque concession stands as well as beer gardens and misting stations set up throughout the grounds to combat the heat. Friday highlights included Fleet Foxes, The National, Vampire Weekend, Yeah Yeah Yeahs and Jay-Z headlining on the main stage.
With a fitting tribute to former headliners Beastie Boys' and Michael Jackson, Jay-Z covered "No Sleep till Brooklyn" as well as Jackson 5's "I Want You Back." "We don't mark death, we celebrate life. Don't wait 'til someone's gone to appreciate them," Jay-Z told the crowd.
Saturday proved more promising as the clouds parted and the sun dried some of the grounds. Sets by St. Vincent, My Bloody Valentine, Arctic Monkeys and the Ting Tings proved festival favorites while celebs like Courtney Love and Entourage heartthrob Adrian Grenier were spotted.
The steady rainfall and four-hour delay Sunday didn't stop concertgoers from having fun, as many were seen dancing in mud puddles and creating mud slides. Unfortunately, some highly anticipated sets were canceled, but Coldplay's 90-minute performance made up for it. Like Jay-Z, the band paid tribute to the Beastie Boys and Michael Jackson. A few feet from the main stage, frontman Chris Martin performed "Fight For Your Right (To Party)" solo on piano. Later, the band joined him for "Billy Jean."
Always comical, after traipsing through the mud onto a third stage in the middle of the field, Martin realized what festivalgoers dealt with the entire weekend. "We have infinite respect for you now that we had to walk through that shit. Wish we had backstage passes for all of you," he said.
While backstage passes would have been a nice end to the weekend, the festival showcased multiple first-rate performances, albeit a bit muddy. Just a taste of what Woodstock must have been like 40 years ago, All Points West proved that music fans will suffer the elements to see a
worthy live show. This past weekend was living proof.
Annie Reuter is a freelance writer and music blogger who covers shows in and around the tristate area. In constant pursuit of the next show to attend and band to interview, Annie keeps up her own music blog, You Sing, I Write (opens in new tab).
Photo Credit: Wendy Hu