Make Your Micro Wedding All About the Vows
No one wants their lovefest to be a super-spreader event, but they do want it to be extra special. One "vow whisperer" shares how she helps couples—some of them first responders—tie the knot in these troubled times.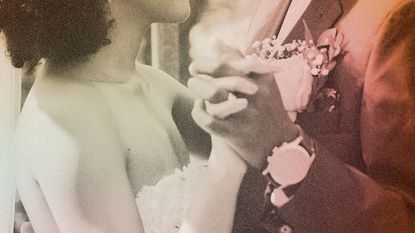 (Image credit: Getty Images)
A little more than a year ago, Tanya Pushkine went from a 20-yearlong career doing PR and corporate philanthropy for beauty brands such Clarins, L'Oreal, and Sephora in New York City to a gig as a freelance "vow whisperer," working with brides, grooms, and wedding parties on their vows, toasts, and nuptial ceremonies. You might think business had slowed since the pandemic began; in fact, she is busier than ever.
Marie Claire: How did this career pivot happen?
Tanya Pushkine: I got married for the second time in 2019. The New York Times covered our wedding. My husband and I wrote our own vows and my daughter officiated. Afterward, the reporter came up to me and said, "I've covered hundreds and hundreds of weddings and I've never seen a more beautiful ceremony." That's when I decided to become The Vow Whisperer. I like to say "I've married lots of people, but it's not what you think."
MC: How goes the new job?
TP: It was terrifying to leave that big corporate life and start a niche business. It's hard because I have no competition—no one knows there's a service out there to do vows, which makes it even harder because you constantly have to re-invent yourself, while, as an officiant, I have a ton of competition. But people are finding me.
MC: During the pandemic, how are weddings different?
TP: People are saying, "Hi, could you marry us under a tree in Central Park next Tuesday?" There is this need to be married now, even if it's a tiny, tiny, tiny ceremony. Obviously, a lot less money goes into these micro weddings and the focus is much more on the words, which benefits me. The spoken word has become the focal point and that's a beautiful thing. People realize the words are really the most important part of the wedding—not the dress, not the appetizers, not the cake. All of those things are wonderful, but even with the big blowout weddings, when you get down to it, those 30 minutes of ceremony are what people love and why people are there.
MC: What's it like working with a couple on their vows and ceremony?

TP: The vow work is really very intense. I get to know them very well, so it's almost like getting married by a friend. I did Wish upon a Wedding recently—it's like Make-a-Wish, but for weddings when one person is terminally ill and has always dreamt of an amazing wedding. I work individually with the couple. I want their individual vows to be top secret. I get to know things about them that their kids don't know about them. It's almost like being a therapist, but I'm not. Then when I officiate, it's like we are all family. That's the ideal scenario. Usually it doesn't happen like that; usually I do vows or officiate. But if I also do the speeches and the toasts, then it's one-stop shopping.
MC: How do you go about marrying people?
TP: I'm registered with the state and legally ordained as a minister, which is very funny because I'm Jewish. When I officiate, I like to get to know the couple pretty well. I want to be able to talk about them in some special way. I will incorporate a lot of what they tell me about each other. I will also incorporate if they come from different cultural backgrounds and include rituals and traditions from their families. I will personalize the ceremony as much as I can. I ask them if they want a super serious ceremony or if we can use humor. It's a collaborative experience just like the vows.
MC: Last spring, you offered on Instagram to marry any front-line workers or first responders—from pizza delivery persons to doctors—for free. How has that gone?
TP: I'm working on a couple of ceremonies. One of them (for a woman who is a physician's assistant at [Memorial] Sloan-Kettering [Hospital in NYC]) was really beautiful—on a roof in Brooklyn with Manhattan views. First, the couple wanted me to marry them on Zoom. But I said, "It's summer. Let's go outside and do something fun!" I got people to donate other services—an amazing photographer and the hotel's terrace event space and food. It became about doing this for a woman who got COVID herself in the hospital where she works.
MC: Are these donated ceremonies any different from other weddings?
TP: None of the guests knew I donated my services. I kept it to myself, so, no—it was not at all about the pandemic.

MC: Do you think this is the end of the lavish, budget-breaking ceremonies?
TP: Maybe in two years everything will be back to the usual norm of weddings being so over-the-top. I follow wedding planners who do these epic, epic weddings where people are spending a million dollars. So, going from there to what they're being faced with now is hard. After this, I think people may start to have smaller weddings. I officiated at a wedding [recently] where a fortune was spent for only 10 guests. It was so spectacular; it was unbelievable. They had some of the best wedding vendors out there—the floral designer, the people who build dance floors, the invites designer. They usually charge fortunes, but everyone lowered their rates. So, it was over the top in a very small way.
MC: How are the couples dealing with all the obstacles of COVID-19?
TP: If I had planned a 200-person wedding and then knew I could only have 10 guests, I would be greatly disappointed. But even with only five, six, or 10 people, the feeling and the sentiment and the joy is still there—even in a very pared-down situation. People have had to adapt, unless they want to wait until [later this] year or, even better, 2022.
I find that the happiness factor is still very much there. Even though the couple has been super disappointed, even though they can't do the froufrou thing—love is not cancelled. People are thinking: You don't have to invite every single person you ever met. It's about paring down to the most important people in your life. I think that people are realizing you don't need all of that other stuff. You can do it just as beautifully for less and maybe it's not about it being lesser, just different.
RELATED STORIES
Celebrity news, beauty, fashion advice, and fascinating features, delivered straight to your inbox!
Maria Ricapito is a writer who lives in the Hudson Valley.