30 Wedding Gifts They'll Actually Use
Let's skip the blender this time, okay?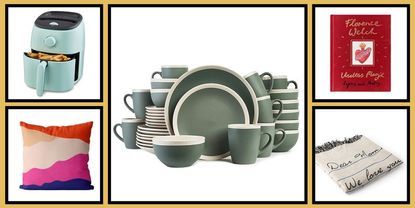 (Image credit: Future)
Forget the bride and groom (or the two brides or two grooms), weddings can be more stressful for the guests—especially when you have no idea what to get the couple who has everything. There are a lot of factors that go into picking out a wedding (opens in new tab) gift: Are you actually attending the wedding? Skipping out because you can't afford that ticket to Hawaii? Gifting the present to your close friend? Splitting it between you and your partner? No matter what, you want to get them something standout that won't be re-gifted. Ahead, find 30 off-registry gifts (opens in new tab) they'll love (and actually use) no matter where you fall on the wedding guest list.
1/30
Posterhaste Star Map
For the Astrology Junkies
The personalization options are endless on this star map that reflects the universe's placement on the couple's first date, wedding day, or a special event during their relationship. It's written in the stars, after all.
2/30
Bodum Chambord French Press Coffee Maker
For the Caffeine Addicts
Never met a French press I didn't like. Be responsible for less-grouchy mornings and give the pair this beautiful coffee maker that looks like a piece of decor when it's not working its early-a.m. magic.
3/30
Brooklinen Hammam Towels
For the Homebodies
Brooklinen's bedding, sheets, and towels are known for being incredibly high quality, especially for the price, and these Instagram-worthy Turkish bath towels are no exception. One side is smooth and the other is terry for easy absorbency.
4/30
'Useless Magic: Lyrics and Poetry'
For the Hopeless Romantics
Florence Welch is the living embodiment of romanticism with her soulful lyrics and Earth-friendly bohemian style. Welch's first published book—which encompasses her beautiful lyrics and poetry—is the perfect gift to give in the spirit of romance, and a more affordable option if you're not attending the wedding. Bonus if the couple chose a Florence + The Machine wedding song (opens in new tab).
5/30
Tack Storage Wine Rack
For the Wine Connoisseurs
If they can easily decipher between their merlots and their cabernets (opens in new tab), great, but they're going to need a place to store them. That's where this hanging iron wine rack comes in handy. Throw in a bottle of nectar of the gods (opens in new tab) to top off their collection if you're feeling really generous.
6/30
Parachute Waffle Robe
For the R&R Enthusiasts
When the honeymoon is over and reality kicks in, they'll feel like they're still on vacation whenever they put on these lightweight Parachute waffle robes. It doesn't have to be matchy-matchy either—the soft robe comes in grey and tan. (Remember, you'll have to buy two.)
7/30
West Elm Deco Marble Umbrella Stand
For the Practical Couple
Unless you think umbrellas are a sham (opens in new tab), the best thing you could do for a new couple is gift them a deco marble umbrella stand. It will prevent future arguments about the wet mess they left on the floor, and look c-h-i-c next to the doorway.
8/30
Nest Security Camera
For Paranoid Couples
No, this top-rated indoor camera isn't a gag gift. It's actually quite a smart investment for the couple who wants to keep an eye on their dog while they're at work or be on the lookout for ghosts (opens in new tab).
9/30
'The Big Book of Chic'
For the Design Aficionados
Assouline's The Big Book of Chic curates design inspo for days from internationally-acclaimed interior designer Miles Redd. The photography-driven coffee table book is something the couple might hesitate to splurge on on their own, which makes it the perfect gift from their good friend, you.
10/30
Nutribullet Pro 900 Series
For Fitness Junkies
No, it's not a blender—it's better. Make them a "healthy couple" with this powerful nine-piece NutriBullet set that includes a 136-page recipe book and a 32-page pocket nutritionist.
11/30
Away The Bigger Carry-On
For the World Travelers
If you don't want to spend $450 on Away's two-piece luggage set (opens in new tab), pick a color they'll both love and give them a chic suitcase they can easily share when traveling together or separately. Each piece comes with a built-in charger and the option to personalize the luggage with stickers.
12/30
Diptyque Baies Indoor and Outdoor Scented Candle
For the Entertainers
You know they would never buy a $340 massive Diptyque candle on their own, which is why it was clearly created as the perfect wedding gift. The cult-favorite candle is fit for both the indoors and outdoors, and it doubles as an accent piece. Their home will smell fresh with a sweet mix of floral and earth scents in no time.
13/30
KODAK Ultra Mini Portable Projector
For the Movie Buffs
Make their apartment feel like an in-home movie theater. This tiny projector fits in the palm of your hand and delivers high definition picture quality.
14/30
West Elm Agate Stone Bookends
For The Book Lovers
These will turn the couple's book collection into an art piece. An assortment of colors and metallic detailing give these bookends a luxurious look without a hefty price tag.
15/30
VINGLACÉ Wine Chiller
For the Bad and Boozy
Like all of the best gifts, they probably didn't even know they needed this wine chiller. It's made from vacuum-insulated stainless steel that will keep their favorite bottles cool for hours, so it's perfect for a romantic date outdoors.
16/30
Vegetable Kingdom: The Abundant World of Vegan Recipes
For the Vegans
Even if they bonded over being vegan from the beginning of their relationship, every couple wants to try something new in the kitchen every now and again. This cookbook is full of modern vegan recipes that are way tastier than your basic tofu dish.
17/30
Bang & Olufsen P2 Portable Bluetooth speaker
For The Music Lovers
Don't let this pint-size speaker fool you — it's super loud and can go for hours. Ten hours, to be exact.
18/30
Jasmine Wilcoxson Crystal-Infused Bath Soak
For the Self-Care Aficionados
Each one of these bath soaks will help the newlyweds get through anything together. After all, nothing beats a bath if you're trying to relieve stress after a long day.
19/30
Diane Scaman Personalized Hand-Written Letter Blanket
For the Writers
You can't get more personal than a one-of-a-kind blanket. Get their vows or the lyrics of their favorite song set in writing — they'll never stop thanking you.
20/30
Roku Ultra
For the Binge-Watchers
If the happy couple isn't going to invest in cable, they definitely need a Roku Ultra to replace it. It connects with nearly every single streaming service (yes, even Disney+ and Apple TV) so they won't miss out on any of their favorite shows.
21/30
Casper Foam Mattress Topper
For The Restless Sleepers
Give the new couple the gift of amazing sleep with this foam mattress topper. If you can't buy them a whole new bed, this should suffice.
22/30
Tempaper Novogratz Constellations Removable Peel and Stick Wallpaper
For the DIY-ers
Just because they're living in a rental apartment doesn't mean they can't design their space to suit their fancy. Simply peel this ready-to-use wallpaper and stick it onto your wall! It comes in three colors, so it'll look perfect in almost in any room.
23/30
Allswell Organic Garment Wash Percale Sheet Set
For the Bargain Hunters
This affordable sheet set holds up against even the most expensive ones on the market. It comes in five colors and goes with every possible duvet options.
24/30
DANSK Koffie Set of 2 Espresso Mugs
For The Morning People
If the couple actually enjoys getting up early (can't relate), get them this mug set. They'll think of you every time they take a sip of their morning coffee.
25/30
Candice Luter Aria Mirror
For the Artsy Couple
Gather up your friend group and go in on this art piece mirror hybrid. Mirrors make any room look bigger, why not get one that also looks stunning?
26/30
DASH Electric Air Fryer
For the Couple who Got Gifted Everything
The couple was probably were gifted every appliance under the sun on their wedding day. Luckily, this air fryer is so small that it can fit anywhere on the counter or in any cabinet. The bright color will also help it stand out from the rest of the stuff they've got lying around.
27/30
iRobot Roomba 675 Robot Vacuum
For the Neat Freaks
They'll have one less fight in their first year—or ever—thanks to this vacuum cleaner. All they have to do is set it and forget it before having perfectly spotless floors.
28/30
Stone Lain Dinnerware Set (32 Piece)
For the Wannabe Hosts
If you know a couple with a massive family, get them a matching dish set. Not only can they use it in its entirety around the holidays, but they can also pull them out whenever their in-laws are in town.
29/30
Estelle Colored Glass Glass Champagne Coupe (Set of 4)
For the Party Animals
Upgrade your cocktail experience with this set of coupes. They're designed for champagne, but we won't say anything if you use them for other things, too.
30/30
UNWRP Pillowcase in UNWRP
For the Maximalists
A fun pillow brightens up the whole room. When in doubt, gift them a pillowcase that they can swap out whenever they please.
Julia Marzovilla is the E-Commerce Editor at Marie Claire, where she covers everything from the latest beauty and fashion launches and sales to celebrity outfits and news. She also creates shopping guides that span every vertical on the site. Prior to joining the Marie Claire team, she contributed similar shopping stories to sites such as Bustle, InStyle, The Zoe Report, Who What Wear, and STYLECASTER. In her spare time, Julia can be found creating shopping guides for all of her friends, spending too much money on yet another pair of black boots, and cooking in her far-too-small kitchen.