Is Netflix's 'Bridgerton' Based on a True Story?
The new period drama has its roots in British history.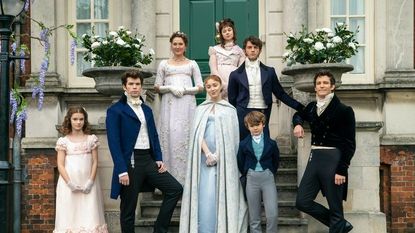 (Image credit: Netflix ¦ Liam Daniel)
If you, like anyone with a Netflix login and a penchant for over-the-top updos and sexy 19th-century romances, spent that weird limbo period of the week after Christmas bingeing Bridgerton on Netflix, you've likely been stuck in the mindset of a Regency-era lady or lord ever since. And for good reason: The new series is not only the perfect mix of period drama, steamy romance, and gossipy whodunit, but also a spot-on depiction of the strict and often bizarre social customs of the time—albeit with a modern feminist twist. Add to this executive producer Shonda Rhimes' knack for bringing multifaceted (and fictional) characters to life, and you'd be forgiven for automatically assuming the series is based on a true story.
In actuality, however, the Bridgerton and Featherington family histories only date back to ye olde year 2000, when the first entry in Julia Quinn's Bridgerton series of romance novels was published. Of course, that doesn't mean the series isn't still rooted in fact. High-status families like the Bridgertons certainly existed and certainly were forced to operate under those suffocating social mores—with their scandals regularly published anonymously in the press, even if not by the mysterious Lady Whistledown. Here's everything you need to know about the true story of the Bridgerton family.
Who are the Bridgertons?
The series' eponymous family are members of London's high society in the early 19th century. The family is led by Violet, Dowager Viscountess Bridgerton, who is played by Ruth Gemmell, and Violet's eldest son Anthony (played by Jonathan Bailey), who took over the role of Viscount Bridgerton after the death of his father. Rounding out the house of Bridgerton are the rest of Violet's children, conveniently named in alphabetical order: Benedict, Colin, Daphne, Eloise, Francesca, Gregory, and Hyacinth, played by Luke Thompson, Luke Newton, Phoebe Dynevor, Claudia Jessie, Ruby Stokes, Will Tilston, and Florence Hunt, respectively.
The Bridgertons' stories are detailed in Quinn's series, which comprises one novel about each Bridgerton child, as well as a collection of "second epilogues" for each of their stories and two further collections of Lady Whistledown's musings on societal goings-on. Quinn also mentioned in a recent interview with Shondaland that she's currently working on a prequel to the Bridgerton series.
Was there actually a Bridgerton family in Regency London?
As far as Quinn and the showrunners know, no. Quinn, who also worked as a consultant on the TV adaptation of her novels, has previously spoken about how she dreamed up the Bridgerton family herself—fun fact: her series was originally supposed to be a trilogy—and Chris Van Dusen, creator of the onscreen version of Bridgerton, recently discussed how the show offered the rare chance to rewrite historical events through a modern lens.
"Even though we're set in the 19th century, we wanted things to feel relatable. We wanted audiences to see themselves in these characters," Van Dusen told The Daily Express. "Bridgerton—it's not a history lesson, it's not a documentary. There were not actually any real Bridgertons in 1813 Regency London as far as I know. We honored the history, of course, but we're not beholden to it. It's a reimagined world, and what we're really doing is marrying history and fantasy in what I think is a really exciting way."
Was the world of the Bridgerton family real?
Very much so! The specific characters of Bridgerton may be fictional, but the London "Ton" circa 1813 that is depicted in the series was very real indeed, and the showrunners tapped historical consultant Hannah Greig, who also consulted on The Favourite and The Duchess, among many other film and TV credits, to make the Bridgerton universe as historically accurate as possible.
The idea of an annual social season during which the so-called "marriage market" opened, for example, is an actual thing: Beginning in the 17th century, high-society families like the Bridgertons would move from their country homes to the city to spend about six months bringing their children of marriageable age to a slew of dinners, garden parties, balls, and charity events. The aim of these highly exclusive events were less to encourage romantic connections than to "keep the money and the power within a fairly small circle of society by controlling the pool of suitors," Greig told the Los Angeles Times.
Additionally, Anthony's worries that his unmarried sister's reputation will be destroyed if word gets out about her—gasp!—unchaperoned conversation with Simon, Duke of Hastings (aka Regé-Jean Page), are also founded in historical accuracy. "No virtuous young lady could be alone with a man to whom she was not related. Not only should she be pure, she should be seen to be pure," historian Amanda Vickery told the L.A. Times. "Chastity, modesty, and obedience were the preeminent female virtues. Her sexual virtue had to appear unimpeachable, or she would be ruined on the marriage market."
And, yes, despite the Georgian period's reputation for sparking something of a sexual revolution across England, it's likely that Daphne and the rest of the Bridgerton women would be completely in the dark about the expectations for their wedding nights. "Doubtless her mother would have tutored her on the importance of submitting to her husband and producing an heir and a spare. But she would still be expected to be an innocent virgin on her wedding night. Any knowledge she might have had would be carefully concealed," Vickery said, while Greig added that it's unlikely there would be much to conceal, since "there was great concern if they read too many novels that might give them lots of sexual ideas."
RELATED STORIES
Celebrity news, beauty, fashion advice, and fascinating features, delivered straight to your inbox!
Andrea Park is a Chicago-based writer and reporter with a near-encyclopedic knowledge of the extended Kardashian-Jenner kingdom, early 2000s rom-coms and celebrity book club selections. She graduated from the Columbia School of Journalism in 2017 and has also written for W, Brides, Glamour, Women's Health, People and more.