Taylour Paige's Star Is Rising
It's destined to be the year of Taylour Paige, starting with this spring's 'Boogie.'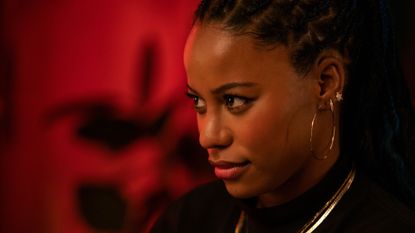 (Image credit: Nicole Rivelli / Focus Features)
Marie Claire Newsletter
Celebrity news, beauty, fashion advice, and fascinating features, delivered straight to your inbox!
Thank you for signing up to Marie Claire. You will receive a verification email shortly.
There was a problem. Please refresh the page and try again.
"How are you doing?" Taylour Paige asks. "How are you really doing?" Her warmth is undeniable, almost unsettling at first, but it quickly becomes clear it's just the actress's nature to be genuine and curious.
Perhaps it's the Libra in her.
Knowing Paige's sign is almost like a celestial key to unlocking her entire persona. She describes her life in dualities and balances, fitting for a sign represented by scales. ("I'm so optimistic and such a pessimist. … Without darkness, you don't see light.") And she often slips into cerebral and soulful statements that air signs are recognized for. ("I'm kind of always thinking about how the past, present, and future are not linear.")
While it might seem that Paige is like any other millennial addicted to Co-Star (the uber-popular app that generates astrological charts and nuggets of guidance based on the time and place of your birth), she describes her relationship with astrology to be much more spiritual than trendy. She doesn't track her daily horoscope and instead subscribes to her godmother's practices of studying the moon and the elements, setting intentions, and giving thanks through mindful rituals.
"I think of astrology as a road map," the actress tells Marie Claire. "It's not the end-all, be-all, but I think there is something really spectacular about the day that your soul—the time in the day and where the sun was and the moon was—decided to make its appearance on this planet." (Paige's soul appeared on October 5, 1990.) "We're all just these infinite beings that are extensions of this greater, bigger thing."
As much as astrology may influence her life's path, it also influences her career and her characters' journeys. She speaks of scripts and films "aligning" as if they were planets ruled by the cosmos, and she admits that the second thing she decides after accepting a part—the first is how her character will walk—is what her sign will be. For her upcoming role in Eddie Huang's Boogie, in theaters March 5, Paige and her director decided her character, Eleanor, would be a Scorpio.
"I could have very well said she's a Libra, like me, but I wanted, just for the sake of stretching myself … I just decided she's a water sign. So, a protective nature, but one that feels really deeply. One that is really intentional about who she shares her space with and is really passionate about the things she cares about. I also didn't want her to feel like just an annoying angsty girl. I wanted her to have depth and rhythm and [be] super self-possessed and forward and strong."
Whether it was in the script or in the zodiac, Paige's character is all of those things and more. Raised in Queens, Eleanor is assertive and sassy and, as Paige describes her, "a deep thinker" who "doesn't take any shit." She captures the heart of her high school classmate Boogie (Taylor Takahashi), a Chinese-American trying to find his footing on and off the basketball court.
Paige identified with the script because of her own teenage experiences. "I have these dreams of getting to redo high school 'cause it was kind of a shit show for me and a painful time in my home life."
That raw emotion comes across most poignantly when Eleanor and Boogie spar over their familial traumas. Who can claim to feel more like an outsider, a Black woman or the son of Chinese immigrants? Who has the monopoly on feeling oppressed? "It's sensitive. It's hurtful. Nobody's wrong," Paige says of the scene. "They're both living in a world where they have to be so much more dynamic and better than their white counterparts."
It's a harsh reality the actress knows all too well: Because of her skin color, directors often have trouble seeing her as a "blank canvas," she says. "That's been a challenge: wanting to be intentional and careful about the stories that I lend myself to in service of the truth, but also, sometimes, can I just be a girl?"
Despite the roadblocks Paige has faced, her star is steadily rising. She appeared in last year's Ma Rainey's Black Bottom opposite the late Chadwick Boseman and Viola Davis, and this summer Zola, in which she plays the titular character, will finally be released, cementing Paige's star power.
The actress credits the movie, based on a 2015 viral Twitter thread about an unhinged road trip, as a true turning point for her. "I knew [then] I had to stop apologizing—apologizing for my space and waiting for the world to inform me who I was," she says. "So much of acting is waiting for someone to say you're good enough. Doing a movie and then going back to waiting for the movie to come out and not knowing if you'll work again, and then working a party where you're catering and you're at the door greeting people and one of your costars is at the party. It's so insecure. I still have my bullshit, [but through Zola] I found myself."
With that self-actualization, Paige seems poised to take on the future. She sees herself directing, maybe working as a director of photography, or taking cooking lessons. "I just want to live a really, really colorful life."
It seems likely, almost as though it's written in the stars.
A version of this story appears in the Spring 2021 issue of Marie Claire.
Related Stories
Celebrity news, beauty, fashion advice, and fascinating features, delivered straight to your inbox!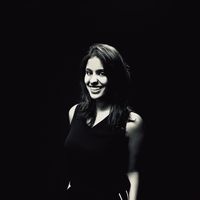 As Marie Claire's Entertainment Director, Neha oversees and executes strategy for all editorial talent bookings and culture coverage across the brand's print and digital entities, including covers, celebrity profiles and features, social takeovers, and video franchises as well as handles talent relations for MC's flagship summit, Power Trip. She's passionate about elevating diverse voices and stories, loves a hot-take, and generally hates reboots. She's worked in media for more than 10 years and her bylines about pop culture, film & tv, and fashion have appeared on Glamour, Vanity Fair, GQ, Allure, Teen Vogue, Brides, and Architectural Digest. She is a graduate of the Columbia School of Journalism.