The 29 Best Movies Based on Books in 2021
Now's the perfect time to read the 900-page Dune!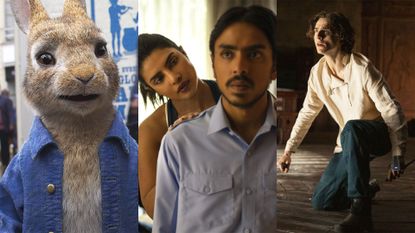 (Image credit: Warner Bros and Netflix)
Whether you enjoy a good page-turner or love seeing an excellent adaptation, there are a ton of 2021 films to look forward to that draw inspiration from really good stories. Among the many offerings this year, we've got films about Cruella De Vil's backstory (yes please, Emma Stone), a firsthand account of a prisoner from Guantánamo Bay, an exploration of India's caste system, and the inner life of Marilyn Monroe. One thing that's great about this list: It features a number of books I was less familiar with, which means there might be some new literature on here that you can get and read before the film comes out. That way, you can be prepared when you head to the movie theater (or maybe stay home and watch it on your TV, given the current circumstances). So grab your Kindle—or even go all the way and get an actual book!—and pull up these riveting reads. Then get ready to love, loathe, or otherwise pass judgment on these 2021 on-screen adaptations, ahead.

1. 'House of Gucci'
Nobody can stop talking about House of Gucci, starring Lady Gaga and Adam Driver, which tells the story of the Gucci family (murder and all!) and is based on the title of the same name. The film is set to premiere in November.
2. 'Nomadland'
Based on Jessica Bruder's book of the same title, Nomadland won the Academy Award for Best Picture and Chloé Zhao, the film's director, won Best Director. The film stars Frances McDormand as a nomad who leaves her hometown and travels across the United States after her husband dies. The movie officially premiered on streaming outlets in the U.S. on February 19, 2021.
3. 'Cruella'
The highly-anticipated Disney prequel is based on the character from 101 Dalmatians before she becomes the puppy-coat-wearing villain we all know. I'm still not totally sure how they're going to get the character to "wearing dog fur makes sense!" but at least they're not doing what prequels sometimes do—tone down her evil. Cruella says it best herself: "I was born brilliant, born bad, and a little bit mad."
4. 'The White Tiger'
An adaptation of Aravind Adiga's Booker Prize-winning book of the same name, Balram Halwai (played by Adarsh Gourav) is the titular "white tiger" born once every generation. He's brilliant and ambitious—and his work for a wealthy Indian family leads to fascinating, tragic consequences.
5. 'The Mauritanian'
Mohamedou Ould Slahi wrote this 2015 memoir while he was being imprisoned at Guantánamo Bay as a suspected 9/11 terrorist, despite never being formally charged with any crime. Definitely read the gripping best-seller before you watch the film, which stars Tahar Rahim, Benedict Cumberbatch, and Jodie Foster. The movie was released in theaters on February 12.
6. 'The United States vs. Billie Holliday'
Johann Hari's Chasing the Scream is a fascinating look at some of the most horrific stories from the War on Drugs, undermining everything we think we know about that campaign. One of those stories comes to life in this biographical drama about Billie Holliday as she's targeted by the Federal Department of Narcotics. With the amazing Andra Day as Holliday, it's a riveting, honest, and devastating watch.
7. 'To All the Boys: Always and Forever'
I mean. The first two movies are just so cute, and so beloved, that watching the final movie was never in question. Lara Jean and Peter navigate "together forever" in the face of college and the potential of a long-distance relationship. (Ah, the problems of youth!) It's worth noting that Always and Forever, Lara Jean has a few key differences, if you're a fan of the book series.
8. 'Those Who Wish Me Dead'
Michael Koryta's book, about a 14-year-old on the run after he witnesses a horrific murder, came to the big screen in May 2021. Directed by Sicario's Taylor Sheridan, it also features the return of Angelina Jolie as a mysterious, isolated ex-firefighter. The book goes quickly and is absolutely worth it as you wait for the film.
9. 'Without Remorse'
One of the most anticipated movies of 2021 (which is also a spinoff of the film series), Without Remorse is based on the 1993 Tom Clancy book of the same name. All of Clancy's books are page-turners, but even by that standard this is an intense rollercoaster of a read. Michael B. Jordan, the best in everything, graced our TV screens as the iconic Mr. Clark via Amazon Prime in April.
10. 'Cherry'
The story of an unnamed soldier-turned-addict-turned-bank robber became a national bestseller that's now a Russo brothers film starring Tom Holland. It's also, incredibly, based on the experiences of the author Nico Walker, who (spoiler alert) wrote the novel while he was in prison for bank robbery. It's riveting to read.
11. 'The Dig'
The book is a fictionalized telling of the Sutton Hoo dig, a critically important excavation of Anglo-Saxon artifacts. The film looks like it's a pretty faithful telling of the real-life participants involved, and we might see it make the rounds in upcoming awards circuits. If archaeology is your thing, the book is terrific.
12. 'Chaos Walking'
Another Tom Holland movie, this is based off of the first book in Patrick Ness's Chaos Walking series: The Knife of Never Letting Go. The premise is so compelling—Todd lives on a planet of only men, where are their thoughts can be heard and seen out loud. Then he meets a girl who's apparently crash-landed on his home (Daisy Ridley, post-Star Wars). This film has gone through a number of delays, but the books are apparently pretty riveting if the idea interests you.
13. 'French Exit'
In a darkly comedic novel by famed author Patrick deWitt, widow Frances Price escapes her New York pennilessness to live in Paris with her son. The film is garnering positive reviews thus far, particularly for Michelle Pfeiffer bringing the caustic Frances to life. The film was out in March.
14. 'Peter Rabbit 2: The Runaway'
Technically, this is only loosely based on the beloved children's Peter Rabbit series, and it's a direct sequel to the first Peter Rabbit (2018). But, if you love bunnies and cute antics and Rose Byrne as Beatrix Potter, give the film a watch when it's released in June. And if you have kids, definitely get the books.
15. 'Infinite'
The Reincarnationist Papers centers around a secret society that can recall their past lives, and the young man who discovers them. This upcoming film by director Antoine Fuqua reimagines the premise as a man (Wahlberg) begins to realize he's hallucinating his past lives. Both sound equally compelling, TBH.
16. 'Fatherhood'
The book by Matthew Logelin, titled Two Kisses for Maddy: A Memoir of Loss & Love, tells the story of losing his wife to a pulmonary embolism...27 hours after she gave birth to their daughter. So both the book and the movie, with Kevin Hart in the lead role, promise to be absolute tearjerkers.
17. 'Monster'
If you've never read the Pulitzer Prize-winning novel by Walter Dean Myers, go rent or buy it now: A 17-year-old teenager is charged with felony murder, and a terrifying trial ensues that has much to say about race in America. Netflix acquired the rights to the film in November 2020, after it originally debuted at Sundance in 2018. Kelvin Harrison Jr., Jennifer Hudson, Jeffrey Wright, Jharrel Jerome, John David Washington, and Jennifer Ehle are among the stars.
18. 'Finding You'
This one will hopefully translate into rom-com gold: There You'll Find Me by Jenny B. Jones follows teen Finley (Rose Reid) who's headed to Ireland after her brother's death. At the same time, film star Beckett (Jedidiah Goodacre) is also in Ireland filming a movie. Sparks fly, naturally. What happens?? Read the book, so you'll be ready for this on-screen romance!
19. 'The Last Letter From Your Lover'
This one also sounds like a fascinating read/watch: A journalist stumbles upon old letters between two star-crossed lovers, and becomes obsessed with finding out what happened between the pair. Felicity Jones, Shailene Woodley, and (Mr. Taylor Swift himself) Joe Alwyn star in what will likely be a passionate romantic drama, with plenty of period-appropriate fashion to ogle as well. If you're dying to know how it ends, here's the novel.
20. 'The Power of the Dog'
Kristen Dunst and Jesse Plemons join Benedict Cumberbatch in this tale of love and revenge. Two brothers work on a farm, barely tolerating each other—until one of them gets married, and the other one decides to burn their relationship to the ground. Thomas Savage's story has been compared to a modern-day Greek tragedy. It will have its world premiere at the Venice International Film Festival in September.
21. 'Dune'
It's not just an old, cult-favorite movie: Dune started life as a classic novel sometimes considered to be the best sci-fi epic ever written. Denis Villeneuve (Blade Runner 2049) is the perfect director to bring this trippy, terrifying, totally unique vision to life. It's headed to theaters and streaming in October.
22. 'The Last Duel'
Ben Affleck and Matt Damon are teaming up again to adapt this fascinating nonfiction book about the last judicial duel held in France, a.k.a. "the duel to end all duels." Adam Driver and Jodie Comer also star, so I'm definitely watching. But the real event's just as interesting, so the book's worth the read regardless of whether you plan on watching the film. It will be released on October 15.
23. 'Mothering Sunday'
Olivia Colman and Josh O'Connor—yes, the Queen and Prince Charles themselves—are back at it with Colin Firth and Odessa Young in this adaptation. Mothering Sunday is a short read about English maid Jane Fairchild meeting with her upper-class lover on what might be the most important day of her life. No spoilers! The film is set for release on November 19.
24. 'Deep Water'
Deep Water has most recently made headlines for its stars, Ben Affleck and Ana de Armas, briefly becoming an IRL couple (they met on set, apparently!). But the fictional story is some Gone Girl-level stuff. Author Patricia Highsmith (who also brought the talented Mr. Ripley to life) writes a story about a miserable married couple. One of the wife's lovers disappears—did her jealous husband do it? This one will now be released in January 2022.
25. 'Death on the Nile'
Agatha Christie fans unite: Death on the Nile, arguably one of her most compelling mystery novels, is getting the superstar treatment. The film is a follow-up to 2017's Murder on the Orient Express with Kenneth Branagh reprising his role as Hercule Poirot. It's the story of a deadly love triangle: A woman steals her BFF's boyfriend. Someone dies. And everyone has a motive. If you absolutely can't wait to figure out who did it (it's such a cool twist), read the novel first—you'll have plenty of time. After being delayed several times due to COVID-19, the film will now be released on February 11, 2022.
26. 'Clifford the Big Red Dog'
Everyone's favorite enormous pooch will be voiced by none other than David Alan Grier in this live-action adaptation of the book series. Expect for the story to go through some modernizing for today's young audience, with Darby Camp to star as the misfit teen who needs help from her brightly colored canine pal. The movie was originally supposed to premiere in September, but it's looking like it will have a 2022 premiere date.
27. 'The Stars at Noon'
Nicaragua in the 1980s is the setting for The Stars at Noon, which details the relationship between an American woman and an Englishman. Neither of them are exactly as they seem at first glance, and they become involved in "sinister plots." Claire Denis directs, and Robert Pattinson (who worked with Denis on High Life) and Margaret Qualley are set to star in the film planning to release in 2022 now.
28. 'Blonde'
And that's not the only film based on a book de Armas is starring in. Blonde, the adaptation of Joyce Carol Oates' novel about Marilyn Monroe, is the film icon at her most vulnerable. This is the perfect work for adaptation: an imagining of Monroe's rich inner life and a retelling of her impressive accomplishments in a male-dominated film industry. No official release date has been given, but at this point it's expected to premiere in 2022.
29. 'The Nightingale'
Apparently inspired by true events, Kristin Hannah's The Nightingale tells the story of two French sisters who get caught up, in different ways, in World War II. The Goodreads Best Historical Novel of the Year was bound to be adapted—and real-life sisters Dakota and Elle Fanning are playing the lead roles. It's not coming out until December 2022 now, so you'll have plenty of time to familiarize yourself with the subject matter.
Celebrity news, beauty, fashion advice, and fascinating features, delivered straight to your inbox!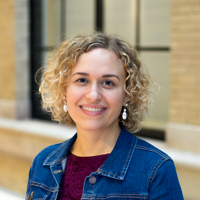 Katherine's a Boston-based contributor at Marie Claire who covers fashion, culture, and lifestyle—from "Clueless" to Everlane to news about Lizzo. She's been a freelancer for 11 years and has had roles with Cosmopolitan and Bustle, with bylines in Parents, Seventeen, and elsewhere. It's "I go to dinner," not "Her huge ego," but she responds to both.