Part 2 of Netflix's 'Lupin': Everything We Know
We need more of the French "gentleman burglar" in our lives ASAP.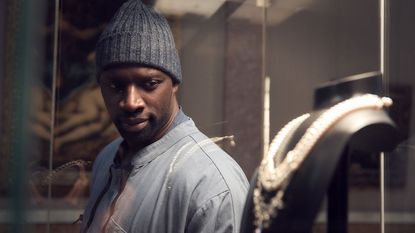 (Image credit: EMMANUEL GUIMIER/NETFLIX)
Marie Claire Newsletter
Celebrity news, beauty, fashion advice, and fascinating features, delivered straight to your inbox!
Thank you for signing up to Marie Claire. You will receive a verification email shortly.
There was a problem. Please refresh the page and try again.
A word of advice for filmmakers outside the U.S. hoping to get their foreign-language series picked up by Netflix: Make it about a heist. Within a year of Netflix's obtaining the rights to Money Heist, for example, the Spanish crime drama had become the streamer's most-watched non-English series and one of the most-watched Netflix Originals overall. More recently, upon its Jan. 8 release, Lupin became the first French show to debut in the Netflix U.S. top 10—and the mystery-comedy series doesn't seem to be planning on leaving any time soon.

Lupin stars Omar Sy as Assane Diop, a man on a mission to avenge his father, who died in prison after being framed by his boss, Hubert Pellegrini (played by Hervé Pierre), for the theft of a diamond necklace. Decades after his father's death, Diop is inspired by one of Maurice Leblanc's classic novels to become a master of disguise and trickery like Leblanc's character Arsène Lupin in order to expose the Pellegrini family's own crimes. In a nutshell, it's like if Danny Ocean was French and decided to organize a heist for moral rather than merely financial gains.
With Lupin's first five episodes already stealing their way into the homes of Netflix users around the world, the obvious next question is whether we'll be getting new episodes of the series in the near future. The short answer? Oui! The longer answer? Keep reading.
Not yet, but don't freak out: The five episodes currently available on Netflix are only the first half of season one. All 10 episodes were written and filmed throughout Paris at the same time, so part two will be arriving on the streamer within the next few months, according to an official Jan. 28 announcement. Netflix has broken seasons in half several times before, including with The Unbreakable Kimmy Schmidt, Chilling Adventures of Sabrina, and its Unsolved Mysteries reboot, so this shouldn't be cause for alarm. Plus, based on the runaway success of the first batch of episodes, it seems safe to assume that, by the time part two airs, Lupin will have also been renewed for a full second season.
Netflix's past split-season schedules saw the second half of Unsolved Mysteries premiere just three and a half months after the first, while the final episodes of Kimmy Schmidt's fourth season took eight months to debut. CAOS' first season, meanwhile, was split into two parts released six months apart, while the second season's two halves were spaced almost a full year apart.
That left things pretty wide open—going off those timelines, part two of Lupin's first season could be released as early as mid-April, or as late as the end of December—and Netflix initially didn't offer much of a hint about its release date: When you finish Lupin's final episode, before autoplaying a preview for another show, a screen appears saying "It's official: Part 2 is coming soon."
Finally, however, in the aforementioned Jan. 28 announcement, Netflix offered a (still pretty vague) clarification of the part two release timetable. The next five episodes will arrive sometime this summer, according to the 'Flix, though they didn't offer any further hints about whether that means we'll get to pick back up with Diop the minute June rolls around, or if the new episodes will become available closer to July 15, the 116th anniversary of the publication of Maurice Leblanc's first Arsène Lupin story. Guess it's time to test out that whole "power of positive thinking" thing and will an early June premiere into existence!
Have the cast and crew said anything about future episodes?
Unfortunately, the cast of Lupin seem to be as in the dark as the rest of us are about the exact release date of the show's next five episodes. When asked by a fan in an Instagram comment when part two will be available on Netflix, Vincent Londez, who plays grouchy police detective Romain Laugier in the series, replied, "We don't know yet," inexplicably adding a very smiley emoji instead of the anguished and/or sobbing emoji an answer like that warrants.
In much better news, the show's creators seem determined to stretch out Diop's story far beyond just one season. Showrunner George Kay told Variety that the first 10 episodes are only "the origin of how Assane came to be here, so it's the first chapter of a bigger show." And in a recent interview with Vanity Fair, Kay mentioned that he's already starting to plot out a potential third season (!!!).
Moving forward, Sy told Variety, we'll probably see a shift in Diop's typical confidence and smooth moves. "His main tool is his head; he has difficulties working with his feelings—his heart and belly. So now his son is in danger [and] he will have to work with his instinct, and he never did," Sy said, adding that, in the process, we'll see Diop finally learning to be a father, because "you cannot be a dad just with your head."
What could part two of Lupin be about?
Without giving too much away, part one of Lupin left off on multiple major cliffhangers in Diop's revenge plot, just as the budding heist-meister was getting thoroughly entangled in an even broader web of deception and widespread corruption. The next set of episodes, then, will probably see Diop and his estranged wife Claire, played by Ludivine Sagnier, doing whatever it takes to reunite with their son, while Diop also figures out how to convince Detective Youssef Guedira (Soufiane Guerrab) that he's one of the good guys (kinda). On top of all this, he still needs to accomplish his original mission to reveal the Pellegrini family's misdeeds and clear his father's name. A totally normal to-do list.
Kay, the show's creator, further opened up about the plot of part two to Vanity Fair. For one thing, he said, we'll continue to see flashbacks into the years before Diop became the gentleman thief he is today. "The backstory is going to take you up to how he got to that point," Kay said. "Right now we don't know what happened to him in the gap between him being, like, 15 and being 40. So we're kind of retrospectively educating with this huge backstory."
He also revealed that part two will finally wrap up Diop's revenge plot against the Pellegrini family, and will include several more of Lupin's now-signature action sequences set against Paris' most recognizable landmarks, matching the scale of his jaw-dropping jewelry heist at the Louvre. "We started with such a big thing, and I really want it to ramp back up to a big thing," Kay hinted.
Celebrity news, beauty, fashion advice, and fascinating features, delivered straight to your inbox!
Andrea Park is a Chicago-based writer and reporter with a near-encyclopedic knowledge of the extended Kardashian-Jenner kingdom, early 2000s rom-coms and celebrity book club selections. She graduated from the Columbia School of Journalism in 2017 and has also written for W, Brides, Glamour, Women's Health, People and more.