Who Is Katie Thurston, the 'Bachelorette' in 2021?
Her season just began filming!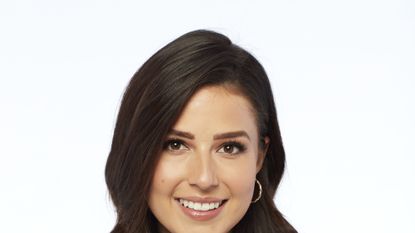 (Image credit: Craig Sjodin)
Amid all the craziness of the world, perhaps the one thing we can always rely on is ABC's ability to keep churning out seasons of The Bachelor and Bachelorette on a regular basis. Indeed, even as the COVID-19 pandemic rages on and the franchise finds itself mired in a racism scandal that caused longtime host Chris Harrison to step back from the show, if the rumors are to be believed, a new season of The Bachelorette is expected to start filming within the next few weeks, with Katie Thurston as the lead—followed by another season of The Bachelorette, this one with Michelle Young as the lead.

And while we may not know what precautions the show will take to avoid another major scandal, we do know a lot about Katie Thurston, who made it about halfway through the most recent season of The Bachelor and who became instantly iconic for bringing along a vibrator to meet Matt James. According to Reality Steve, Thurston was selected to lead the next season in early February, then de-selected a few weeks later, then re-selected in early March. Not confusing at all!
Barring any more last-minute changes, the intel is pointing toward an official announcement any day now confirming Thurston's upcoming quest for true love. While we wait for that to arrive, let's familiarize ourselves with a whole bunch of fun facts about her, shall we?
What is Katie Thurston's job?
Though Thurston works an official day job as a bank marketing manager in Renton, Washington, she's got a much more exciting side gig as a hilarious, no-holds-barred social media star. Prime example: She went viral on TikTok last summer for sharing a video in which she discussed her quarantine masturbation habits and mused about whether she'd hook up with a ghost (final answer: yes).
Between her frank online content and the fact that she stepped out of the limo on night one of The Bachelor with a vibrator in hand, Thurston has been widely praised for her sex positivity. And it's not just for show: "It wasn't some agenda that I had coming on to the show. It's just who I am and who I've been this whole time," she said during an appearance on the "Bachelor Happy Hour" podcast in January, per People. "It wasn't until after the fact that I realized how big of a deal it was—which excites me, because I do believe it's 2021 and women should be comfortable talking about their sexuality."
What is Katie looking for?
Thurston turned 30 just a few days into the new year, and the day before the big milestone, she reflected on where the last few years have brought her and what she wants her next decade to look like.
"If I died tomorrow, I wouldn't be happy with what I've accomplished. I followed 'the rules' of life. Get the career. Save the money. Start that 401k. Buy the house. And for what? An entire decade to pass without feeling fulfilled? This past year, I finally unapologetically loved who I am," she wrote.
"What I do know is life is too short to feel unfulfilled. So what fills your heart? What makes you happy? I've enjoyed making people laugh this summer during what felt like a dark time for so many. I've enjoyed learning from my diverse community and hearing their stories," she continued. "I will passionately pursue a fulfilled life and refuse to let this next decade pass by without purpose."
Here's hoping that purpose includes shaking things up on The Bachelorette—and maybe even finding the ambitious, mature partner she described in her official Bachelor bio.
What else do we know about Katie?
Followers of Thurston on social media are well acquainted with her cat Tommy, as well as her undying love of all things cat-related.
He's very big and very fluffy—a "big floof," if you will—and very deserving of any and all wall-sized portraits and emotional Whitney Houston serenades.
What does Matt James say about her?
They may not have ended up together, but James still has nothing but respect for Thurston. On an episode of Watch What Happens Live a few days after he eliminated her, as rumors were already swirling that she'd be the next Bachelorette, James raved about how "incredible" Thurston is. "Those are the type of women that should be in consideration for a Bachelorette role," he said. "She's bold, she's courageous, and she stands up for what she believes in."
What do we know about Katie's season?
A few things! First, her season will shoot in late March, according to Reality Steve. Second, she's not dating Tyler Cameron, in spite of those rumors. "Tyler has a girlfriend so everyone needs to get this out of their heads," Thurston said during an Instagram Q&A. (So I guess that's a no to Cameron crashing her season à la Nick Viall and Hannah Martin, then?)
Third, we know where it'll be set, per Reality Steve: "Hyatt Tamaya, just outside of Albuquerque, New Mexico," RS wrote on Twitter. And since it'll start shooting so soon, we also know that the men have already been selected and are quarantining while waiting for Katie. You can read about some of them (though it's anyone's guess who will make it to the final batch) here.
Celebrity news, beauty, fashion advice, and fascinating features, delivered straight to your inbox!
Andrea Park is a Chicago-based writer and reporter with a near-encyclopedic knowledge of the extended Kardashian-Jenner kingdom, early 2000s rom-coms and celebrity book club selections. She graduated from the Columbia School of Journalism in 2017 and has also written for W, Brides, Glamour, Women's Health, People and more.