'This Close to Okay' Is a Reminder That It's Alright to Struggle
"It brings attention to the ugly, sad, and heartbreaking parts of life, but does so in a way that promises you're never too far away from the warmth of the sun."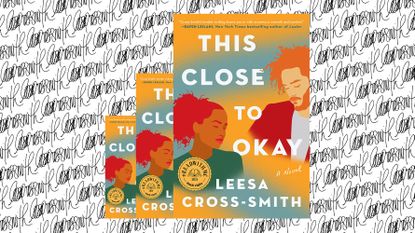 (Image credit: Design by Morgan McMullen)
Content warning: Suicide ideation, depression, infertility

After the year that we've all had, Leesa Cross-Smith's This Close to Okay delivers an important reminder that it's alright to struggle. And, more importantly, as one #ReadWithMC reviewer noted, the book "promises you're never too far away from the warmth of the sun, or a One Direction jam sesh, or a hug from someone you love."
The novel centers on two strangers—Tallie and Emmett—who spend an emotional weekend together after Tallie, a licensed therapist, finds Emmett attempting to take his life on a bridge. As they both come to terms with their pasts, Cross-Smith illustrates two complex characters who share their vulnerabilities, dreams, grief, and, ultimately, compassion with each other that left a lot of readers feeling seen as they navigate their own mental health throughout the COVID-19 pandemic.
Find out exactly what the #ReadWithMC community loved (and what they would have liked more of!) about Marie Claire's March book club pick, below.
"You know those books that absolutely WRECK you, but in the most beautiful way? That was this book for me.
I want to start with a serious content warning. This book covers heavy topics, including suicide ideation, death, and severe mental illness.
This Close to Okay is a book about two strangers who form a beautiful bond: Tallie, a recently divorced therapist, and Emmett, a man standing at the edge of a bridge. The book takes place primarily over one weekend when Tallie provides a home for Emmett after she finds him on the bridge. While it is a beautiful and warm weekend, it is also a time charged with secrets, as they inch closer to the truth of what brought Emmett to the bridge, as well as struggles that Tallie hasn't fully addressed since her divorce.
While the content is incredibly heartbreaking, I thought Cross-Smith did a wonderful job of still creating an uplifting and cozy novel.
I also ❤️ a book that switches back and forth between character perspectives, particularly when you can sense each character's unique personality and style through the pages—the author did this well.
Finally, I appreciate how this book highlights real intricacies associated with mental illness and relationships. Sometimes multiple relationships spill over one another. And often the difficulties of grief, depression, and anxiety are not the same for more than one person...and they don't magically disappear after one cathartic therapy session (as is so-often portrayed by the media).
While 'Tallie was the kind of person to make [Emmett] believe in Monday morning,' this book was the kind of story that makes me believe in human connection.
I definitely could see This Close to Okay being one of the best books of the year." —@and_thats_the_tay
"'After love, forgiveness is the strongest glue holding every family together.'
On a rainy night, Tallie Clark pulls her car over when she sees a man poised to jump in the murky waters off the bridge. As cars and trucks whiz by, oblivious and indifferent, she convinces him to come down and have a cup of coffee with her.
Emmett reluctantly agrees. Tallie, as a licensed therapist, decides to take it a step further and break every existing ethical rule to invite Emmett to stay with her temporarily. To both their surprise, he agrees.
Both Tallie and Emmett are reeling in their own personal tragedies. Tallie still hasn't recovered from a painful divorce and failed attempts to get pregnant—although her ex-husband has already remarried and had a child. And Emmett is hiding huge secrets of his own. Their chance encounter could have the power to heal both their hearts and transform their lives forever.
Leesa Cross-Smith has written a powerful novel about the intersection of love and forgiveness. In her author's note, she extoles [sic] the beauty of 'looking for the light' and 'small mercies.'
Mental health has come at a premium and is one of the often overlooked casualties of the pandemic—the isolation, the alienation from family and friends and even from work and the essence of routine has proven to be exceedingly painful and challenging. As Leesa states in her note: 'You are not alone. You matter. You are so loved.'
This novel is a powerful reminder that we belong to each other." —@suzylew_bookreview
"'To listen. To ask the right questions. To listen and ask the right questions some more.'
After reading the premise and reviews of this book, I knew I had to read it. It helped that I didn't go in with the expectation of getting a mental health thesis. This book was incredibly sad, heavy on the issues of mental health, but as someone who has been on both sides of the couch myself, I appreciate that the author did not make this a crash course in a fiction novel.
We got to meet two beautiful characters in all their vulnerability, fragility, bareness, grief, despair. One is a suicidal man and the other is a therapist who spend an unexpected weekend healing each other. I guess that's why I started this review with that quote; a lot of getting to know someone is letting go of your own agenda and listening to the other person, then asking the right questions and listening some more. We didn't always get that in this novel, I sometimes felt like Tallie was pushy, but it helped to peel away the layers of so much that is suppressed on the regular.
Racism, bipolar disorder, PTSD, incarceration, and infertility just scratches the surfaces of what remains unseen to the outside world...both Tallie and Emmitt showed us incredible patience and love in their most vulnerable and heartbreaking moments, trying and sometimes failing to get past these issues. Two seemingly perfect all-American families who had their lives upended in the blink of an eye. And this novel constantly reminded me, life is so so very fragile and fleeting.
There's a fine line between content and tolerance. Grief is complicated, chaotic, and multifaceted. The twisted turn of events from these characters often made me equally angry and empathic. The characters are intertwined in ways that made this a solid page turner as the story evolves, written with candor and compassion. I did not get the bow tie wrap up I anticipated in the end, but sometimes that's the point in life, things don't always turn out the way we expect. Nevertheless I LOVED this novel." —@jamaicangirlreads
"Wow! I really enjoyed this one! My favorite genre is usually mystery/suspense but wow! Kamali Minter and Zeno Robinson did excellent with the narrations of the main characters, Tallie and Emmett. I loved Zeno's narration of Black Buck. When I saw he was one of the narrators for this novel, I knew I had to download it right away! After listening, I am also now a fan of Kamali's narrations.
Leesa Cross-Smith did well on keeping me on edge and wanting me to listen more. The whole setting mainly revolves around one entire weekend. Leesa did well describing the emotions and intimacy of the characters. I appreciated that many real-life issues of depression, mental illness, suicide, insecurity, jealousy, family, relationships, loss of faith, infertility, and infidelity were embedded throughout this novel. The ending was not predictable for me and I was happy that it ended on a positive note. I have not decided if I was happy with the novel ending the way it did or if I would have liked to listen to more. I cannot get into depth about my thoughts on the ending without any spoilers, so I will hold off.
I do think if the novel went on to be longer, the ending would have likely been predictable. I highly recommend this book/audiobook. Keep in mind it may not be for everyone, especially with triggers (mental illness, depression, suicide, infidelity, and infertility)." —@mae.rox.wanders
"Sometimes there is a book that gives a refreshing perspective of how beautiful the world could be if we all focused on caring and understanding versus judging. This was a beautiful story about two strangers who cross paths and forever change their lives. We need some more Tallie's in this world. Her outlook on life, ability to love, and lack of judgement made me feel there is good like this that is out there. She starts out yelling, 'Hey! I see you! You don't know me, but I care about you!' ...I mean, how many lives can be saved with these words told to someone going through a difficult time?! This was a beautiful story on the act of forgiveness: the forgiveness of others and of oneself. I wanted a little more in the end, but overall, great book!" —@afterthoughtsbookreviews
"TRIGGER WARNINGS: Suicidal ideation, depression, anxiety, racism, racial classism and injustice, infertility, bipolar disorder, death.
This story has so many powerful messages. Some that I am constantly trying to explain to others, and some that I am still learning myself. It talks a lot about therapy, and where that may be a touchy subject for some it's also extremely helpful to others. We all know therapy is way too expensive for the benefit of helping someone, but if you can I encourage you to seek it. I know a lot of people it has helped, and I'm own my own journey of finding the one for me. If not, it's important to talk to someone—not just anyone, realize who has your best interests at heart. Talk to people you feel actually care.
This book is about a woman named Tallie who sees a man (Emmett) ready to jump off of a bridge. She does everything in her power to save him, and convince him to leave with her. The whole time he agrees, there's still a plan to return to the bridge and finish the job. Throughout the story, Tallie and Emmett get to know each other in ways some of your closet family and friends don't even know. There's also betrayal, and love. The biggest takeaway is while Tallie is a professional therapist (in secret)—she believes she's helping Emmett, without realizing he is also helping her.
I adored this book. Something that I learned to love over time was how the author's writing style really marched to the beat of her own drum. I feel like Leesa was able to be sensitive towards the subject while writing the way she felt. Often when reading a book, I feel like I've read it before—due to the style of writing and content. With this book I feel like we had our own secret language. This book was very reflective to me, and I appreciated feeling seen and attacked." —@loveonpages
"This Close to Okay follows Tallie and Emmett. Two people who have met by chance and circumstance. Tallie is driving on a bridge and sees Emmett about to jump and she can't just walk away. Emmett and Tallie both have their inner demons and this story is how they get This Close to Okay.
What could have been better? Some parts of what was going on in the relationship with Tallie and Emmett. As a mental health provider parts of it didn't sit well with me.
What I liked? The presentation of flawed and relatable characters.
The discussion surrounding mental health and the grounding/therapeutic techniques that are interwoven within the story. They were both accurate and I feel like they could help others.
The constant reminder that it is OKAY to not be okay. Feel how you need to feel, feel it completely. There is no timeline on healing. There is no timeline on grief. There is no timeline on getting yourself where you need to be. Everyone handles things in their own time.
The idea that kindness goes a long way. That someone, somewhere cares and that there's help out there.

Here are my two favorite quotes: 'Depression was a vacuum that sucked out everything—leaving nothing behind except the burdening of nothingness.'
'You're human and have to reconcile that with yourself somehow, forgive yourself. Allow yourself to feel everything deeply, to grow and learn.'
This book was, overall, a good read. One that I appreciate more the more I sit away from it." —@biblio.jordyn
"CW: attempted suicide, suicidal ideation, depression, grief, anxiety, panic attack, coping with divorce, infertility.
This Close to Okay is a lovely, emotional, character-driven story about two strangers who meet when one convinces the other not to jump from a bridge. They end up forming a unique bond over one weekend that changes their lives. It's also about grief, coping, moving forward, trust, forgiveness, healing, and, above all, human connection.
Though I felt that the dialogue could've flowed better at some parts, I would also attribute some of that to the characters feeling awkward and not knowing each other that well. Leesa Cross-Smith is a talented writer who delves deep into these characters, their pasts, their pain, their hopes, and dreams. There is also a sense of mystery propelling the book forward as we as readers discover the characters' secrets and learn more about them as their connection develops and as their layers obscuring their truths are gradually peeled away.
While not for everyone due to the content matter and focus on mental health, I felt that This Close to Okay was a thoughtful and touching read. As I'm re-visiting and reflecting more deeply on this book, I'm finding that I like it even more than I did right after I read it, especially the message that everyone deserves the support, help, and love they need.
'After love, forgiveness is the strongest glue holding every family together.'" —@read.review.repeat__
"On an October night in Kentucky, recently divorced therapist Tallie Clark is on her way home from work when she spots a man standing at the edge of a bridge. Without a second thought, Tallie pulls over and jumps out of the car into the pouring rain. She convinces the man to join her for a cup of coffee, and he eventually agrees to come back to her house, where he finally shares his name: Emmett. Over the course of the weekend that follows, Tallie makes it her mission to provide a safe space for Emmett, though she hesitates to confess that this is also her day job. They both are keeping secrets and need their own kinds of healing. Alternating between Tallie and Emmett's perspectives as they move closer to the truth of what brought them together that fateful night.
This was a slow burn novel and I almost put it down a few times but kept reading. It isn't too long and I pushed through. The last 1/4 of the book is where everything comes together and you are engrossed. This story is heartbreaking at times and deals with major issues. I felt like most of it was a therapy session. But the heartbreak turns hopeful and you care for these characters. Both main characters are very well developed. I liked the alternating viewpoints as well. CW: suicidal ideations." —@readresa
"Content warnings: suicide, infertility, loss of a spouse, loss of a child.
Therapist Tallie Clark is on her way home on a rainy night and spots a man at the edge of a bridge ready to jump. She pulls over and convinces him to join her for a cup of coffee, setting in motion an emotionally-charged weekend.
I was hooked on the story from the beginning, even if I wasn't sure where it was going to go. It's heartwarming and compassionate as you get to know Tallie and Emmett, two strangers who came into each other's lives under crazy circumstances but had so much to learn from one another. Each character has some healing to do, but as you uncover their stories you can't help but root for their success.
The ending lost a bit of momentum and I was hoping for a different outcome, but it's still a great story about the power of human connection and helping people." —@whatstephisreading
"This Close to Okay was...okay.
Quick synopsis: the story follows the two MCs Tallie and Emmett. While driving home from work Tallie, who is a therapist, finds Emmett on a bridge preparing to jump. She's able to coax him off the ledge and takes him back to her place where he spends the weekend. The two end up learning about and leaning on the other as they both try to heal from their respective pasts.
I don't have much to say about this book, honestly. It wasn't bad by any means, but it also wasn't very memorable for me either. I really enjoyed the characters and the clear concise writing, but for some reason towards the end of the story I was still left wanting a bit more from the book. The premise of the plot is really interesting and there were so many different directions this story could have went.
I'll always have a soft spot for books that tackle mental health issues/crisis and this book does so nicely. Despite my few gripes with the story I would still recommend this book to anyone." —@tatis.bookshelf
"TRIGGER WARNING: this book talks extensively about su*cide and depression.
This Close to Okay is really something special because it brings attention to the ugly, sad, and heartbreaking parts of life, but does so in a way that promises you're never too far away from the warmth of the sun, or a One Direction jam sesh, or a hug from someone you love.
Mental illness and racial identity are two HUGE themes in this book that cannot be underestimated in terms of their scope, magnitude, and relevance in 2021 America.
I HOPE EVERYONE READS THIS BOOK. It had me writing in the back, scribbling in the margins, and underlining like crazy. (I realize this practice is very off-limits to a lot of people, but it's how I engage with the books I read. I find it extremely helpful to be able to see what I was thinking, or what quotes stood out to me, when I return to books I've read in the past.) I am so excited to make my way through the rest of Cross-Smith's work." —@proseandpinotnoir
"This book was such a beautiful read. I fell completely head over heels for Tallie and Emmett and really felt by the end that I knew them. They were so real to me. I loved hearing both of their perspectives in alternating chapters and learning along the way the secrets they shared and kept hidden. I know their story will stick with me for a long while.
It's hard to put into words how I feel about this book and even harder to rate it. It made me feel so much. I had one rating in mind for the majority of the read and a different rating in mind upon finishing. The ending of the book was not exactly what I was hoping for. It wasn't bad! Maybe just bittersweet for me. And maybe that was on purpose. I can see the author's point. Not everything is wrapped up perfectly in the end. Sometimes we remain a work in progress. You shift, you adapt, you move forward.
Personally, I love a book that leaves you thinking at the end. Don't get me wrong, I also love a perfect happy ending, but sometimes the complex, unfinished endings are the ones that really stick with you." —@ericaslittlelibrary
Missed out on our March book club pick? In April, we're reading The Dating Plan by Sara Desai. Read an excerpt from the book here.
RELATED STORIES
Celebrity news, beauty, fashion advice, and fascinating features, delivered straight to your inbox!
Rachel Epstein is a writer, editor, and content strategist based in New York City. Most recently, she was the Managing Editor at Coveteur, where she oversaw the site's day-to-day editorial operations. Previously, she was an editor at Marie Claire, where she wrote and edited culture, politics, and lifestyle stories ranging from op-eds to profiles to ambitious packages. She also launched and managed the site's virtual book club, #ReadWithMC. Offline, she's likely watching a Heat game or finding a new coffee shop.