Michelle Zauner's 'Crying in H Mart' Is Deeply Moving
"She made me want to eat and cry at the same time..."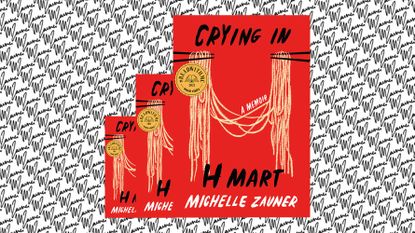 (Image credit: Design By Morgan McMullen)
Marie Claire Newsletter
Celebrity news, beauty, fashion advice, and fascinating features, delivered straight to your inbox!
Thank you for signing up to Marie Claire. You will receive a verification email shortly.
There was a problem. Please refresh the page and try again.
Michelle Zauner's Crying in H Mart is as good as everyone says it is and, yes, it will have you in tears. The memoir, an expansion of Zauner's viral New Yorker essay, dives deep into the musician's experience losing her mother to cancer and how it shaped her identity. Filled with odes to her Korean heritage, the book has left many readers grappling with their own complex familial food memories.
"It was both comforting and exposing to have Zauner write about the food I grew up with," explains one reviewer. "She mentions yukgaejang (육개장), which is my mother's speciality. I've tried to learn from her, but it's almost impossible with the language barrier and her not needing a recipe. And after Zauner's mother passes, Zauner decides to make herself the ultimate Korean comfort food, doenjang jjigae (된장찌개). Reading a description of this in English made me feel a bit uneasy."
Despite the mix of emotions this book may bring to the surface for readers—food-related or not—the #ReadWithMC community emphasizes Zauner's memoir is an essential read for anybody who has lost a loved one, as well as those who haven't. "I knew this would be a difficult read for me personally, having lost my mom to lymphoma 14 years ago and it definitely pierced through my heart," writes another reviewer. "I think initially I almost wanted to avoid reading it because of the pain and grief I still feel about my mom's passing, but I'm so glad I was able to pick it up."
Find out what readers loved the most about Marie Claire's May book club pick, below.
"Where do I start—some parts hit too close to home, others were heartbreaking and emotional, and at times, I found myself laughing and saying 'OMG ME TOO!!' I appreciated the Philly references and the local H Mart she talks about is the one I go to. 
I respect Zauner for sharing her darkest moments, her messy relationship with both her mother and father, the deep questions she had about her identity, and the confidence she has in who she is as she explores all of this.
Korean or not, I think there is something for everyone. Zauner keeps it real with her storytelling; straightforward and analytical at times, but also deeply honest and vulnerable. I'm torn if I'm ok with her explaining in detail each Korean food or tradition, because in some ways, it felt like it was appeasing a Western audience. Still wrestling with this one.
It was both comforting and exposing to have Zauner write about the food I grew up with. She mentions yukgaejang (육개장), which is my mother's speciality. I've tried to learn from her, but it's almost impossible with the language barrier and her not needing a recipe. And after Zauner's mother passes, Zauner decides to make herself the ultimate Korean comfort food, doenjang jjigae (된장찌개). Reading a description of this in English made me feel a bit uneasy. Will folks start to try this after reading this? Will the strong smell of doenjang (fermented soybean paste) be acceptable to people? I can't ever imagine making this for my friends, and then I wondered why I still feel a bit of embarrassment with a dish that is ultimately meant for comfort. And why should I care who enjoys it or not?
Reading through this made me recognize how deeply personal food is, as we see how much comfort it brought Zauner during the most difficult time of her life. Though I haven't lost a parent, Zauner created space for me to feel what she feels and it stirred up a lot of old feelings I have regarding my parents. Not seeing them for a year and a half has left some sort of emptiness. Maybe this is why you'll find me at H Mart at least once or twice a week." —@yoon.reads
"I've finally been released from the grip of law school finals and am happy to say that I actually finished reading a book!!! I'd been waiting for this memoir since I first read Zauner's piece in the New Yorker of the same title.
I don't post about that many memoirs (clearly besides the one that I posted before this lol), but the other day, I realized that memoirs are probably one of my favorite genres. A friend recently asked me why it was that I'm so drawn to reading memoirs, and I told him that it was probably because I want to learn from and hear about others' lived experiences. And how, in a way, they're kind of like reading someone's diary, albeit a very public one. I think they are captivating because of how they bare an author's soul to the world.
In this memoir, Zauner writes about what it was like to lose her mother to cancer. There are many mentions about how food tied her closely to her mother and her Korean heritage, which I loved to read about. I also really related to the parts where Zauner wrote about her relationships with the rest of her family members, namely her aunts and grandmother. She wrote of her grandmother (or Halmoni): 'It was difficult to even register that this woman was my mother's mother, let alone that their relationship would be a model for the bond between my mother and me for the rest of my life. I was afraid of my grandmother. She spoke harshly and loudly and knew maybe fifteen words in English, so it always seemed like she was angry.' These sections reminded me of the distance I often felt with my grandmother, especially because of the cultural/language barriers that existed.
This is a book I'd recommend if you want a good cry or to read something on the topic of grief, love, and coming to terms with your cultural heritage. I was most definitely about to be crying in CVS (because of this memoir) as I was waiting in line to get my second COVID shot." —@wanan_bookclub
"Crying in H Mart, more like crying on my couch. 😭
Crying in H Mart is Michelle Zauner's memoir where she primarily writes about caring for her mother after her terminal cancer diagnosis. This made Zauner reclaim and confront her Asian American identity, as she reflects on struggling with speaking Korean, cooking Korean foods, and remembering the cultural history first learned from her mom. Zauner also describes growing up as one of the few Asian Americans in her hometown, the relationship with her father, and how she began her musical career while reckoning with her mother's high expectations.
Like most people, I became interested in Zauner's memoir after reading the title essay in the New Yorker. I remember being struck by the honesty in her writing and by the memories she associated with certain foods.
I really enjoyed this memoir, but I have to be honest when I say it was incredibly hard for me to read. As someone who has also lost a parent, my specific situation was very similar to Zauner's, from dealing with hospice care to the pain of wondering whether my presence would be a painful reminder to both my aunt and other parent. Zauner's descriptions of her grief are not always pretty, and they reminded me of the wide range of emotions I felt during that period of my life. Some points of the book left me breathless, and I had to put it down a few times to process everything. If you're going through a similar situation, you may find comfort in this book, as I ultimately did, but please be easy on yourself if you think it's too much at once.
If you've read this book, I'd love to hear your thoughts on it, as everyone seems to be reading this right now! On a lighter note, I took this picture at H-Mart and it was actually my first time going to one! Where I am, I'm close to like four Korean markets and H-Mart is sort of far away, so I was always too lazy to make the trek over there 😅. But I thought it was worth the drive and fighting for parking!" —@wheresdabooks
"Ever read a perfect memoir?
✨ Michelle Zauner's writing, pacing, and capture first:
'My first word was Korean: Umma. Even as an infant, I felt the importance of my mother. She was the one I saw most, and on the dark edge of emerging consciousness I could already tell that she was mine. In fact, she was both my first and second words: Umma, then Mom. I called to her in two languages. Even then I must have known that no one would ever love me as much as she would.'
You can tell this book was most likely essays placed chronologically instead of a continuous story and that worked for me. Some details were repeated like occupations and inside jokes but I liked the reminder. Sometimes I forget who is who when I'm reading any book.
The food. The food. The food. The food. Food is so powerful. Recipes, cultural touchstones for the author, the connections. Wow.
✨ Why it worked for me:
I am drawn to books, music, and movies about grief and death. I always have been. Looking for understanding everywhere. Looking to learn how others move through it because I'm so bad at it myself.
How Michelle is haunted by the gruesome yet human details of her mother's decline and death. Her mother being carried out in a body bag. I watched my best friend's body being pulled out of a lake when I was 17. I will never forget the bloating and discoloration. It plays through my mind often. How his family made his favorite dish after (phở) and left it on the porch for his spirit to enjoy. Trauma and death are so graphic. The author captures that.
✨ A thought: The title of this memoir reminded me of one of my old favorite songs 'Parenthesis' by The Blow: If something in the deli aisle makes you cry, of course I'll put my arm around you and I'll walk you outside." —@mskennedyreads
"Crying in H Mart by Michelle Zauner is a beautiful, intimate memoir following the authors relationship to her dying mother.
Throughout the book you get to see how food became a bonding point for Michelle and her mom. I loved the elaborate descriptions of the various Korean dishes Michelle had enjoyed. Zauner also highlights the complexity of mother-daughter relationships in a raw and truthful way. Their relationship was complicated yet strong and beautiful.
This books also reflects on the Korean-American experience and feelings of otherness within American society and the pressure to distance yourself from your Korean heritage. I really appreciated the author's vulnerability with this. So many people will be able to connect with this experience.
Overall, this book is a tear jerker. I cried a few times reading it. A powerful memoir that I won't forget." —@herstacks
"'In many ways, food was how my mother expressed her love. No matter how critical or cruel she seemed—constantly pushing me to be what she felt was the best version of myself—I could always feel her affection radiating from the lunches she packed and the meals she prepared for me just the way I liked them.'
In @jbrekkie's memoir, we see how she deals with adolescence, how she finds her cultural identity as a biracial woman, and how she confronts different facets of grief brought upon by her mother's terminal illness. This book draws us into a mother-daughter story conveying how food is not only satisfying for the palate but also for the soul—memories built, bonds strengthened, and death emotionally outlived by a daughter's love for her mother.
Zauner's writing flow made the book unputdownable. Even with the sadness that comes with the narrative, she made me chuckle as hints of witty lines ran through the story. While reading the first few pages, I instantly started craving Korean food (everything seemed so sumptuous!!!); sensory depictions of tteokbokki, bulgogi, yukgaejang, etc. allowed me to imagine the smell of every dish she wrote about, which made the reading experience more immersive. With raw emotions, she shares her deep affection for her mother and heritage.
This brilliant ode to Zauner's mother is a poignant memoir about love, loss, and healing that does not veer away from grief but lives with it and most importantly, one that honors it. ❤️" —@ict.books
"'Every time I remember that my mother is dead, it feels like I'm colliding with a wall that won't give. There's no escape, just a hard surface that I keep ramming into over and over, a reminder of the immutable reality that I will never see her again.'
'It felt like the world had divided into two different types of people, those who had felt pain and those who had yet to.'
Crying in H Mart, Michelle Zauner

This is definitely one of my favorite reads of the month. This book is so lyrical, with such vibrant descriptions of Korean food, I could almost taste it. After losing my mother to cancer in 2014, I find myself seeking out books similar to my experience (like Wild by Cheryl Strayed), and this was one of them. I love the exploration of a complex mother-daughter relationship while exploring the aftermath of loss and how the relationships with your remaining family change. Main takeaway: everyone should read this book.
CW: parent death, grief, cancer." —@inbetween_thepages
"This memoir is a beautiful homage to a mother-daughter relationship through the lens of Korean food.
I was interested in reading this after hearing about it and looking up Zauner's New Yorker article that's also titled Crying in H Mart. I wasn't familiar with her music as Japanese Breakfast, so don't be deterred if you are not a Japanese Breakfast fan! In this book, she talks a bit about her roots in music, which gives some context about her and helped me feel connected to her, but was not something that overtook the book. The book's main focus is on Zauner's relationship with her mom and the grief of losing her to cancer. The theme of food is woven throughout, as a means for her to connect with her Korean culture and with her mom.
Zauner also talks about her biracial identity, feeling inadequately Korean, and what it means to carry on that Koreanness after losing her mom. It made me personally reflect about how I will grapple with my cultural identity when it's just me. Like Zauner, my connection to my culture comes through my family. I found comfort in following her along her journey and it has me feeling more optimistic about when I will have to face a similar path. 💛
If you can handle reading about grief and the loss of a loved one, I highly recommend this memoir! I think there is a lot to be gleaned for people of all cultures. The writing was captivating, personal but also insightful, and really does justice to food!
Also I love the title and what it signifies. My version would be Crying in Ranch 99. 🍚🥢" —@amylimereads
"'Every dish I cooked exhumed a memory. Every scent and taste brought me back for a moment to an unravaged home.' —Michelle Zauner 
I am just in awe of @jbrekkie for writing this memoir. She made me want to eat and cry at the same time while I was reading her personal story. The story focused on the memory of her mom, whom she lost to cancer. Michelle Zauner gave me the sense of what it was like growing up with two cultures and her relationship with her Korean mom. 
Crying in H Mart captured the celebration of love and death through culinary. The author used food to trigger the unconscious memories while honoring her mom, who loved to cook her Korean dishes as a symbol of her love. It was heartbreaking to read, but this memoir addressed the vital connection between grieving and food. 
I won't be able to see H Mart as 'just a grocery store' anymore. It brought comfort to some people that missed their home or loved ones. I wasn't familiar with the author when I requested this book, but I am a fan now. I started listening to her music, and I can't wait to see her next chapter after writing this book." —@vicireads
"'When it was my mom's turn she made gimbap.' #CryingInHMart ❤️
Wow, I knew this would be a difficult read for me personally, having lost my mom to lymphoma 14 years ago and it definitely pierced through my heart. I think initially I almost wanted to avoid reading it because of the pain and grief I still feel about my mom's passing, but I'm so glad I was able to pick it up.
I loved how @jbrekkie tied together memories of her mom, time in Korea with her maternal family and food—Koreans definitely love to eat and care for each other through food and I definitely felt that throughout this book. There were many moments I've been in a Korean market and have wished I could ask my mom one quick question. Yes, I have loving aunts who would not even hesitate to help me, but there's something about just calling mom that I took for granted and wish I could still do.
I have come to realize I have never really grieved or completely processed my mom's death—she died when my firstborn was 10 months old so I was overwhelmed with being a new mom and let that consume me for the next few years and then I never really wanted to open that searing pain up again, even to just process it. Reading other stories of grief and loss definitely make me take time to meditate more on my own grief. ❤️" —@readtotheend
"Overall, Michelle Zauner shares a really sad experience of her mom slowly deteriorating due to cancer. I had to pause at times. I think this story may hit home for those whom have lost loved ones to cancer. Hearing about Zauner's mom in the hospital was extremely heartbreaking. Such internal struggles are touched upon here. What do you do if you see a loved one suffering so much, dependent on hospital technology? Zauner described it as so bad that you can barely describe it as living.
I love the strong connection here between food, family, and memories. I really took my time with this audiobook and didn't binge, as it can be a lot to take in at times and is for the most part extremely sad. There is a lot of imagery and description, especially with Korean food. I loved that Zauner was able to rediscover more parts of her Korean heritage, even after her mother's passing.
I really believe that Zauner's mother came to visit her in her dreams as a way to let her know she is always with her daughter. This reminded me of my birthday last year. I had a dream about my late aunt and uncle. Many of my relatives (including myself) believe that they came to visit me for my birthday. My dream's setting was in an old house that we all used to live in. We were celebrating something that I assumed to be my birthday. Many of my family members believe that my aunt and uncle are together again. Although I woke up in tears, this was very comforting for me. I haven't dreamt about them since, but I do feel more at peace." —@mae.rox.wanders
"While Zauner writes of simple coming-of-age stories, they don't feel simple once she's infused her own humor, humility, and vulnerability into them. Her anecdotes were so intimate that she had me SOBBING countless times throughout the book. Personally, she described so many experiences I could relate to, from watching her mom suffer through her cancer diagnosis and subsequent treatments to providing in-house care to the woman who raised you. I've never been able to express, verbally or on paper, what this was like to go through with my own mother, but Zauner captures the experience so observantly and accurately. While this book definitely hit hard because I could relate to many elements of Zauner's recollections regarding her mother's illness, I think it would be just as moving for those who have ever struggled with family relations and/or identity.
❤️ While this is a VERY heavy read, and will certainly be triggering for those who have lost a parent, I think it deserves all the praise it's receiving, particularly given the emotional labor I'm sure it took Zauner to relive the raw and painful experiences she transports from memory to paper.
❤️ If you are unsure whether this book is for you, try reading the author's New Yorker article of the same name that led to this full-length memoir.
CW: death, cancer, addiction." —@and_thats_the_tay
"Crying in H Mart is an exploration of grief in many forms: the shock of a diagnosis, the anticipation of death, the experience of caring for an ill loved one, the final goodbyes, and the attempt to move forward carrying the heaviness of loss. Michelle Zauner's memoir is very moving; it's a beautiful tribute to her mother, but it's also an honest look at a complicated mother-daughter relationship. I loved the writing and the story was both gripping and heartbreaking. Highly recommend this book for anyone who loves memoirs! But particularly for those who find solace in hearing others' grief experiences." —@whatsherrireads
"'I would radiate joy and positivity and it would cure her. I would wear whatever she wanted, complete every chore without protest. I would learn to cook for her—all the things that she loved to eat, and I would singlehandedly keep her from withering away.'
THIS. BOOK. I read Crying in H Mart in one sitting and ugly cried through almost the entire thing. It is one of the most beautiful (but also completely devastating) works on loss and grief that I have ever read and I wish I had it three years ago when I lost my dad to cancer. Gathering my thoughts for a full review, but I can say I would give this book a million stars if I could and it claims a spot on my top reads of 2021." —@prose_and_palate
Missed out on our May book club pick? In June, we're reading The Other Black Girl by Zakiya Dalila Harris. Read an excerpt from the book here.
Celebrity news, beauty, fashion advice, and fascinating features, delivered straight to your inbox!
Rachel Epstein is a writer, editor, and content strategist based in New York City. Most recently, she was the Managing Editor at Coveteur, where she oversaw the site's day-to-day editorial operations. Previously, she was an editor at Marie Claire, where she wrote and edited culture, politics, and lifestyle stories ranging from op-eds to profiles to ambitious packages. She also launched and managed the site's virtual book club, #ReadWithMC. Offline, she's likely watching a Heat game or finding a new coffee shop.