Elite Track, Are You Okay?
Numerous women track and field athletes have been disqualified for breaking the rules. It might be time for some new rules.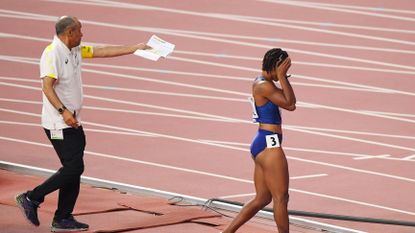 (Image credit: Matthias Hangst)
Marie Claire Newsletter
Celebrity news, beauty, fashion advice, and fascinating features, delivered straight to your inbox!
Thank you for signing up to Marie Claire. You will receive a verification email shortly.
There was a problem. Please refresh the page and try again.
In 2016, Brianna McNeal took Olympic gold in the 100-meter hurdles. This past month, she qualified for her second U.S. Olympic team. But before the Olympics were scheduled to happen last summer, she missed a mandatory drug test. After being pushed relentlessly to come forward with her excuse, she revealed the reason: She had been recovering from an abortion procedure she'd had two days earlier. Ultimately, she was suspended for five years for "tampering within the results management process." (McNeal says she mistakenly changed the date of the procedure, by one day, on slips provided by her doctor.) Despite McNeal qualifying for the 2021 Tokyo Olympics, the Court of Arbitration for Sport announced they would uphold the ban. That means she's disqualified from the Tokyo Olympics.
This past week, sprinting sensation Sha'Carri Richardson also made headlines—this time not for her blistering speed, but because she tested positive for marijuana. The World Anti-Doping Agency prohibits the use of cannabinoids, citing that it can be dangerous for the athlete to take; that it does not adhere to the "spirit of the sport"; and that it can be "performance enhancing" for some athletes. (Though more conclusive research is needed, a 2017 academic review found that THC does not improve aerobic performance.)
Also this week, two 18-year-old Namibian Olympic hopefuls, Christine Mboma and Beatrice Masilingi, were barred from racing the 400-meter dash at the Olympics because, as reported by the Namibia National Olympic Committee, their natural testosterone levels were deemed too high. This ruling is based on the World Athletics' policy on Athletes with Differences of Sex Development (DSD), which requires all women competitors' testosterone levels to fall under a certain level if they are competing in certain events. This rule does not extend to male athletes. (South Africa's 800-meter runner Caster Semenya has faced similar scrutiny in the past, and she too will be barred from running her signature event in Tokyo.) The week before that, 400-meter hurdler CeCe Telfer, the first openly transgender woman to win an N.C.A.A. title, was deemed ineligible for competition in the 400-meter hurdle trials because her testosterone levels did not meet eligibility rules for the event. For men competing, higher-than-average, naturally occurring testosterone is a competitive advantage. For women? It threatens their professional career.
Each of these athletes faced unique challenges. Each situation requires a different solution. This is far from the first time a woman athlete has been barred from competition, and the reasons have varied wildly. (Hell, American record-holder Shelby Houlihan was banned from the 2021 Olympics after testing positive for the anabolic steroid nandrolone, which she claims she accidentally ingested by eating a pork burrito.) But if this new wave of disqualifications tells us anything, it's that some of the sport's current guidelines acutely and unfairly impact women, specifically women of color and athletes who may not fit into the World Athletics' arbitrary definition of gender.
Track and field desperately needs to put the work into new research, into consulting with experts, into hearing feedback from athletes and ultimately, into writing new guidelines. This work is hard and complicated; these conversations can be challenging. In some ways, it's uncharted territory. But that doesn't make it unworthy or unnecessary. Many of the current rulings are drafted under the guise of enforcing fairness. But there are ways to promote fairness in sports without trampling on an athlete's right to be treated fairly, too.

It's time to reevaluate what drugs really and scientifically belong on a banned substance list. It's time to make this sport accessible for and truly inclusive of all people, including those who, according to some, don't fit prescribed gender norms. It's time to trash performative allyship and provide support to athletes who are pregnant or are trying to get pregnant, who are moms, who are breastfeeding, who have had abortions, or who are seeking reproductive care. It's time to make the mental health of all runners a top priority. It's time for a reckoning.
Track and field is far from the only sport that needs to reevaluate the rules. (Looking at you, FINA, the international governing body of swimming, who banned swim caps designed specifically for Black women.) But it's a good place to start. It's not going to be easy, and it will require time, energy, and resources, but a critical evaluation and rethink of current policies will benefit the future of the sport and its athletes. As we celebrate the incredible and deserving medal-contenders who will race on that Olympic track in Tokyo, let's not forget those who didn't get the chance to step on the starting line. Let's not forget to build a better future for them and those running up behind them.
Celebrity news, beauty, fashion advice, and fascinating features, delivered straight to your inbox!
Megan DiTrolio is the editor of features and special projects at Marie Claire, where she oversees all career coverage and writes and edits stories on women's issues, politics, cultural trends, and more. In addition to editing feature stories, she programs Marie Claire's annual Power Trip conference and Marie Claire's Getting Down To Business Instagram Live franchise.