Exclusive Q&A: Sarah Bower's Sins of the House of Borgia
A new novel sheds light on the crime family that could be known as the next Sopranos.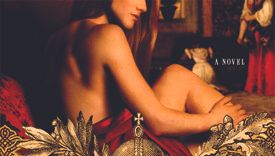 (Image credit: Courtesy of Sourcebooks, Incorporated)
The Borgias were one of Renaissance Italy's most famously corrupt families, a sultry mix between the Tudors and the Sopranos. The family history, littered with outlandish tales of murder and debauchery, has an addictive quality to it, and Showtime is set to premier The Borgias, a new series on the crime family, April 3. Against a backdrop of scandal and lust, British author Sarah Bower paints the story of Violante, a converted Jew who joins the court of Duchess Lucrezia Borgia, in her new book Sins of the House of Borgia (Sourcebooks Landmark, March 8).
We spoke with Bower about her longtime fascination with the notorious crime family, the Showtime premiere, and her own Borgia family crush.
The historic Borgias are surrounded by stories of murder, incest, bribery and scandal. But what, specifically, inspired you to write about them?
It started when I was a school girl and I read the two novels that Jean Plaidy wrote about them, Madonna of the Seven Hills and Light on Lucrezia. I got hooked on them because of the scandal surrounding them, and it doesn't quite fit with what we actually know about them. I think I just always loved history. I loved that kind of alternative universe, that nature of escape that you can get. And then all the flashing about on horses and wearing fancy frocks, it goes right back to my childhood dreams.
So I began reading about them a lot in my teens. I knew I wanted to write about them, but I was waiting until I found my own way into it. I think they're interesting for a couple of reasons: Unlike the Medici or some of the other big Italian Renaissance families, they were only in power for a really short time; the family's ascendancy was less than 50 years. So they're a bit like a shooting star or somebody that dies young — the glamour hasn't quite worn off by the time they've collapsed and disappeared.
The story of the Borgia court has some incredible twists. How much of the book is based in historic fact?
There was a girl in the Borgia court named La Violante. I made up the historical background for her but I think that the story I give her about the flight from Spain to Italy is a typical story. A lot of the Jews evicted from Spain went to Italy because the Italian city-states were, in fact, quite open-minded and tolerant of the Jews in the years leading up to the Inquisition.
But all we know about the real La Violante is that she was a converted Jewess and that she was part of the household for Duchess Lucrezia de Ferrara. I latched onto her because her Jewishness fitted my bill, and because we know so little about her so I could make it all up.

Showtime's The Borgias debuts April 3 and is modeled after The Tudors. Trailers for the new show market the Borgias as "the first crime family."
I wouldn't want to disagree with their hype. I certainly think the Borgias were among a number of big, powerful Renaissance families whose way of "conducting business," shall we say, is quite recognizable in stories like The Godfather — very family-oriented, very patriarchal with a powerful man at the top who dispenses offices and money and helps people out. With Renaissance families, the Borgias included, it was acceptable to murder your way to the top.
Each of the Borgia characters has their own seductive charm. Do you have a favorite?
Cesare, definitely. I mean, what's not to like? He was brainy, glamorous, gorgeous, wealthy, a bit scary, very good with women, apparently. There's just nothing not to like.
But I do also have a soft spot for Lucrezia Borgia because she seems to be the great survivor of the family. She was the bending reed that appeared to be everybody's pawn at the beginning. Yet she was the one that finally established a dynasty. She was a great patron of the arts, she was a very gallant defender of Ferrara in wars — at one point she pawned all her jewelry to buy cannon balls. She's lovely, but Cesare is the one with the magnetism.
Would you want to live in the Borgia court?
Gosh, I don't think I could. I don't think I'm clever enough. You have to be on your toes the whole time; it must have been absolutely exhausting. And the hours they kept — I know they didn't get up until lunchtime, but they were up all night, partying. The clothes, though they're beautiful, must have been fiendishly complicated and uncomfortable to wear. Could you imagine that in the heat of a Roman summer? No, I think I'm a little more comfortable looking back on it from my own, less demanding perspective.
But there are things one would absolutely love. Occasionally, I've tried cooking some Renaissance dishes and they're gorgeous, with lots and lots and lots of almonds, which I love. But on the whole, I think they were dark and dangerous times to live.
Do you plan on watching The Borgias?
Yes, I believe it's going to be screened in the United Kingdom beginning in July. I definitely plan on watching. I think it looks fabulous — very beautiful set and costumes, and all the actors are lovely. I'm really looking forward to it and if I can get to see it before July, I most certainly will.
Check out Showtime for previews and more on The Borgias.
Marie Claire email subscribers get intel on fashion and beauty trends, hot-off-the-press celebrity news, and more. Sign up here.