Would You Post Your Pregnancy Test Results Online?
Women are uploading their "big reveal" on the internet. Sweet, or too much information?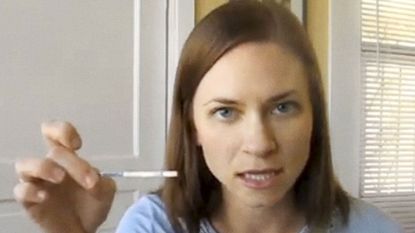 (Image credit: Archives)
Amanda Stumbaugh stands in her bathroom in Carson City, Nevada, recording a video of herself on her iPhone. "I've taken a pregnancy test," she announces. "We're counting down three minutes." As a timer ticks, the 23-year-old chats about ovulation and breast pain. Finally, the moment of truth: She looks at the Clearblue digital test stick. "Oh, my freaking God," she says, her eyes tearing, "I'm pregnant." You can see the video for yourself on Stumbaugh's YouTube channel: Puddinpop1987.
Welcome to the latest way to overshare.
Stumbaugh is one of a growing number of women who post recordings of their pregnancy-test results on YouTube. These so-called WombTube videos show women's real reactions to the test results, ranging from tears of joy to crushing disappointment.
WombTubers generally identify themselves as members of the trying-to-conceive community. Thirty-year-old Kaity Ross, who posted her positive results on her YouTube channel, katulka2, explains: "You have all these emotions, excitement, and anticipation. It's helpful to be able to share intimate details with people who are pregnant or trying to conceive and know where you are coming from." In her case, the women of WombTube learned of her pregnancy before her real-world family did.
While watching cups of pee, digital egg-timers, and pink lines might not sound so entertaining, the suspense of these broadcasts can be addictive. The most popular videos boast about 100,000 views. "It's amazing how many people can't get enough of seeing what's going on with you," says Stumbaugh, whose video has garnered about 1,800 views. "I think they like watching for the thrill, the anticipation of seeing if someone's gonna get their dreams or not."
Marie Claire email subscribers get intel on fashion and beauty trends, hot-off-the-press celebrity news, and more. Sign up here.