Writing with Mom
Just in time for Mother's Day, Vanessa Williams sat down with us to discuss her latest venture: a memoir, which she co-wrote with her mother, Helen Williams.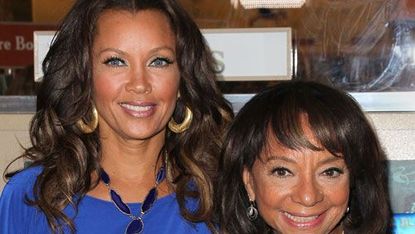 (Image credit: Getty Images)
Penning You Have No Idea was never a plan for the pageant queen turned model turned actress, but adding author to her resume helped Williams and her mother rehash their past together. For any woman who's ever had a challenging relationship with her mom, these chapters open up a new kind of mother/daughter relationship by delving behind the scenes of Vanessa's world of scandal and celebrity.
When did you decide book-writing was for you?

It's been something I've put off. I said, "You know, I've had a hard time. I don't want to do a tell-all, I don't want to do something that's predictable, yet another celebrity, you know 'here's my ten tips to success.' I want to make this compelling, but also my story." And an agent said, "Well, what about doing it with your mom?" and I knew it was a brilliant idea, because I can tell my story and she can tell her story of dealing with me through all these ups and downs and obstacles. It's a story of a mother protecting her child from things.
So how was your mom when you first brought the idea to her?

Well, I kind of pitched it without her even knowing. And then I said, "Well, mom, we are writing a book together," and she was like, "Oh?! Okay."
And how was the writing process with you two?

Well, we chose Irene Zutell to work with and I can pretty much work with anybody, but I wanted to make sure that my mother — who is somewhat hard to please — was happy. Irene came in and she was from Westchester in New York, where I grew up, and her father recently passed. So we were talking about missing our fathers, and she just got my mother. We have a great sense of humor and we look at life in humorous ways, so that's how we were able to get through stuff as a family, and we wanted to make sure that that came across in the book as well.
Was it difficult writing about certain things — like your Miss America scandal — together?

I think we recollect the same incidents differently, so reliving some of the embarrassing moments, shall we say, I wanted to make sure that my part was as vivid and as accurate as possible. And my mother made sure that the reader knew what she was thinking as well, like the time I got caught with my boyfriend in high school.
Were there any parts you had a hard time revealing, digging up from your past?

I revealed what was important to me to illustrate the choices that I made in my life and as a reflection. I talked about the molestation because now, as a mother, I can't imagine that happening to my daughter and her not telling me. Every tidbit that I reveal has something to do with my choices in life and something to do with keeping things from my parents for them to not have to go through more humiliation and disappointment. But through the process of writing the book, I think she kind of understands what I was going through.
Marie Claire email subscribers get intel on fashion and beauty trends, hot-off-the-press celebrity news, and more. Sign up here.