Investment Shopping: 5 Tips on Purchasing Your First Piece of Art
Buying your first piece of original art can be thrilling. Alex Farkas, co-founder and gallery director of Ugallery, an online art gallery that connects artists and customers through a curated marketplace for affordable, original art, shares five essential tips to making the big purchase.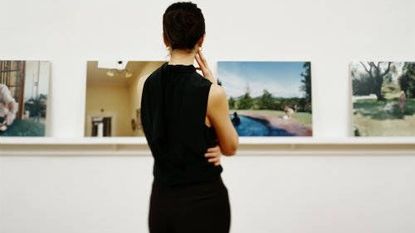 (Image credit: Marie Claire)
Buying your first piece of original art is a lot like, well, other first-time experiences. It may seem a little scary at first, but you quickly discover the thrill of it. Once you hang the first original piece in your home, you'll be hooked for life. When I advise first-time art buyers, I give the following tips.
1. Do your research. Start by visiting galleries and museums and browsing online galleries to get an idea of the type of art you like. Whenever possible, ask questions, such as the artist's background, the subject matter, or the media used. You'll begin to develop your taste and learn about the artistic process.
2. Set a budget. You can find unique and well-made artwork for as little as a few hundred dollars, so it's important to define your budget. As you do your research, you'll also begin to get an idea of the typical costs of different styles and media--for example, photography tends to cost less than oil paintings. Once you have a budget, you can focus your attention on the galleries and media that cater to your range.
3. Shop with your whole house in mind. When buying your first piece, or any work thereafter, you should consider the rest of your decor. You want to find artwork that will complement and enhance your furnishings. As you purchase more art, having a stylistic direction will make a big difference in the overall appearance of your home and collection.
4. Check the return policy. As a new art buyer, a return policy can be extremely useful. Many online and physical galleries will give you the option to try out a piece in your home. Art can look very different in your home than on a gallery wall or on a website, so I highly recommend asking about the return policy.
5. Buy what you love. Above all, trust your gut when purchasing art. When you find the right piece you will know it--you won't be able to get the image out of your head! Don't focus too much energy on the future value of the work. Some art becomes worth a lot more, but purchasing for investment is an expert's game. Stick to your heart and your budget and you can't go wrong.