Downton Abbey Season 4, Episode 6 Recap: On Opera, Cooking, and Lady Mary's Best Bet
Scandal is in the air.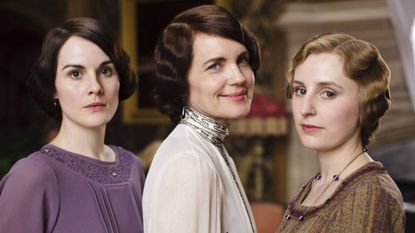 (Image credit: Courtesy of Company)
Marie Claire Newsletter
Celebrity news, beauty, fashion advice, and fascinating features, delivered straight to your inbox!
Thank you for signing up to Marie Claire. You will receive a verification email shortly.
There was a problem. Please refresh the page and try again.
Spoiler Alert! Do not read on if you are not caught up on Season 4 of of PBS' Downton Abbey.
I'm starting to think Julian Fellowes is burying operatic Easter eggs in Downton land. Or maybe he just has a thing for singers. A couple of episodes ago, we had real-life soprano Kiri Te Kanawa appear on the show as then-real-life Nellie Melba (1861-1931), the Australian soprano.
Now, we have a full-on Albert subplot: in a benchwarmer switcheroo (the top choice has dropped out of the race) Albert gets the Ritz job, under Escoffier (1846-1935)—the real-life French chef, master of haute cuisine, and… the inventor of Melba toast! Which he named after Nellie Melba. Ah-ha! Coincidence or conspiracy?
That's cool, Albert. Go work on your fillets de sole Veronique and canard a l'orange, and let us know when you realize that Daisy, not Ivy, is the girl for you, 'kay? Why are boys so dumb! (And why is Ivy such a rosy-cheeked schemer?)
Meanwhile, there's a fake singer making waves too: Jack Ross, the black American jazz singer in love with Lady Rose. Jack is not without his real-world antecedent, either. His character is supposedly based on Leslie "Hutch" Hutchinson, a cabaret singer who wooed the Countess of Mountbatten of Burma—who reminds me more of Edith than Rose, in terms of her progressive, adventurous spirit.
Speaking of Lady Edith, yep, she's knocked up, and Gregson is still nowhere to be found, which seems unalarming to anyone except Edith herself. Because nobody ever worries about Edith or her problems, except for me, and sometimes Tom, if Mary's being bitchy enough.
As for Mary, she is now enchanted by Blake, the socialist surveyor who is supposed to make sure Britain's aristocracy are farming their land for the greater good. I personally find him more attractive than Lord Gillingham—a Ronan Farrow to a Winklevii, a Clooney to a Pitt. I suspect Blake comes from crusty old upper-crusties himself, and what's better than a handsome intellectual who—oopsies!—is rich? We all know Mary is, if not a golddigger, a bit of a… treasure-seeker. Plus, Blake doesn't have a rapist in his employ.
Bates and Anna, meanwhile, are doing their striving married best to put evil Green behind them, taking an evening to go to a nice dinner at a restaurant. How long does it take to get everywhere in Downton land? Seems like a walk down the front long takes 20 minutes, so getting into town should be, like, a four-day journey. When they arrive, it's as packed as the Waverly Inn, with nary a Graydon's office to call. The maitre'd smells a "servant" scent wafting off Bates and Anna, so he's extra icy. Nobody should treat our Anna that way, but I do think she should loose the "Blossom" hat. I will never understand service-side people who are rude to customers. Always makes me think of my favorite Pretty Woman scene: "Do you work on commission? Big mistake. Huge."
Unfortunately, this is not Rodeo Drive, ye olden maitre'ds did not work on commission, and Bates and Anna don't have Richard Gere's wallet at their disposal. Fortunately, though, Cora the dingaling happens to be at the restaurant, and she gets them a nice table through her upper-class-ness. At least she's good for something!
Celebrity news, beauty, fashion advice, and fascinating features, delivered straight to your inbox!