The Most Spectacular Moments from the 2014 Oscars
From the red carpet to the final award, the Oscars were filled with amazing moments.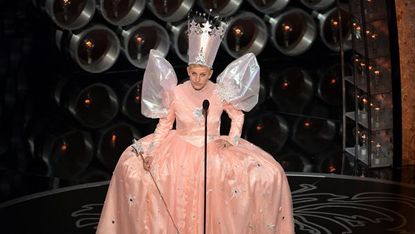 (Image credit: Getty)
1. Tara Lipinsky and Johnny Weir hit the red carpet in all their fashionable figure skating glory, which included CRYSTAL. SHOES.
2. Liza Minnelli paired her cobalt ensemble with a badass blue streak.
3. Pharrell wore bermuda shorts because why not.
Photo via @CharlesEManning
4. J.Law arrived at the red carpet in the most J.Law fashion possible.
5. Headband + plunging V = the most fairytale of Lupita moments ever.
6. Ellen killed it with her opening monologue and tweeted some selfies from the stage.
7. Meryl Streep gave Pharrell and his hat her best shimmy.
8. As did Lupita.
9. Ellen suggested ordering pizza and Kerry Washington was ALL ABOUT IT.
10. Ellen continued to prove that she's having a better night than you.
11. Darlene Love showed everyone the best way to accept an Oscar.
12. LUPITA WON!!!!!
13. Brad Pitt handed out plates when the pizza arrived.
14. Ellen followed up a tribute to The Wizard of Oz in a way only she could.
15. John Travolta clearly has no idea who Idina Menzel is and we are sad for him.
16. Bette Midler sang her heart out, made us weep.
17. Cate Blanchett won Best Actress and reminded everyone that female-focused films are not niche, they are NECESSARY for all humans to enjoy.
18. Celebs proved that those who are photobombed are more likely to become the photobomber. Below, a series:
19. J.Law tried to steal Lupita's Oscar and everyone's all, "Hahaha," and we're all, "No seriously, get off her Oscar."
20. Oh, J.Law.