Girls Season 3 Episode 10 Recap: Breaking Up Is Hard To Do, Especially When It Comes Out Of The Blue
Catch the latest from the most recent episode of HBO's Girls.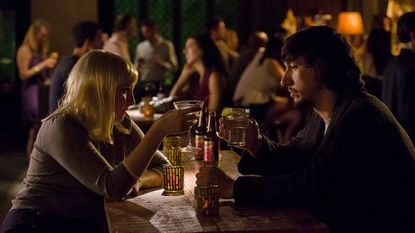 (Image credit: Mark Schafer/HBO)
Marie Claire Newsletter
Celebrity news, beauty, fashion advice, and fascinating features, delivered straight to your inbox!
Thank you for signing up to Marie Claire. You will receive a verification email shortly.
There was a problem. Please refresh the page and try again.
SPOILER ALERT! Do not read on if you have not yet watched Season 3, Episode 10 of HBO's Girls titled "Role-Play."
Once upon a time 900 years ago, I got dumped by a guy I had thought was in love with me, who had said and done all the right things. He painted my apartment; he cooked elaborate, meaningful meals; he talked about our future. And then in the span of a Ray LaMontagne song, he bailed. It felt sudden, and cruel, and mysterious, and, more than anything, super-selfish.
That's what I was reminded of watching Adam dump Hannah. Season three has been an existential wind-up for Hannah, and episode 10 releases the pitch. As anyone who's familiar with breaking up knows, sometimes tremors are a prelude to the big, irreversible quake, and sometimes the big, irreversible quake is disguised as a tremor. It's hard to tell which one was happening when Adam said he was going to stay with Ray to focus on the play and get away from Hannah's drama: "I have a job to do now and I'm trying to focus and I'm not here to fill up your life with stories for your fucking Twitter."
"What drama? This is just me," says Hannah. "Exactly," he replies. Wait, what? Did Adam miss the memo that Hannah is a Tasmanian devil of neuroses? We are talking about Hannah Drama MeMeMe Horvath here. Why does he pick now to decide that it's too much? But it's obviously something that he has been thinking about for a while, which makes the scene that much more painful—to know the other person has leaving on his mind. Cue the Patsy Cline.
Watching Hannah get hurt has a funny side effect: you realize how much compassion and empathy her character engenders, even if you can't fathom her strange, narcissistic predilections all the time. When she barfs after too many shots with her coworkers, that's been you. When she skulks home with a serious hangover, that's a little you (even if you wouldn't actually spend the night with a coworker after letting him hose the vomit off of you while you flop around practically nude in a bathtub—that's pure Hannah, who probably thinks "HR" is just the free-snacks authority). When she desperately, impotently clings to a disintegrating situation, that's, yep, you. I'm so sorry for what Hannah is going through, but I'm so happy to be reminded of how much I like her, and why.
Lena Dunham and Judd Apatow wrote the episode, which seems right, since Hannah's most critical (and best-acted) moments are written by Dunham. And the writers wring high truth-telling comedy out of one of my favorite recurring characters, Soo Jin (Greta Lee, who originally played Booth Jonathan's (Jorma Taccone, come back!) art dealer/lover), who offers Marnie a job as her gallery assistant. "I can't be a woman and a gallerist and girlfriend and an electronic musician all at once—it's too much for one person" and "For the cred and intrigue of the gallery I'm gonna tell people I'm 22."
Marnie seems to be making a play for the already-taken Desi (Ebon Moss-Bachrach), Adam's costar in Major Barbara. I'll wager they've f***ed by season's end. Elsewhere, Jessa and Shosh are chugging along in the stagnating storyline of Jessa's addiction. Enough with that already. And as for Hannah, it is looking as though Mrs. Horvath was right—maybe Adam isn't good enough, maybe he's not the one. Mamas have a way of being right about these things.
Celebrity news, beauty, fashion advice, and fascinating features, delivered straight to your inbox!