The 16 Best Documentaries of 2023 (So Far)
From hard-hitting historic stories to bombshell moments in pop culture.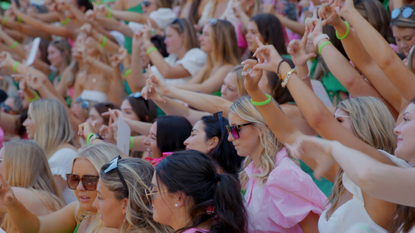 (Image credit: Courtesy of Max)
Sometimes, when the mind-numbing cattiness of The Real Housewives gets old, it's nice to turn on something that gets the ole noggin' spinning—something you'll enjoy watching that teaches you something new. Enter: The year's best documentaries. As with the best documentaries of 2022, these are the series and films that will garner your full attention with real-life stories from the past and present day. 2023's slate of awe-inspiring titles has a little something for everyone, from insightful sports stories to pop culture bombshells. Get ready to add these new documentaries to your watchlist.
'Sometimes When We Touch'
Premieres: Out now on Paramount+
This music doc chronicles the mostly-untold story of soft rock, the genre whose artists dominated pop music worldwide in the 1970s—think The Carpenters, Barry Manilow, "The Pina Colada Song"—only to crash and burn in the 1980s. The pioneers of the rock/pop sound chronicle the rise and fall, as well as one of the most unlikely comebacks in music history.
'Break Point'
Premieres: Out now on Netflix
Sports lovers and tennis fans especially are sure to love Netflix's new docuseries, Break Point. This series follows up-and-coming tennis stars over a year as they train and compete their way across the globe in the hopes of becoming the sport's number one player.
'Super League: The War for Football'
Premieres: Out now on Apple TV+
It turns out there's a lot of tension behind the scenes of the world's most popular sport. Over four episodes, this series follows what happens when plans for a breakaway soccer league emerge. Leaders of the sport are forced to decide whether that want to defend or upend soccer's long-held traditions.
'The Price of Glee'
Premieres: Out now on Discovery+
On-screen, Glee was a show full of fun song and dance numbers, but things off-screen weren't nearly as lighthearted. ID's The Price of Glee focuses on the biggest controversies involving the cast, including the tragic deaths of Naya Riveria and Cory Monteith. Take this one with a grain of salt, though, as it's reported none of the main cast or crew contributed.
'The 1619 Project'
Premieres: Out now on Hulu
Brought to you by Pulitzer Prize-winning journalist Nikole-Hannah Jones and the New York Times Magazine, this docuseries isn't your average history lesson. This six-part series places the consequences of slavery and the contributions of Black Americans at the forefront of our nation's history.
'Pamela: A Love Story'
Premieres: Out now on Netflix
We all become obsessed with the story of Pamela Anderson and Tommy Lee thanks to Hulu's Pam & Tommy, but Anderson herself is taking back her own narrative in this documentary. In her own words and personal videos, Anderson tells the story of her rise to fame from small town girl to international sex symbol.
'Gunther's Millions'
Premieres: Out now on Netflix
Somewhere in Miami, there is a German Shepherd reportedly worth $400 million dollars lounging about in his mansion with his staff of servants. I wish I was joking. This Netflix documentary shares the story of Gunther VI, a very lucky dog who inherited his wealthy owner's estate, and dives into the question: Where exactly did the money come from?
'The Reluctant Traveler'
Premieres: Out now on Apple TV+
When you can't afford to trot across the globe, the next best thing is to watch someone else do it on TV. This travel series sees Schitt's Creek star Eugene Levy explore some incredible places including Japan, Portugal, Maldives, Finland, and more. Knowing Levy, the series' eight episodes are sure to be filled with dry jokes and funny situations.
'Emergency NYC'
Premieres: Out now on Netflix
First responders have one of the most demanding jobs in the world, and many who don't work in the industry only have a faint idea of everything they face. This docuseries following several frontline medical professionals in NYC as they balance their intense work with their personal lives.
'The Pope: Answers'
Premieres: Out now on Hulu
This Spanish series centers on a meeting between Pope Francis, the current head of the Catholic Church, and ten young adults of different ages and backgrounds. The unlikely group discusses several issues over the course of the chat filmed in Rome, including feminism, the role of women in the church, reproductive rights, LGBTQ issues, mental health, racism, and more.
'How to Get Rich'
Premieres: Out now on Netflix
Every household could use a bit of hand-holding when it comes to managing their finances. In this eight-part series, I Will Teach You to Be Rich author Ramit Sethi helps a range of young adults and families—including a The Circle winner—work toward their richest lives.
'Longest Third Date'
Premieres: Out now on Netflix
Imagine: you meet a cool guy, decide to go one a spontaneous trip with him... and a pandemic hits while you're in another country. This doc follows Khani Le and Matt Robertson as they find their way to love while stranded in Costa Rica in the early days of COVID.
'Anna Nicole Smith: You Don't Know Me'
Premieres: Out now on Netflix
This doc on model, actress, and tabloid figure Anna Nicole Smith tells the actress's story through never-before-scene footage and home movies, following her career from her first Playboy appearance to her untimely death.
'Bama Rush'
Premieres: Out now on Max
In August 2021, #BamaRush took over Tik Tok, as millions of grown adults became deeply invested in whether potential new members were admitted into sororities at the University of Alabama. Filmed ahead of 2022's rush, this doc follows several PNMs in the year leading up to the process, in an exploration of Southern fraternity culture and how far people will go for acceptance.
'Stephen Curry: Underrated'
Premieres: July 21, 2023 on Apple TV+
Even if you're not a fan of basketball, you'll be able to appreciate Stephen Curry's coming-of-age story. From his time as a college player to a four-time NBA champion, this film documents Curry's rise to stardom with intimate cinéma vérité, archival footage, and on camera interviews.
'Stan Lee'
Premieres: TBA in 2023 on Disney+
On what would have been his 100th birthday, Disney officially announced their 2023 documentary on legendary comic creator, Stan Lee. The project is set to detail the life and legacy of Lee, whose Marvel characters like Captain America, Iron-Man, Spider-Man, Black Panther, and more have had an undeniable effect on pop culture.
Brooke Knappenberger is the Editorial Fellow at Marie Claire, where she writes across the board from fashion and beauty to books and celebrities. As a pop culture junkie, Brooke obsessively consumes and writes about the latest movie releases, streaming TV shows, and celebrity scandals. She has over three years of experience writing on fashion, beauty, and entertainment and her work has appeared on Looper, NickiSwift, The Sun US, and Vox Magazine of Columbia, Missouri. Brooke obtained her Bachelor's Degree in Journalism from the University of Missouri's School of Journalism with an emphasis on Magazine Editing and has a minor in Textile and Apparel Management.