The 2022 Documentaries That Deserve a Spot on Your Watchlist
Whatever else happens this year, we'll have some great documentaries.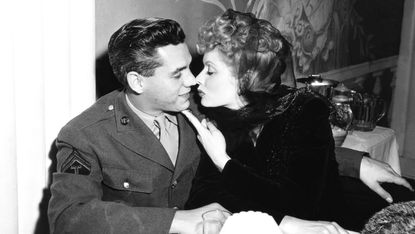 (Image credit: Getty)
Marie Claire newsletter
Celebrity news, beauty, fashion advice, and fascinating features, delivered straight to your inbox!
Thank you for signing up to . You will receive a verification email shortly.
There was a problem. Please refresh the page and try again.
Through the past few years of social and political upheaval, documentaries have emerged as one of the best ways to understand how we've gotten to this place. The best ones are truly awe-inducing, introducing audiences to impressive stories from the past or new ways to understand influential public figures. 2022 is shaping up to be another year of great documentaries, including some that reexamine the legacy of public figures, and others that present a social issue from a historical lens to show how much—or how little—has changed. (Documentaries debuting at the Sundance Film Festival can be viewed via the festival's many virtual screenings.)
'Jeen-yuhs: A Kanye Trilogy'
Jeen-yuhs is an inside look at prolific rapper and producer Kanye West from his earliest days. Directed by Coodie Simmons and Chike Ozah, West's longtime friends and collaborators, the doc covers more than 20 years of unseen footage of West's years as a musician and entreprenur.
Watch on Netflix (opens in new tab)
'The Princess'
After a year full of Princess Diana content (including a dramatic season of The Crown and a whole stage musical), 2022 is starting off with a in-depth documentary about the People's Princess. In addition to profiling Diana, this doc will also look at how her royal life and the circumstances of her death have affected public opinions of the royal family for years.
Premiere: Jan. 20 at Sundance Film Festival, TBD on HBO Max
'We Need to Talk About Cosby'
This doc from comedian and CNN host W. Kamau Bell examines the rise and fall of Bill Cosby, using archive footage and cultural and political analysis. The prescient doc covers his past as a beloved icon and star of The Cosby Show to being convicted for sexual assault.
Watch on Showtime (opens in new tab)
'The Janes'
In 1972, seven women were arrested in a raid on a Chicago apartment. The crime: running an underground network to get women safe and affordable abortions in a pre-Roe v. Wade America under the collective JANE. Premiering ahead of the Supreme Court decision on the Mississippi abortion ban, The Janes may be the most timely doc of the year.
Watch on HBO Max (opens in new tab)
'Lucy and Desi'
In her documentary debut, Amy Poehler directs this tribute to the professional partnership and marriage between Lucille Ball and Desi Arnaz.
Watch on Prime Video (opens in new tab)
'Downfall: The Case Against Boeing'
This doc follows the mysterious cases of two Boeing 737 airplanes that fell out of the sky mid-flight in late 2018, as well as the backlash following the crashes. It also reveals the concealment that occurred within the company, and the allure of Wall Street stock prices, that allowed the ultimate cause of the crashes, a faulty part, to go on the planes.
Watch on Netflix (opens in new tab)
'Gaming Wall St'
Last year, a group of investors on the subreddit r/wallstreetbets took on Wall Street tycoons directly in a battle over the stock price of Game Stop. This two-part docuseries, narrated by Succession's Kieran Culkin, explains the phenomenon by interviewing some of the traders either truly believed in Game Stop as a company, or just wanted to stick it to the big banks.
Watch on HBO Max (opens in new tab)
'Olivia Rodrigo: driving home 2 u'
This doc follows the newly-minted Grammy winner and "Driver's License" on a road trip from Salt Lake City to LA, while also taking fans behind the scenes of the recording process for her hit debut album Sour.
Watch on Disney+ (opens in new tab)
'The Andy Warhol Diaries'
The Andy Warhol Diaries is an intimate look at the life of the renowned visual artist from a new angle, showing the aftermath of his attempted murder and his entry into the film industry through diary entries he wrote at the time.
Watch on Netflix (opens in new tab)
'Tony Hawk: Until the Wheels Fall Off'
This doc shows the personal history and legacy of the skateboarding legend, giving fans who mostly know the skater's ubiquitous brand a look at what fueled him to become a decorated athlete and pop culture icon.
Watch on HBO Max (opens in new tab)
'White Hot: The Rise & Fall of Abercrombie & Fitch'
Abercrombie & Fitch went from being the mall clothing brand of the early '00s to a former pop culture phenomenon marred by controversy. This highly-anticipated doc includes interviews from former employees, executives, and models laying out the dark side of the brand, including its problematic former CEO Mike Jeffries.
Watch on Netflix (opens in new tab)
'Heart of Invictus'
The first project from Netflix's deal with Prince Harry and Meghan Markle's Archwell Productions will follow competitors' journeys to compete in Harry's Invictus Games, honoring wounded servicemen and veterans. The final portion of the doc will be filmed at this year's Games, taking place in The Hague, Netherlands this month (opens in new tab).
Premiere: TBD on Netflix
'Halftime'
While preparing for her 2020 Super Bowl Halftime Show performance, Jennifer Lopez looks over her iconic career as a singer, actor, and all-around star, while reflecting on her personal memories throughout her life.
Watch on Netflix (opens in new tab)
'Janet Jackson'
In this four-part docuseries, pop music icon Janet Jackson looks over the mostly-untold story of her life and career, from her singing debut alongside her famous family at age seven, to the Super Bowl wardrobe malfunction that threatened her career.
Watch on Lifetime (opens in new tab)
'The Book of Queer'
This five-part docuseries tells the untold histories of LGBTQ+ icons and trailblazers, with star-studded retellings à la Drunk History.
Watch on Discovery Plus (opens in new tab)
'Not So Pretty'
Narrated by KeKe Palmer, this docuseries investigates health concerns in the cosmetics industry, raising awareness on the dangerous risks of some cosmetic ingredients and procedures. (Don't be surprised if you revamp your beauty routine after watching.)
Watch on HBO Max (opens in new tab)
'Menudo: Forever Young'
This four-part docuseries will cover the rise and fall of the global sensation Menudo, the most iconic Latin American boy band in history, and the abuse and exploitation behind the band.
Premiere: June 23 on HBO Max
Contributing Culture Editor
Quinci LeGardye is a Contributing Culture Editor who covers TV, movies, Korean entertainment, books, and pop culture. When she isn't writing or checking Twitter, she's probably watching the latest K-drama or giving a concert performance in her car.