Marie Claire's 10 Best Charities
Want to provide the most help with your dollar? From finding an AIDS vaccine to stopping sexual assault to putting a woman in the White House, the efforts of these 10 charities wowed MarieClaire.com.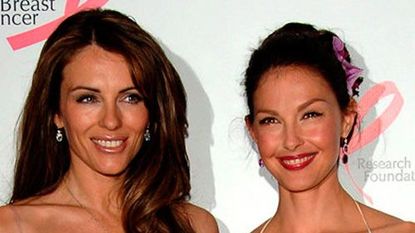 (Image credit: Jamie McCarthy)
Marie Claire Newsletter
Celebrity news, beauty, fashion advice, and fascinating features, delivered straight to your inbox!
Thank you for signing up to Marie Claire. You will receive a verification email shortly.
There was a problem. Please refresh the page and try again.
1. HUMANITARIAN AID

AmeriCares: 99% of funding goes to programs

When an earthquake, hurricane, violent conflict, or other disaster strikes in the U.S. or abroad, AmeriCares provides urgent necessities like medicine, doctors, food, tents, water purifiers, and baby formula. This charity has given approximately $5 billion in aid over the past 23 years. In addition to disaster relief, the organization delivers humanitarian support year-round, such as the funding of a family-health clinic in El Salvador — the first to offer the country's women access to mammograms — and Youth for a Healthy Haiti, which provides health education and family planning for young Haitian women ages 15 to 25. Reporter Ann Curry, model Naomi Campbell, and singer Wyclef Jean are among AmeriCares' vast legion of supporters. americares.org
2. VIOLENCE

V-Day: 93% of funding goes to programs

Active in 81 countries, V-Day works to end violence against women and girls. Its hallmark? The Vagina Monologues, put on by volunteers to raise funds for local antiviolence groups. In countries where shows aren't possible, V-Day gives grants for programs — such as the V-Day Safe House in Kenya, which helps girls escape female genital mutilation. V-Day has raised over $30 million in eight years and boasts support from celebs like Rosario Dawson and Marisa Tomei. vday.org
3. CHILDREN

Save the Children: 90% of funding goes to programs

Ten million children under 5 die each year, including 4 million newborns. A critical goal of Save the Children? Saving the lives of these infants in 18 of the world's poorest countries by providing infant vaccinations and health care for pregnant women. Sponsor a child for $28 a month, or earmark your dollars for initiatives, like educating girls or providing microloans for women. Celeb moms Debra Messing, Courteney Cox, and Maria Bello showed their support through an eBay auction to benefit the nonprofit in January. savethechildren.org
4. TRAFFICKING

Polaris Project: 90% of funding goes to programs
While seniors at Brown University in Providence, Katherine Chon and Derek Ellerman were shocked to learn human trafficking was taking place in their neighborhood. The issue, which they had associated with foreign countries, became personal. They founded Polaris Project in 2002 — modeling their strategy on the grassroots spirit of the Underground Railroad — to combat trafficking in the U.S. and abroad. polarisproject.org
5. WOMEN'S HEALTH

Breast Cancer Research Foundation: 89% of funding goes to programs

Are you at risk for breast cancer? If you're a woman, the answer is yes, says BCRF, which awards research grants — $22 million in 2005 alone — to experts seeking new prevention methods and treatments. Its funds have been behind some of the field's biggest discoveries — including the finding that women of African ancestry often have a form of breast cancer that is genetically distinct from that of women of European descent. bcrfcure.org
6. HIV/AIDS

International AIDS Vaccine Initiative (IAVI): 88% of funding goes to programs
The world's percentage of HIV-positive adults who are women is rising. Why? In countries with rampant sexual violence and unequal rights, women often don't have the option to abstain from sex or ask their partners to wear condoms. IAVI — which funds research to develop an AIDS vaccine with pharmaceutical and biotech companies, universities, and governments worldwide — stresses that a vaccine could be taken without a partner's permission, thereby giving women more control over their health. iavi.org
7. WORKPLACE

National Partnership for Women and Families: 86% of funding goes to programs

Sexually harassed at work? Afraid you'll lose your job because you're pregnant? There are now laws to protect you, thanks in part to the National Partnership. This group has fought for every major policy advancement that has helped women and families in the past three decades. The group fights for national legislation but can help individuals find resources needed for their own battles. nationalpartnership.org
8. SEXUAL ASSAULT

Rape, Abuse, and Incest National Network (RAINN): 85% of funding goes to programs

RAINN, the country's largest antisexual-assault organization, runs the National Sexual Assault Hotline (800-656-HOPE). The hotline — which will include a secure Web-based option by fall 2006 — provides sexual-assault victims with free, confidential services 24/7. Tori Amos, for one, is a big supporter. Another way to donate? Buy T-shirts, candles, and jewelry from its Website; all proceeds go to stopping sexual assault. rainn.org
9. WOMEN'S FUND

Women's Funding Network: 85% of funding goes to programs
Looking to help women but not sure where to give? Consider WFN, a coalition of private and community foundations around the world. In the past 20 years, its 115 funds have given more than $200 million to a wide variety of women's and girls' organizations. How does it work? As with a mutual fund, you designate your money for the fund of your choice, then that fund distributes grants to smaller nonprofits. The best perk? WFN monitors each fund, so you don't have to. fundforward.org
10. LEADERSHIP

The White House Project: 76% of funding goes to programs

Eager to see a woman president? So is the White House Project, a nonpartisan organization looking to put more women in leadership positions, from local school boards to corner offices to the Oval Office. Their Vote, Run, Lead initiative — supported by TV's fictional commander in chief Geena Davis — encourages young women to register to vote, read up on policy issues, and run for office. thewhitehouseproject.org.
Celebrity news, beauty, fashion advice, and fascinating features, delivered straight to your inbox!