61 Sad Songs for When You Just Want to Sit With Your Feelings
Here, 61 sad songs to listen to as you stare plaintively out a bus/car/train window from Olivia Rodrigo to Coldplay.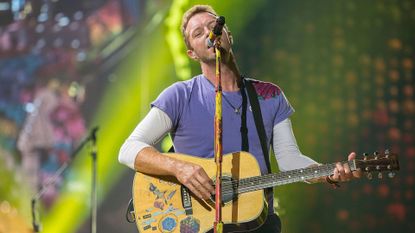 (Image credit: Getty Images, Daniel Knighton)
Marie Claire Newsletter
Celebrity news, beauty, fashion advice, and fascinating features, delivered straight to your inbox!
Thank you for signing up to Marie Claire. You will receive a verification email shortly.
There was a problem. Please refresh the page and try again.
If you're feeling burnt out (which, FYI, the World Health Organization has officially defined as a workplace problem) or stressed about life in general, never underestimate the power of a great sad song. Sure, it may feel counterintuitive, but some of the best slow, emotional tracks allow us to acknowledge our feelings—a painful but necessary step in the right direction. Here are 51 of them to listen to as you stare plaintively out of a bus/car/train/home office window.
If you're thinking about suicide, are worried about a friend or loved one, or would like emotional support, the Lifeline network is available 24/7 across the United States. Call 1-800-273-8255.
1. "traitor" - Olivia Rodrigo
If you're going through a heartbreak, Olivia Rodrigo's Sour is incredibly cathartic, but "traitor" especially hits if any emotional cheating was involved. Sending you love!
2. "Punisher" - Phoebe Bridgers
When you need a moment to sit with your feelings, allow Phoebe Bridgers's incredibly soothing voice in "Punisher" help you process your emotions.
3. "Doing It Wrong" - Drake
Drake practically invented the official breakup album with Take Care. "Doing It Wrong" makes the top of the list alongside "Marvin's Room" from the 20-song deluxe masterpiece.
4. "Righteous" - Juice WRLD
What makes this song incredibly sad isn't solely the fact that Juice WRLD is no longer with us, but that his lyrics alluded to his death. "Over ice, I'm freezing / Beautiful eyes, deceiving / We may die this evening / Coughing, wheezing, bleeding."
5. "929" - Halsey
Halsey really gets to the crux of growing up in the spotlight as a woman with their painfully heartbreaking, honest lyrics in "929." "They said 'Don't meet your heroes they're all fucking weirdos' and God knows that they were right / Because nobody loves you, they just try to fuck you / Then put you a feature on the B-side / And who do you call when it's late at night? / When the headlines just don't paint the picture right? / When you look at yourself on a screen and say 'Oh my God, there's no way that's me.'"
6. "Cowboy Like Me" - Taylor Swift
When you're trying to unwind from a draining week and are simply not in the mood to do anything, Taylor Swift's "Cowboy Like Me" is perfect bubble bath music.
7. "Landslide" - Fleetwood Mac
"Landslide" never fails to make us think about how quickly life passes by while reminding us to appreciate every moment—even during the hard times.
8. "To Build a Home" - The Cinematic Orchestra
*Cue the song that's played during every sad/devastating/emotionally brutal moment in a movie.* Nevertheless, it gets the job done.
9. "when the party's over" - Billie Eilish
When the party's over? More like when the crying sesh is over.
10. "My Heart Will Go On" - Céline Dion
"My Heart Will Go On" never fails to strike a chord every listen, mainly because all I can think about is Rose letting go of Jack.
11. "Lonely" - Justin Bieber & Benny Blanco
The title speaks for itself, but Justin Bieber and Benny Blanco do a masterful job of creating a vulnerable song about loneliness, especially during a time when we're all struggling.
12. "When We Were Young" - Adele
Not only did Adele basically invent winged eyeliner, she also perfected the art of the sad song. "You still look like a movie. You still sound like a song. My God, this reminds me of when we were young." Excuse me while I wipe away a tear.
13. "Beyond" - Leon Bridges
This song is so sweet. The music video is so sweet. Leon Bridges is so sweet. Just everything about this song is so sweet. "Beyond" is about dating someone and feeling that emotion of knowing that it's beyond any other feeling you have felt for someone before.
14. "I'm On Fire" - Chromatics
I'm a loyal fan of the original version by Bruce Springsteen, but something about hearing it from Chromatics' perspective gives the song a whole new meaning.
15. "Somebody Else" - The 1975
"I don't want your body, but I hate to think about you with somebody else. Our love has gone cold. You're intertwining your soul with somebody else." A lyric like no other, for a sad-but-happy-sounding song like no other.
16. "Homesick" - Dua Lipa
Home is not a place but a person in the Dua Lipa song "Homesick," sung along with Coldplay lead singer Chris Martin. Known for catchy pop tunes like her new song, "Don't Start Now," Lipa reminds us the best sad songs start with vocals.
17. "How Will I Know" - Sam Smith
Sam Smith's cover of the iconic Whitney Houston song "How Will I Know" makes you feel so many things you didn't know you could possess. Most covers pay respect to the original in some way, but Smith gives the song a new light.
18. "From the Dining Table" - Harry Styles
This song is so intimate I almost feel guilty listening to it. "Why won't you ever say what you want to say? Even my phone misses your call, by the way." For a heart-shattering listen, I recommend using headphones.
19. "Nothing's Gonna Hurt You Baby" - Cigarettes After Sex
"Nothing's Gonna Hurt You Baby" is one of those songs that can transport you to somewhere else in an instant. I still can't decide if the song or the YouTube comment section of the video is more heartwarming.
20. "ILYSB" - LANY
The acoustic version of LANY's breakout hit song, "ILYSB," allows you to fully take in Paul Klein's lyrics of loving someone so much it hurts. No pain, no gain, right?
21. "Right Now" - HAIM
I can't decide if the bass line or the drum solo is the best part of this song. "Right Now" reminds us why the Haim sisters are one of the best groups of the decade. I'd recommend listening to it during golden hour for the full dramatic effect.
22. "Wonderful Tonight" - Eric Clapton
Eric Clapton knew what he was doing when he wrote this song for '60s icon Pattie Boyd. It's my designated "first dance at my wedding" song despite the fact I am very much single. "I feel wonderful because I see the love light in your eyes, and the wonder of it all is that you just don't realize how much I love you." Swoon.
23. "River" - Ben Platt
Ben Platt makes the Joni Mitchell song all his own when he sings it in the first episode of Netflix's Politician (watch our video with the cast here). Platt's voice will suck you into his world for four minutes, and we're so thankful.
24. "Dancing on My Own" - Calum Scott
Remember the group of New Yorkers who sang Robyn's "Dancing on My Own" in the middle of the subway platform? Calum Scott's version will, in fact, not have you do that (instead you'll likely be crying on the subway)...and that's all you really need to know.
25. "Slow Burn" - Kacey Musgraves
Golden Hour may have won four Grammy's, but "Slow Burn" deserves 100 more—simply for every tear I've shed listening to it and allowing myself to process my emotions.
26. "Be Alright" - Dean Lewis
Australian heartthrob Dean Lewis gave us the perfect excuse to let go of someone who, unfortunately, just doesn't want us back. Reminder: It will be alright.
27. "You Say" - Lauren Daigle
Lauren Daigle's "You Say" is deeply emotional if you're struggling with feelings of self-doubt: "You say I am loved when I can't feel a thing / You say I am strong when I think I am weak / You say I am held when I am falling short."
28. "I'll Never Love Again" - Lady Gaga
Even if you didn't see A Star Is Born, you can infer the emotional complexities of the song from the title.
29. "Hope Is a Dangerous Thing for a Woman Like Me to Have, But I Have It" - Lana Del Rey
You can't create a sad songs list without a Lana Del Rey song...or five. "Hope Is a Dangerous Thing for a Woman Like Me to Have" was one of the first singles from her album, Norman F*cking Rockwell—a heartbreakingly beautiful reminder that sometimes hope is all we have.
30. "The Scientist" - Coldplay
Officially drafting a petition to classify "Coldplay" as the Original Sad Song™ in the dictionary.
31. "Past Life" - Maggie Rogers
Maggie Rogers' "Past Life" is a far departure from other songs like "Fallingwater" and "On + Off" on her new album, Heard It in a Past Life, which may be what makes it so great. It's a clear reflection of who she was, and who she's becoming—something we should all make room for every once and a while.
32. "Palace" - Cam
Cam's cover of Sam Smith's "Palace" (which she originally wrote, btw) is a heartbreakingly mature tribute to an ex lover who she clearly still loves. "And I'm gonna miss you / And I'm still there / Sometimes I wish we never built this palace / But real love is never a waste of time."
33. "Self Care" - Mac Miller
Mac Miller's tragic death at 26 is still fresh in our minds. It seems appropriate to just sit quietly and listen to this song while reflecting on his life. Call it self-care.
34. "I Can Feel a Hot One" - Manchester Orchestra
Manchester Orchestra's 2009 song wins the rip-your-heart-out award every time you listen to it with its harrowing instrumentals and the lyrics to go along with them.
35. "Hallucinations" - dvsn
Some songs put you in the mood, others put you in the mood to cry—"Hallucinations" somehow fits squarely in both categories. Whether you're sending a risky late night text or re-reading old texts from your ex through tears, this song is sure to give you all the feels.
36. "The End of Love" - Florence + The Machine
"The End of Love" makes itself a home on Florence + The Machine's newest album, High as Hope. The title pretty much sums up the vibe.
37. "Heartbreak Warfare" - John Mayer
"Heartbreak Warfare" makes it to the number five spot on our "Best John Mayer Songs of All Time" list because, well, it's really good and will immediately put you in your feels.
38. "Call Out My Name" - The Weeknd
When he says, "I almost cut a piece of myself for your life / Guess I was just another pit stop / 'Til you made up your mind / You just wasted my time" ...I felt that.
39. "Goodbye" - Secondhand Serenade
If you're looking for the adult version of Secondhand Serenade's "Fall for You," this is it.
40. "Purple Rain" - Prince
Want to make everyone at karaoke cry? This epic ballad will definitely do the trick. Between Prince's powerful guitar solo and the dreamy lyrics (which The Purple One so poetically described as the "end of the world and being with the one you love"), there won't be a dry eye in the house.
41. "Liability" - Lorde
Say hello to the magnum opus of Lorde's second studio album, Melodrama. You feel her heart (and yours simultaneously) being ripped out in every single line. It makes you want to stick it to anybody who thought you were "too much" for them. Good cry guaranteed.
42. "Re: Stacks" - Bon Iver
This sad, reflective song plays in my yoga class every time we sit in shavasana. It's very relaxing, but also very emotional.
43. "I Have Nothing" - Whitney Houston
The third single from the hit film Bodyguard is right up there in top five songs to sing at the top of your lungs in the shower. You won't be able to tell whether it's tears or water from the shower head cascading down your cheeks, but it doesn't really matter, does it?
44. "Stone Cold" - Demi Lovato
"I was your amber, but now she's your shade of gold." Demi giving us all of the feels with this raw, emotional single from her 2015 album, Confident.
45. "Marvin's Room" - Drake
Ten out of 10 would not recommend putting this Drake throwback on your pregame playlist.
46. "Be Be Your Love" - Rachael Yamagata
Yeah, this is the song you hear in the movies when the good girl doesn't get the guy. Now you're just sitting there wondering what you did to deserve this tragedy.
47. "Coke" - BLOXX
Someone put this in a teen movie where the heroine drives around pondering the "what are we?" relationship question. (I hear this continues well into your 30s, so this sort of good guitar music could work for a movie about that too—if Hollywood ever decides to acknowledge women of that age.)
48. "Dreaming of You" - Selena Quintanilla
You're going to need several boxes of tissues for this one. The 90s mid-tempo jam is about longing for your beloved, but its heartbreak factor multiplies times a million when you realize that it was one of the last songs Selena recorded before her tragic passing in 1995.
49. "Never Be Like You" - Flume feat. Kai
Electro-pop can be sad, especially when the lyrics describe your exact life situation: "Hey, the narrator (you) did something wrong to warrant the ending of a relationship, and now he/she (you) should feel regret about it."
50. "Bad Religion" - Frank Ocean
"It's a bad religion to be in love with someone who could never love you." You really feel for Frank as he sings about struggling with his sexuality, though the sense of impossibility is much more pervasive than that.
51. "Agnes" - Glass Animals
Let's put it this way: When this comes up on shuffle, remove yourself from any group situations or you might frighten someone with a sudden emotional outburst. How could you not with this epic, chest-cavity-filling track about watching helplessly as someone deals with overwhelming heartache?
52. "Try Sleeping With a Broken Heart" - Alicia Keys
More than 10 years after its release, this heartbreaking Alicia Keys song has rightfully earned its place on every sad girl™'s "songs to cry to" playlist.
53. "Appointments" - Julien Baker
So beautiful, so emotional, you'll find yourself welling up (at the very least). It's Julien Baker, after all.
54. "Blackberry Stone" - Laura Marling
"I'd be sad that I never held your hand as you were lowered / But I'd understand that I'd never let it go." This song cuts to the chase quickly, but you'll enjoy it as you bleed out.
55. "Without Me" - Mac DeMarco
This song is even sadder as an acoustic, which is why we've included this version featuring ol' Mac strumming his guitar while sitting on a tree stump in the woods.
56. "I'm Not God" - Samoht
Anyone's who ever had to walk away from a toxic relationship for the sake of their own sanity will relate to this song a little too much. "I want to save you, but I'm not God," Samoht sings sorrowfully on the track. "I want to heal you, but that's not my job." Brb, crying.
57. "Cold" - Mating Ritual feat. Lizzy Land
Can a song make you feel shivery? Even though this track is outwardly a love song, you still get hints of past regrets, which—coupled with a massive hook—make for prime wrapped-up-in-a-blanket-burrito-on-the-floor material.
58. "If I Ever Feel Better" - Phoenix
The answer to Why am I crying in the club? every time.
59. "How to Disappear Completely" - Radiohead
A song so melancholy you'll feel like you're an astronaut who's become untethered from the space station. Line that'll most likely make you say "same:" "I'm not here / This isn't happening."
60. "Lost Ones" - J.Cole
J.Cole is a skilled storyteller, and in "Lost Ones," he tells the story of a couple that is forced to confront their respective traumas when they're faced with a major hurdle in their relationship. Taking on the perspective of both the guy and the girl in each verse, the song gradually gets sadder and sadder until you realize that you've been straight weeping for four minutes and 23 seconds.
61. "On Hold" - The xx
Romy Madley Croft really goes for the jugular here with no-holds-barred emotion in her vocals. Doesn't hurt (slash help) that the subject matter is, once again, a relationship that didn't work out.
Celebrity news, beauty, fashion advice, and fascinating features, delivered straight to your inbox!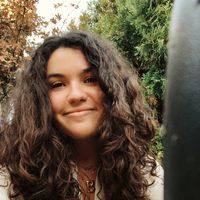 Bianca Rodriguez is the Fashion & Luxury Commerce Manager at Hearst Magazines, covering fashion, beauty, and more for Cosmopolitan, Elle, Esquire, Harper's BAZAAR, and Town & Country. She likes lounging about with a good book and thinks a closet without platform sneakers is a travesty.