Extracurricular Cool Women
If these women weren't cool enough, their hobbies just took them over the edge. See what these busy bodies do in their spare time.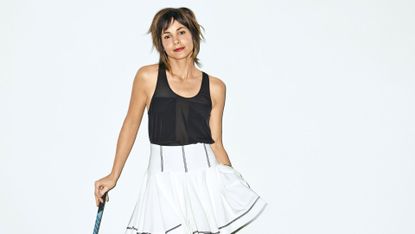 (Image credit: "Meredith Jenks")
If these women weren't cool enough, their hobbies just took them over the edge. See what these busy bodies do in their spare time.
1/12
Iron Lady
STEPHANIE SZOSTAK
Profession: Actress in this month's Iron Man 3.
Obsession: Golfing.
When did you start golfing? At age 10. My dad took me to the golf course on the weekends.
Experience: I took a year off after high school and played in tournaments all over Europe.
Highlight reel: A couple of years ago I was the only female celebrity who participated in the Bob Hope Classic. I played from the men's tee!
Favorite courses: The European Club in Ireland, The Royal County Down in Northern Ireland, and my own club—The Saint Andrews Golf Club in New York.
I love: My TaylorMade Rossa putter.
I wish:You could wear golf clothes that looked good but didn't look like you were going to play golf.
I used to: Swear in French on the course. Nobody knew what I was saying.
Now I say: Golf is just like life. You can be playing great, and then have a terrible hole. You have to forget what went wrong and keep playing.
BEGINNER'S TIP: "Find a girlfriend to start with you," says Szostak. "It's intimidating when you don't know how to play."
2/12
Strumming Along
WILLA HOLLAND, 21

Profession: Actress in the CW series Arrow.

Obsession: Playing the ukulele.

Why the ukulele? When I moved to Vancouver to film Arrow, I had nothing to do on my days off. A friend said, "Get a ukulele. If you can't pick it up, then you've just wasted 30 bucks. Big deal."
When I started, I thought: I can't do it. I have no hand-eye coordination.
Then I realized: Any human can pick up the uke. The kind I bought, an Emus, came with a booklet of chords. I learned those, then and there.
Work in progress: My biggest problem is I can't play and sing at the same time yet.
Accessorizing: I use a shoestring as a strap.
Music is ... One of my favorite things. I've always envied musicians. Now I've found something that I can play.
What's next? The banjo!
GET STARTED! Holland's tip: "Look for a ukulele that's well-crafted but cheap. Think wood, not plastic."
3/12
Runner's World
BROOKE WELLS, 27

Profession: AOL sales development manager in San Francisco

Obsession: Marathon running

How'd you get into running? In high school, a girlfriend talked me into trying out for cross-country because she was into a guy on the team. Eventually I ran at the University of California, Berkeley.
First marathon? December 2007, in Sacramento, California.
Time? Two hours and 42 minutes, so about 6:18 per mile. I qualified for the Olympic trials. That's crazy! I have no idea how I did it.
Best Olympic trials result? This year I placed 19th [out of 152].
Training schedule? Six a.m.—12 to 13 miles on workdays and 14 to 22 miles on Saturdays.
Replace shoes... Every three weeks.
Diet? Up to 3,500 calories per day. I eat a lot of almonds and avocados.
Advice for new runners? Anything new is going to be hard. Set achievable goals. Start small.

GET STARTED!
First stop: Get your shoes fit at a running store.
Brooke's picks: Nike LunarSpider shoes ($125); Run Coach Pro iPhone app ($5.99).
4/12
Flower Girl
CHRISTA B. ALLEN, 21
Profession: Actress. She stars as Charlotte Grayson on ABC's Revenge

Obsession: Flower arranging

What got you into floral design? When I realized that there's a flower market in downtown Los Angeles, 20 minutes from my house. I started going and got hooked.
Most-loved flowers: Green-and-white hydrangeas, pink roses, and peonies.
Ideal display: A simple, billowy bouquet with seasonal flowers. I like arrangements that bring seasonal changes to me.
Favorite alternative vase: A pretty water pitcher.
Top trick: Using floral foam. It keeps flowers alive longer.
Flower arranging is ... Therapeutic. There's something special about bringing life inside.
Best bouquet you've ever received: On my first day shooting 13 Going on 30, Jennifer Garner had yellow tulips sent to my trailer. I'll never forget them. — Jessica Flint
GET STARTED!
Christa's tip: "If you're working with thorny stems, wear protective gloves. Buy them at a flower shop or use rubber dish-washing ones."
5/12
Pretty Tough
WENDE ZOMNIR, 42
Profession: Executive creative director of Urban Decay in Newport Beach, California

Obsession: Snowboarding

How'd you get hooked? When I was 28, I dated a guy who couldn't ski. I decided to try snowboarding so we could do green slopes together.
Advice for newbies? Take at least three lessons. At first you'll fall a lot, but then it will click.
Major wipeouts: I helicopter-snowboard in Utah and Alaska. Once, I was in a natural half-pipe and hit bad snow — my legs went over my head. I thought I was going to have to be rescued.
Snowboarding makes me feel: Alive. Healthy. Strong. Confessions of a beauty addict: I can't snowboard without lip gloss. I wear Urban Decay's products while surfing, doing hot yoga, snowboarding. If we say our eyeliner is waterproof, I want to make sure it is.
Surprises while road testing: I had a sample lip gloss in Utah. I texted product development: "It freezes!" — Marnie Hanel
GET STARTED!
Wende's key gear: Smith helmet (from $100); neck cowl (she knit it herself); Urban Decay Lip Junkie lip gloss ($19).
6/12
The Giver
MEGGIE DIALS, 31
Profession: Channel sales manager at Indianapolis-based software company ExactTarget

Obsession: Random gift giving through her initiative, thesussyproject.com

Define "sussy." A gift given for no reason. What's The Sussy Project? We take sussy nominations through our website. Then every week we give one nominee a $20 gift.
How many have you given so far? Sixty-two since June 2011.
Best nominee? Biker Santa. He sits outside a Starbucks and holds people's dogs while they run in.
Most touching gift? Planting 20 trees in a national forest in memory of a child who passed away.
Best you've received? Running socks! I'm a runner, and I have no idea who sent them.
Why sussy? I want to help people realize how easy it is to be kind. — Marnie Hanel
GET STARTED!
DIY sussy: "Pay for the coffee of the person behind you in line," Dials says. "Even tiny gestures have a big impact."
7/12
Sweet as Pie
RACHEL GLADFELTER, 31
Profession: Associate director at Pace Prints in New York City

Obsession: Baking pies (rachels-pies.com)

When did you start baking? I've always baked. I grew up on a farm in Pennsylvania, where pies are the biggest thing ever.
First sale? November 2010. I sent an e-mail to friends and suddenly I was making 22 Thanksgiving pies!
Pies per week? About 200 minis and eight bigger ones.
When do you bake? On Saturday mornings from 1 a.m. to 7 a.m.
Personal favorite? My classic apple pie.
What's the secret? I mix tart apples, like Granny Smiths, and sweet apples, like Romes or McIntoshes.
Tips for beginners? Use seasonal fruit. Don't add a lot of sweetener. Just let the fruits do what they do.
Baking tunes? On a deadline, I pump up chick rock like Girl Talk. I wind down with Otis Redding or Al Greene.
Why bake? I love seeing people's reactions when they try the pie. It tastes like home. — Marnie Hanel
GET STARTED!
First stop: Get a baking dish. For a cheap but quality investment, try Pyrex (from $6).
Rachel's key gear: Starfrit pro-apple peeler ($17); Marci Bykat custom ceramic plate (from $30).
8/12
Giddyup!
KIMBERLY WALKER, 30

Profession: Founder of Saierfu, a home goods line designed in New York and sold in Shanghai, China

Obsession: Horseback riding

First show? When I was 2. My family is full of riders, so I grew up around horses.
Type of riding? Mostly jumpers, which is about height and speed.
How many horses do you own? Three. I've had about nine total.
Your stable? Winley Farm in Millbrook, New York.
How often do you ride? Most afternoons.
Routine? I take each horse out for an hour. I work them on the flat or a course, or take them to a field.
Is riding athletic? Absolutely! I sweat my butt off every day. It's rewarding because ... It's you and a 1,200-pound animal that you're trying to finesse into listening to you.
Best memory? Swimming with a Clydesdale in a pond while I was fully dressed in boots and britches! — Jessica Flint
GET STARTED!
First stop: Take lessons at a barn.
Kimberly's picks: Ariat boots ($160), Devoucoux saddle ($4,500), GPA helmet ($400).
9/12
Pitch-Perfect
CHRISTINA WALLACE, 28

Profession: Cofounder and CEO of Quincy, a clothing company

Obsession: Choir

When did you start singing?
In fifth grade, when I joined the Michigan State University Children's Choir. And then?
I sang at Emory University and Harvard Business School.
And now? I sing with the New York Choral Society, a volunteer chorus. Concerts are at Carnegie Hall and Lincoln Center.
The audition? It was intimidating! I sang Mendelssohn's Elijah; Puccini's Messa di Gloria; and read passages in French, Italian, German, and Latin. How big is the choir? Two hundred people — a lot of them are lifers.
Practice? One evening per week for three hours, and one Saturday a month for six hours.
Favorite karaoke song? Carrie Underwood's "Crazy Dreams."
Advice to beginners? Join a church choir, even if you aren't religious. — Jessica Flint
10/12
Geared Up
ERIKA CHRISTENSEN, 30
Profession: Star on NBC's Parenthood
Obsession: Cycling
How'd you get into biking? My buddy lost about 100 pounds cycling. He took me on a 31-mile loop. I was hooked.
How many bikes do you own? One hybrid and two road bikes.
Weekly mileage? Two hundred miles, at peak.
Best way to ride? In a group.
Most surprising place you've biked? To tape a TV interview.
Padded shorts? I wouldn't go more than 10 miles without them.
Ever crash? I was descending a somewhat infamous hill in Brentwood and hit my brakes too hard. They locked. Classic operator error. I fell and broke my wrist. We couldn't shoot around it on Parenthood, so [my character] Julia "fell ice skating."
When'd you get back on the bike? I rode with my cast! — Marnie Hanel
GET STARTED!
First stop: Ask to be fitted with equipment at a bike shop.
Erika's picks: I. Martin bike (from $729), Rapha jersey ($160).
11/12
Hello, Sailor
BRE KRECH, 30

Profession: Engineer at Motorola, in Minneapolis
Obsession: Competitive sailing

When did you start sailing? Around age 6, in Wisconsin.
Current vessel? A Melges C Scow. Mine is 20 feet long with one sail. It holds up to three people.
Racing partner? My husband. We've won a bunch of regattas together. People used to say, "If you can sail together, marriage will be simple."
Skipper or crew? Crew. I'm an engineer, so I like to make the boat go fast.
Sailing style? I'm vocal on the racecourse.
Where have you competed? Hawaii and the Midwest, East Coast, and South.
Most prestigious regatta you've raced in? Championship of Champions, in Connecticut. Event winners from around the country are invited.
How do you make time to compete? By using vacation days.
Sailing goal? Winning a national race.
Advice for beginners? Go sailing! In one lesson, you can pick up 90 percent of it.
GET STARTED!
First stop: A yacht club. They're not as snooty as you might think. Many offer lessons for nonmembers.
Bre's key gear: A wet suit if the combined air and water temperature is less than 120 degrees.
12/12
Hella Cool
LIZA RICHARDSON, 47

Profession: Los Angeles–based KCRW DJ and movie and TV music supervisor
Obsession: Surfing

How'd you get into surfing? Years ago, I had a bad first experience—a wave knocked me over. Then, when I was music supervisor on the surf/skateboard movie Lords of Dogtown, I was like, "Damn it, I'm going to do it." My friend and I signed up for 10 lessons.
Surfing feels like... Complete awareness. Nothing else matters.
Tips for beginners? Go by the rules—don't "drop in" on a wave if someone has the right of way.
How many boards do you own? Six. Maybe seven. Eight.
Other key gear? I wear custom Bewet suits.
Best waves? Costa Rica, Mexico, Hawaii. In L.A., Topanga and Santa Monica.
How often do you surf? Conditions usually don't allow surfing every day. But surfing begets surfing. The more you surf, the more you keep surfing.

GET STARTED!
First stop: Skip Googling "beginner surfing"—head right to a surf shop.
Costs: Board, $500; wet suit, $150; lessons, about $80.
Celebrity news, beauty, fashion advice, and fascinating features, delivered straight to your inbox!