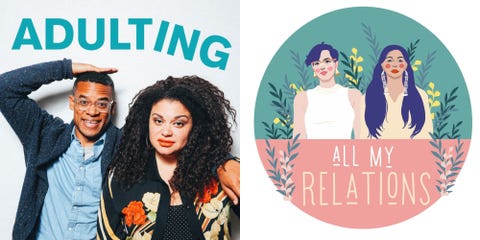 In 2019, it feels like everyone, their mother, and their second cousin's ex-boyfriend has a podcast. Which makes it...hard to figure out which ones are actually worth a listen. We made it easy for you, rounding up the best podcasts of 2019 once and for all. For this list, we picked either brand-new podcasts, or singled out an already existing podcast with an amazing new 2019 episode (or episodes!). You'll find a little bit of everything on this list—from brand-new voices to true crime terrors, from political discourse to sex chronicles you won't believe. Trust us, you'll want to add these podcasts to your playlist.
Apparently, nothing is more convincing than a woman in a black turtleneck. At least that's what Elizabeth Holmes seemed to prove when she dropped out of Stanford and convinced America's wealthiest men to invest in her sham of a medical tech company known as Theranos. New podcast The Drop Out tells her story—it's captivating, and many times feels almost unbelievable.
No one really know hows to be an adult, right? Hosts and comedians Michelle Buteau (Always Be My Maybe) and Jordan Carlos of the new podcast Adulting will make you feel like that's...absolutely normal. They'll make light of some of life's most awkward and everyday situations, from navigating threesomes to budgeting for new pillows.
It's finally here! Authors Roxane Gay (Hunger) and Tressie McMillan Cotton (Thick) are here to give listeners the black feminist perspective on everything from pop culture and art to politics and mental health. Joined by celebs like Gabrielle Union and changemakers like Stacey Abrams, Hear to Slay creates a space where women can support, challenge, and grow with one another through critical conversation and whole lot of laughs.
Hosted by Olivia Wilde with Harper's Bazaar, Dare I Say is a new podcast that places the most influential women, from Jane Fonda to Rosario Dawson, in the center of society's most pressing issues. After all, it's girls who run the world.
Fast forward to the year 2062, and everybody is gay. Clay Aiken is president and the hope of returning to heteronormativity is in the hands of one teenage boy with a secret: he's straight. But that's not even the best part of this comedy podcast. Gay Future is actually—get this—an adaptation of a YA novel written by Mike Pence!
The time to amplify Native American voices is long overdue. That's why this new podcast hosted by Matika Wilbur (Swinomish and Tulalip) and Adrienne Keene (Cherokee Nation) is so important. The two are unpacking the notion of what it means to be Native American today. That could mean exploring the threats of Ancestry DNA tests, diving in deep on tribal sovereignty, or discussing the popularity of cultural appropriation. With Wilbur and Keene you'll get a history lesson, a laugh and a dose of humility all in one episode.
Fiasco revisits the historical political power moves that shaped our country and society into what it is today. Season one starts out on the deep end, covering the unforgettable contested election between All Gore and George W. Bush in 2000.
Nice Try! follows Avery Trufelman as she tries to unpack our need as humans to find or create utopia, a.k.a. the perfect place. The first episode will dive head first into the real story of the settlement of Jamestown.
Dive deep into the college admissions scandal that shook the country with C13Originals and Andrew Jenks' Gangster Captialism. Bribery, scamming, lies—it's all coming out.
You'll never look at your neighbors the same way again. Reported by Joe Nocera, The Shrink Next Door tells the story of Ike Herschkopf, a celebrity therapist in Nocera's Hamptons neighborhood whose dark and twisted life is suddenly revealed.
Produced in one of America's most notorious prisons, San Quentin, Ear Hustle shares the raw and unfiltered reality of life behind bars and post-incarceration. Season 4 kicked off with brand-new episodes on June 5.
Now on their second season, Yvonne Orji (Insecure) and Luvvie Ajayi (I'm Judging You) are two female powerhouses that discuss their glow-ups, hardships and mishaps as Nigerian women in the United States who've "made it." Check out their Season 2 episode "Scared Money Don't Make Money" to learn more about the art of their hustle.
F**ks Given is dismantling sexual stigmas, one shared sexual experience at a time. Who has time for taboos, anyway? The podcast has been around since 2018, but one of their latest episodes, "Stripping Season and Safety Nets," will have you thoroughly entertained as an ex-porn star talks industry and sexcapades.
Need a little extra help at work? Liz Dolan and Rico Gagliano began hosting Safe for Work in 2018 to provide actionable ways to listeners looking to navigate their work environments from avoiding burnout to negotiating a raise. And when you're really having a bad day, tune into their June 3 episode: "Is Rage Quitting Ever Worth It?"
Five years later, and Call Your Girlfriend continues to be that fierce, intelligent and unapologetic female circle of support that we as women need in our lives. Hosted by long-distance besties, Aminatou Sow and Ann Friedman, the podcast is discussing everything from Instagram anxiety to abortion rights in their latest season.
...
For more stories like this, including celebrity news, beauty and fashion advice, savvy political commentary, and fascinating features, sign up for the Marie Claire newsletter.