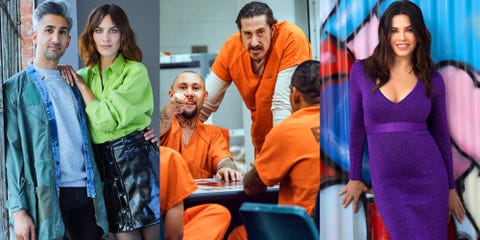 Reality television has a lot to answer for. Yes, it brought us 90 Day Fiancé and the Real Housewives franchise, but it also brought us show after show of stilted, scripted conversation and some unabashedly awful reality concepts. But 2020 is set to be a banner year for reality TV, thanks to innovative new shows like Jenna Dewan's Flirty Dancing and Alexa Chung and Tan France's Next In Fashion, and the returns of old favorites like Extreme Makeover and Naked and Afraid. No matter what happens in 2020, you can rely on these new shows for some top-notch binge-watching.
'Naked and Afraid: Alone'
Spending three weeks naked and alone with a stranger on an island already sounds like something we don't want to do...but the idea of braving it alone is somehow worse. The Discovery channel is bringing back the survival show with a twist: they'll be seasoned veterans of the show, but they'll be 100 percent alone. We'll miss watching people suffer together, but this sounds even crazier.

Premieres on Discovery, Jan. 5, 10 p.m. ET

'Girl Scout Cookie Championship'
Kick off the best time of the year, a.k.a. Girl Scout cookie selling season, by watching bakers turn Thin Mints into something even better. The host of this cooking show is none other than Alyson Hannigan from How I Met Your Mother. As for the prize, we're talking a year supply of Girl Scouts cookies...and the trip of a lifetime.
Premieres on Food Network, Feb. 3, 8 p.m. ET.