The Best Romantic Movies of 2020
Get ready for all the feels.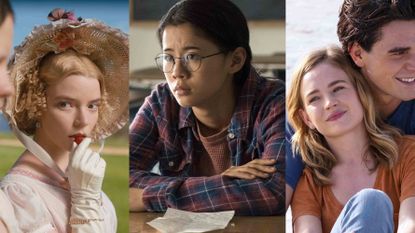 (Image credit: Focus Features/Netflix/Lionsgate)
Nothing beats settling into your coziest loungewear, ordering that burrito you've been craving, and sinking into your couch, ready to have your heart broken in half and then put together again by a romantic movie. There's something about a good (or bad) romance film that makes for ideal viewing pleasure. It's a heartening world where "fake relationships" turn into a real relationships and meet-cutes are around every corner. And, you know, super-famous movie stars can fall in love with average fans in the span of 30 days. Who wouldn't want that reality?
Although 2020 hasn't been good for much, it has given us some good, old-fashioned love stories—yes, some even on the level of The Notebook-kissing-in-the-rain love stories. This year has also given us romances that don't necessarily follow the basic heteronormative narrative. If Call Me By Your Name made you want to drop everything a move to a small town in Italy and fall in love with the handsome graduate student that moved into your summer home, then you'll be thrilled with the romantic offerings of 2020.
Romance movies take us places we want to go, give us portrayals of romance we want to have, and help us find laughter in all those not-so-great love stories. From the film adaption of the popular book of the same name, Stargirl, to the revamp of West Side Story, here are the best romantic movies and rom-coms to look out for in 2020. Due to recent events concerning the coronavirus, some of the movies release dates have been pushed to 2021, but we'll keep them on here since they were originally slated for this year.
'The Broken Hearts Gallery'
Release Date: September 11, 2020
Starring: Geraldine Viswanathan, Dacre Montgomery, Utkarsh Ambudkar, Suki Waterhouse, and Molly Gordon
What it's about: With the help of her best pals and a cute new guy named Nick (Montgomery), recently dumped 20-something Lucy (Viswanathan) sets her sights on creating a gallery where people can leave items from past relationships.
'Words On Bathroom Walls'
Release Date: August 21, 2020
Starring: Walton Goggins, AnnaSophia Robb, Andy Garcia, Charlie Plummer, and Taylor Russell
What it's about: During his senior year of high school, Adam is diagnosed with a mental illness. Soon he transfers from his public school to a Catholic school to escape the bullies. On the first day, he meets someone unlike anyone else, and a relationship unlike anything else blooms.
'Valley Girl'
Release Date: May 8, 2020
Starring: Jessica Rothe, Josh Whitehouse, Jessie Ennis, Ashleigh Murray, and Mae Whitman
What it's about: The 1983 classic gets a musical update in this re-telling of a San Fernando Valley teen who finds expected love on the other side of the tracks, a.k.a. Hollywood Boulevard in this case. The costumes and makeup looks are exactly as fabulous as you imagine them to be.
'The Thing About Harry'
Release Date: February 15, 2020
Starring: Jake Borelli, Niko Terho, Britt Baron, Peter Paige, and Japhet Balaban
What it's about: High school enemies Harry and Sam start to backtrack their adolescent feelings towards each other when a night stuck in a hotel room leaves them wondering if they could be something more.
'Then Came You'
Release Date: October 2, 2020
Starring: Kathie Lee Gifford, Craig Ferguson, Ford Kiernan, Elizabeth Hurley, and Phyllida Law

What it's about: Recently widowed, Annabelle sets off on a trip around the world, set on visiting places she and her husband loved in their favorite movies. First stop? Scotland, where a handsome inn-keeper awaits.

watch now
'Chemical Hearts'
Release Date: August 21, 2020
Starring: Lili Reinhart, Austin Abrams, Sarah Jones, Kara Young
What it's about: Based on the novel Our Chemical Hearts by Krystal Sutherland, this is a coming of age romance that might make you shed a tear or two. When Henry Page (Abrams) meets new student Grace Town (Reinhart), he starts to fall for her and hard. Little does he know she's hiding a secret that could change everything.
'Palm Springs'
Release Date: July 10, 2020
Starring: Andy Samberg, Cristin Milioti, J.K. Simmons, Camila Mendes
What it's about: It's like the 1993 movie Groundhog Day, but a lot more charming. Two strangers find themselves in an endless time loop at a wedding in Palm Springs and decide to make the most of it. As Carl Kelsch, MC's Deputy Managing Editor, writes in his review of the romcom Palm Springs, " offers a refreshing oasis in a desert of dried-up romantic fantasies."

watch now
'The Half of It'
Release Date: May 1, 2020
Starring: Leah Lewis, Daniel Diemer, Alexxis Lemire, Wolfgang Novogratz
What it's about: Jock needs help getting the popular girl. Jock hires a "nerdy" girl to help him woo said, popular girl. The twist? The girl's in love with her too, and accepting the deal will introduce her to a bond she never thought she would be apart of.
'After We Collided'
Release Date: October 23, 2020
Starring: Josephine Langford, Hero Fiennes Tiffin, Louise Lombard, Dylan Sprouse
What it's about: A movie list like this is not complete without one steamy, but very entertaining romance movie. Enter in the sequel to the 2019 film, After. The movie looks like we're the last one left off, with Tessa struggling to cope with the bombshell Hardin dropped on her. He's willing to do anything it takes to get her back, but what if she's already moved on? We're pumped.
'Holly Slept Over'
Release Date: March 3, 2020
Starring: Josh Lawson, Nathalie Emmanuel, Britt Lower, Ron Livingston
What it's about: When Audra (Lower) tells her husband Noel (Lawson) that she slept with her college friend Holly (Emmanuel), who's crashing at their house for a couple of weeks, things get, well, interesting. While the premise is about a guy trying to experience a threesome, there's a surprising and refreshing amount of depth explored about bi-sexuality and relationships.
'Marry Me'
Release Date: Originally sometime in 2020, now May 14, 2021
Starring: Jennifer Lopez, Owen Wilson, Sarah Silverman, Utkarsh Ambudkar
What it's about: A major pop star (Lopez) is set to marry her famous boyfriend at Madison Square Garden when she finds out he's been cheating on her...with her assistant. To avoid embarrassment, she picks a random guy (Wilson) from the crowd and marries him instead. It sounds like every fanfic I ever read in high school, so I am here for it.
'Stargirl'
Release Date: March 13, 2020
Starring: Grace VanderWaal, Graham Verchere, Karan Brar, Maximiliano Hernandez
What it's about: The Disney+ original movie will be based on Jerry Spinelli's 2000 novel of the same name which tells the story of dealing with first love and the struggles of popularity all while being a teen. Not only will it be amazing to see America's Got Talent veteran VanderWaal on the big screen, but since it's made by Disney, it's bound to make us shed a couple of nostalgic tears.
'Ammonite'
Release Date: Originally sometime in 2020, now March 31, 2021
Starring: Saoirse Ronan, Kate Winslet, Fiona Shaw, and Gemma Jones
What it's about: Winslet plays a famous fossil hunter in the 1840s who meets a young woman (Ronan) and forms a passionate relationship that ends up changing their lives forever. It has Call Me By Your Name vibes all over it, but instead of Italy, it's set on the coast of England.
'Emma'
Release Date: February 21, 2020
Starring: Anya Taylor-Joy, Bill Nighy, Johnny Flynn, Mia Goth, Miranda Hart, Josh O'Connor
What it's about: The classic Jane Austen novel gets a revamp in this new romantic comedy. Emma follows the story of a girl who's known to meddle in other people's lives by playing matchmaker. But when it comes to finding love for our dear Emma, she'll find that the love she's been looking for has been right in front of her all along. Classic!
'Premature'
Release date: February 21, 2020
Starring: Zora Howard, Joshua Boone, Imani Lewis, and Tashiana Washington
What it's about: Ah, a coming-of-age story about first love. Premature follows the romance of Ayanna (Zora Howard)—a 17-year-old poet who has one last summer in Harlem before she leaves for college—with New York-newcomer and music producer Isaiah (Joshua Boone). Of course, when you're young and in love, some things are never as they seem.
'I Still Believe'
Release Date: March 13, 2020
Starring: KJ Apa, Britt Robertson, Shania Twain, and Gary Sinise
What it's about: Everyone's favorite Riverdale lead plays Jeremy Camp in this biopic about the Christian singer. It chronicles Camp's journey with his wife Melissa Lynn Henning-Camp (Britt Robertson) who is diagnosed with ovarian cancer just before they are married
'The Lovebirds'
Release Date: OriginallyApril 3, 2020, now May 22, 2020
Starring: Kumail Nanjiani, Issa Rae, Anna Camp
What it's about: From the same people who brought us the funny but heart-wrenching The Big Sick, comes The Lovebirds. It's a story about a couple on the brink of a break up who then have to solve a murder mystery together—standard couple stuff. It'll star our favorite funny people, Kumail Nanjiani from Silicon Valley and Issa Rae from Insecure. We're all in.
'Barb and Star Go to Vista Del Mar'
Release Date: Originally July 31, 2020, now July 16, 2021
Starring: Kristen Wiig, Annie Mumolo, Jamie Dornan, and Damon Wayans Jr.
What it's about: Two lifelong best friends Barb (Annie Mumolo) and Star (Kristen Wiig) ditch their small town for the first time and go on vacation to Vista Del Mar, FL, where they'll soon find themselves tangled up in love, sunburns, and one villain's evil plot to kill everyone. It's from the same people who brought us Bridesmaids, so be ready for some major laughs.
'Happiest Season'
Release Date: November 25, 2020
Starring: Kristen Stewart, Alison Brie,Aubrey Plaza, Dan Levy, Mary Steenburgen, and Mackenzie Davis
What it's about: This holiday rom-com is about a young woman (Stewart) who plans to propose to her girlfriend (Davis) at her family's annual holiday party. But they hit a bump in the road when she finds out her partner has yet to come out to her conservative parents.
'The Photograph'
Release Date: February 14, 2020
Starring: Issa Rae, Chelsea Peretti, Courtney B. Vance, LaKeith Stanfield, and Y'lan Noel
What it's about: After the famous photographer mom of Mae Eames (Issa Rae) dies unexpectedly, Mae finds a box containing photographs and letters of her mother's past. As Mae reads the letters and takes in the pictures, she finds herself falling in love with a journalist (LaKeith Stanfield) tasked with writing a story about Mae's mother.
'West Side Story'
Release Date: December 18, 2020, now December 10, 2021
Starring: Ansel Elgort, Rachel Zegler, Ariana DeBose, David Alvarez, Josh Andrés Rivera, Mike Faist, Paloma Garcia-Lee, Maddie Ziegler, and Ana Isabella
What it's about: Calling all musical lovers: The reboot of our dreams is finally happening. Directed by Steven Spielberg, the reboot of the 1957 Broadway musical captures the story of Shakespeare's Romeo and Juliet but set in 1950s New York. Baby Driver star Ansel Elgort will play Tony, but we also can also look forward to seeing newcomers like 17-year-old Rachel Zegler, who plays Maria.
'Come As You Are'
Release Date: February 14
Starring: Grant Rosenmeyer, Gabourey Sidibe, Hayden Szeto, and Ravi Patel
What it's about: Many of us think of romance movies as a connection with another person, but, sometimes, the best romances are about self-love and friendship. Come As You Are follows three young men with disabilities as they set off on a cross-country road trip to Montreal in hopes of getting rid of their virginity at a brothel known to cater to people with special needs.
'To All The Boys 2: P.S. I Still Love You'
Release Date: February 12
Starring: Lana Condor, Noah Centineo, Madeleine Arthur, Jordan Fisher, Anna Cathcart, Holland Taylor and Janel Parrish
What it's about: Everyone's favorite Netflix rom-com got a sequel! Watch Lara Jean and Peter Kavinsky navigate their relationship as a real couple as we bid goodbye to all that "fake dating" nonsense from the first film. Trouble, of course, starts to brew as another letter is uncovered from a former Model UN crush, John Ambrose McClaren.
Celebrity news, beauty, fashion advice, and fascinating features, delivered straight to your inbox!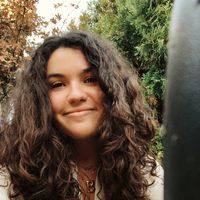 Bianca Rodriguez is the Fashion & Luxury Commerce Manager at Hearst Magazines, covering fashion, beauty, and more for Cosmopolitan, Elle, Esquire, Harper's BAZAAR, and Town & Country. She likes lounging about with a good book and thinks a closet without platform sneakers is a travesty.