Editors handpick every product that we feature. We may earn commission from the links on this page.
The Best Romantic Movies of 2020 (So Far)
Get ready for all the feels.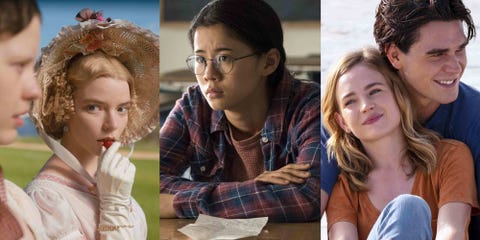 Focus Features/Netflix/Lionsgate
Nothing beats settling into your coziest loungewear, ordering that burrito you've been craving, and sinking into your couch, ready to have your heart broken in half and then put together again by a romantic movie. There's something about a good (or bad) romance film that makes for ideal viewing pleasure. It's a heartening world where "fake relationships" turn into a real relationships and meet-cutes are around every corner. And, you know, super-famous movie stars can fall in love with average fans in the span of 30 days. Who wouldn't want that reality?
As 2020 leads us into the next decade, it'll gift us some good, old-fashioned love stories—yes, some even on the level of The Notebook-kissing-in-the-rain-on-a-row-boat. This year will also give us love stories that don't necessarily follow the basic heteronormative narrative. If Call Me By Your Name made you want to drop everything a move to a small town in Italy and fall in love with the handsome graduate student that moved into your summer home, then you'll be thrilled with the romantic offerings of 2020.
Romance movies take us places we want to go, give us portrayals of romance we want to have, and help us find laughter in all those not-so-great love stories. From the film adaption of the popular book of the same name, Stargirl, to the revamp of West Side Story, here are the best romantic movies and rom-coms to look out for in 2020. Due to recent events concerning the coronavirus, some of the movies release dates have been pushed to 2021, but we'll keep them on here since they were originally slated for this year.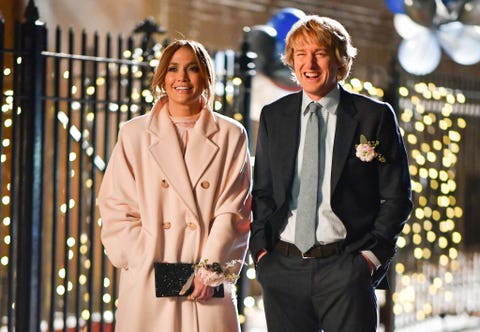 James Devaney
Getty Images
Release Date: Originally sometime in 2020, now 2021
Starring: Jennifer Lopez, Owen Wilson, Sarah Silverman, Utkarsh Ambudkar
What it's about: A major pop star (Lopez) is set to marry her famous boyfriend at Madison Square Garden when she finds out he's been cheating on her...with her assistant. To avoid embarrassment, she picks a random guy (Wilson) from the crowd and marries him instead. It sounds like every fanfic I ever read in high school, so I am here for it.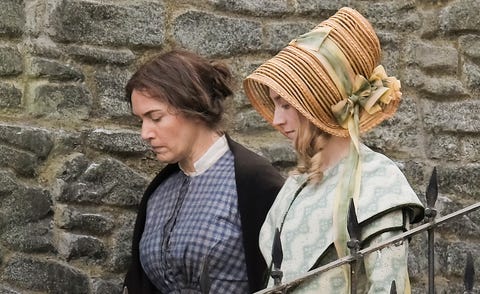 Release Date: Originally sometime in 2020, now March 31, 2021
Starring: Saoirse Ronan, Kate Winslet, Fiona Shaw, and Gemma Jones

What it's about: Winslet plays a famous fossil hunter in the 1840s who meets a young woman (Ronan) and forms a passionate relationship that ends up changing their lives forever. It has Call Me By Your Name vibes all over it, but instead of Italy, it's set on the coast of England.

'Barb and Star Go to Vista Del Mar'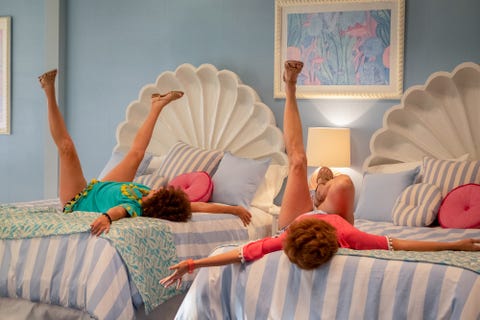 Release Date: Originally July 31, 2020, now July 16, 2021
Starring: Kristen Wiig, Annie Mumolo, Jamie Dornan, and Damon Wayans Jr.
What it's about: Two lifelong best friends Barb (Annie Mumolo) and Star (Kristen Wiig) ditch their small town for the first time and go on vacation to Vista Del Mar, FL, where they'll soon find themselves tangled up in love, sunburns, and one villain's evil plot to kill everyone. It's from the same people who brought us Bridesmaids, so be ready for some major laughs.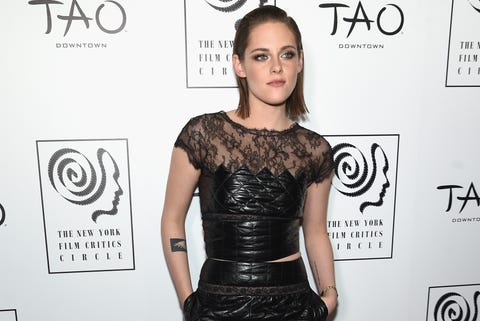 Release Date: November 25, 2020
Starring: Kristen Stewart and Mackenzie Davis

What it's about: This holiday rom-com is about a young woman (Stewart) who plans to propose to her girlfriend (Davis) at her family's annual holiday party. But they hit a bump in the road when she finds out her partner has yet to come out to her conservative parents.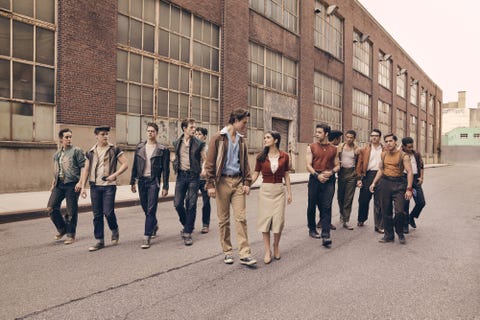 RAMONA ROSALES
20th Century Fox
Release Date: December 18, 2020
Starring: Ansel Elgort, Rachel Zegler, Ariana DeBose, David Alvarez, Josh Andrés Rivera, Mike Faist, Paloma Garcia-Lee, Maddie Ziegler, and Ana Isabella
What it's about: Calling all musical lovers: The reboot of our dreams is finally happening. Directed by Steven Spielberg, the reboot of the 1957 Broadway musical captures the story of Shakespeare's Romeo and Juliet but set in 1950s New York. Baby Driver star Ansel Elgort will play Tony, but we also can also look forward to seeing newcomers like 17-year-old Rachel Zegler, who plays Maria.

This content is created and maintained by a third party, and imported onto this page to help users provide their email addresses. You may be able to find more information about this and similar content at piano.io