'Palm Springs' Is the Perfect Rom-Com for Commitment-Wary Millennials
The metaphysical love story will give you all the feels, even if you're resolutely single.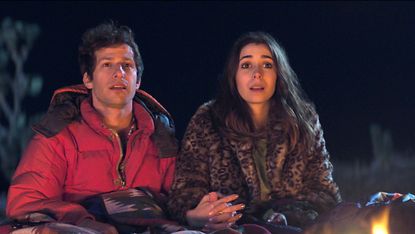 (Image credit: Courtesy of Hulu)
Marie Claire Newsletter
Celebrity news, beauty, fashion advice, and fascinating features, delivered straight to your inbox!
Thank you for signing up to Marie Claire. You will receive a verification email shortly.
There was a problem. Please refresh the page and try again.
In Palm Springs, two strangers strike up a flirtation at a wedding and find themselves stuck together in a time loop. It's far from the first love story to employ a healthy dose of fantasy to explore the mysteries of the heart. But this brain-tickling comedy, premiering July 10 on Hulu, is no Groundhog Day rehash. Instead, everyone involved in the movie seems to have taken a moment to consider what audiences really want out of a romantic comedy in 2020. The first shot, an earthquake cracking open the California desert, is proof right out of the gate that Palm Springs wants to shake up all the tired tropes of the rom-com genre.
Nyles (Andy Samberg) is an eye-rolling cynic who lounges alone in the resort's pool guzzling beer; he doesn't even bother to change out of his bathing suit for the evening's nuptials. But he still manages to charm the bride's dour sister and maid of honor, Sarah (Cristin Milioti). Like Bill Murray's Groundhog Day character, Nyles comes off as simultaneously above-it-all and self-deprecating. Sarah appreciates his lack of sentimentality: She's clearly not enjoying the wedding and has misgivings about the groom.

A glowing portal near Nyles and Sarah's first make-out session serves as the uncomplicated plot mechanism that sends this pair of pessimists into an endless repetition of the wedding day. While these two are no obvious match at first, Samberg and Milioti offer sneaky performances that allow their characters' hard exteriors to gradually melt away like wedding ice sculptures under a blazing sun. The movie's best moments come from seeing the resourceful couple put their heads together to solve their metaphysical predicament, or simply to find outrageous ways to entertain themselves.
The emphasis on rapid-fire (and occasionally infantile) humor is a hallmark of the film's producers, the trio of goofballs known as The Lonely Island (purveyors of viral joke-songs like "I Just Had Sex"). Max Barbakow's deft direction anchors the movie, while Andy Siara's ambitious script ventures into darker territory as Nyles and Sarah struggle to cope with the pointlessness of life on repeat—a particularly relevant dilemma for anyone finding their current coupledom strained by quarantine conditions.

The time-loop premise has become its own subgenre in recent years. For every standout like Netflix's Russian Doll, there's a clunker like Love Wedding Repeat that covers its reliance on clichés with gimmicky timeline acrobatics. Palm Springs does fresh things with the concept by reveling in Sarah and Nyles' freedom from consequences. Take, for instance, when Sarah and Nyles escape boredom at the wedding reception with a prank that involves a bomb in the cake. Palm Springs itself functions like a metaphorical bomb in a wedding cake, gleefully exploding sugar-coated notions of marriage in its examination of commitment. A smart move considering today's audiences—adults who are choosing cohabitation over marriage—do not buy into the dream of a fairy-tale wedding as the stepping stone to romantic fulfillment. Instead, millennials are essentially giving themselves the exact kind of escape hatch that Sarah and Nyles are deprived of.
So, what does a rom-com for a romantically-skeptical generation look like? Palm Springs tries to answer that, sometimes with self-aware dialogue like Sarah's declaration to Nyles that she can "survive just fine without you, you know." Other times, it's poignant scenes like the one where Sarah comes to Nyles with a risky plan that could free them from the time loop. When he argues that they should just try to be happy maintaining their status quo, her face falls. The moment gets at the crux of what makes commitment such a risky proposition. Sarah's frustration in that moment will resonate with anyone who has worried that being attached to the wrong person could ultimately stunt their full potential.
It's the flip side of romantic entanglement that too many films tip-toe around in an effort to pull at our heart-strings with bold professions of love. This movie has those too, but like the eponymous setting, Palm Springs offers a refreshing oasis in a desert of dried-up romantic fantasies.
For more stories like this, including celebrity news, beauty and fashion advice, savvy political commentary, and fascinating features, sign up for the Marie Claire newsletter.
RELATED STORIES
Celebrity news, beauty, fashion advice, and fascinating features, delivered straight to your inbox!
Carl Kelsch is the Managing Editor of Harper's Bazaar. He's also a screenwriter whose short films of varying quaility can be found smattered among the interwebs.