The 10 Best Romantic Movies of All Time
These are 10 of the best romantic movies of all time. To prove it, here are some of the most romantic movie quotes of all time.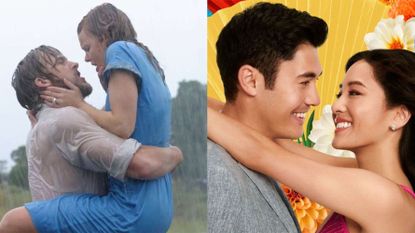 (Image credit: New Line)
Cuffing season is upon us and that means people are pairing off everywhere you look. Need a reminder that true love is real and not just a seasonal trend like a pumpkin spice latte? Then look no further than your coziest winter companion: Your TV.
Romances for the ages have been a staple of movies since, well, the invention of movies, pretty much. Here are 10 of the best romantic movies of all time to put you in the mood for love, complete with romantic quotes you'll want to doodle in curly letters like a lovesick tween—but in a good way, promise.
'Casablanca'
Release date: January 23, 1943
Starring: Humphrey Bogart, Ingrid Bergman, Paul Henreid, Claude Rains, Conrad Veidt, Sydney Greenstreet, and Peter Lorre.
Most romantic quote: "We'll always have Paris."
'The Shop Around the Corner'
Release date: January 12, 1940
Starring: Margaret Sullavan, James Stewart, and Frank Morgan.

Most romantic quote: "Oh, my Dear Friend, my heart was trembling as I walked into the post office, and there you were, lying in Box 237. I took you out of your envelope and read you, read you right there."
'Love Story'
Release date: December 16, 1970
Starring: Ali MacGraw and Ryan O'Neal.
Most romantic quote: "Love means never having to say you're sorry."
'The Princess Bride'
Release date: September 25, 1987
Starring: Cary Elwes, Mandy Patinkin, Chris Sarandon, Christopher Guest, Wallace Shawn, André the Giant, Robin Wright, Peter Falk, Fred Savage, and Billy Crystal.
Most romantic quote: "Death cannot stop true love. All it can do is delay it for a while."
'When Harry Met Sally'
Release date: July 21, 1989
Starring: Billy Crystal, Meg Ryan, Carrie Fisher, and Bruno Kirby.
Most romantic quote: "I love that you get cold when it's 71 degrees out. I love that it takes you an hour and a half to order a sandwich. I love that you get a little crinkle above your nose when you're looking at me like I'm nuts. I love that after I spend the day with you, I can still smell your perfume on my clothes. And I love that you are the last person I want to talk to before I go to sleep at night. And it's not because I'm lonely, and it's not because it's New Year's Eve. I came here tonight because when you realize you want to spend the rest of your life with somebody, you want the rest of your life to start as soon as possible."
'Before Sunrise'
Release date: January 27, 1995
Starring: Ethan Hawke and Julie Delpy.
Most romantic quote: "I think I can really fall in love when I know everything about someone-the way he's going to part his hair, which shirt he's going to wear that day, knowing the exact story he'd tell in a given situation. I'm sure that's when I know I'm really in love."
'Titanic'
Release date: December 19, 1997
Starring: Leonardo DiCaprio, Kate Winslet, Billy Zane, Kathy Bates, Frances Fisher, Bernard Hill ,Jonathan Hyde, Danny Nucci, David Warner, and Bill Paxton.
Most romantic quote: "You jump, I jump remember? I can't turn away without knowing you'll be all right... That's all that I want."
'The Notebook'
Release date: June 25, 2004
Starring: Ryan Gosling, Rachel McAdams, James Garner, Gena Rowlands, Sam Shepard, and Joan Allen.

Most romantic quote: "It's not going to be easy. It's going to be really hard. And we're going to have to work on this every day, but I want to do that because I want you. I want all of you, forever, you and me."
'Blue Is the Warmest Colour'
Release date: May 23, 2013
Starring: Léa Seydoux and Adèle Exarchopoulos.
Most romantic quote: "I miss you. I miss not touching each other. Not seeing each other, not breathing in each other. I want you. All the time. No one else."
'Crazy Rich Asians'
Release date: August 15, 2018
Starring: Constance Wu, Henry Golding ,Gemma Chan, Nico Santos, Lisa Lu, Awkwafina, Ken Jeong, and Michelle Yeoh.
Most romantic quote: "I met a girl, I fell in love and I want to marry her."
Kayleigh Roberts is a freelance writer and editor with more than 10 years of professional experience. Her byline has appeared in Marie Claire, Cosmopolitan, ELLE, Harper's Bazaar, The Atlantic, Allure, Entertainment Weekly, MTV, Bustle, Refinery29, Girls' Life Magazine, Just Jared, and Tiger Beat, among other publications. She's a graduate of the Medill School of Journalism at Northwestern University.