The Best Netflix Original TV Shows and Movies of 2020
The streaming giant upped its original content game this year.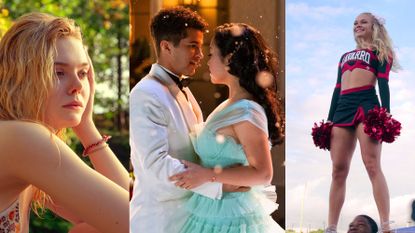 (Image credit: Netflix)
Dang, Netflix has really upped its original content game. Since churning out a few big Oscar contenders in 2019 (opens in new tab) (you remember Marriage Story and the Irishman, don't you?) the streaming giant has produced consistently banging movies, docu-series and TV shows for your binging pleasure. From the feel-gooders (To All The Boys I've Loved Before: P.S. I Still Love You (opens in new tab)) to the heart-pounders (The Last Thing He Wanted) to the unmissable reality shows blowing up your group chat (Love Is Blind (opens in new tab)), as well as a few exciting things to come, we've rounded up the top Netflix original content of 2020. Get ready to never leave your couch.
'To All The Boys I've Loved Before: P.S. I Still Love You'
Available to stream now.
Starring: Lana Condor, Noah Centineo, and Jordan Fisher
What it's about: Is that Peter Kavinsky!? Our favorite Netflix boyfriend (Centineo) is back, and he's officially coupled up with his once-pretend girlfriend Lara Jean (Condor). Things are going as normal teen romances do (silly moments of love balanced with unnecessary insecurity), but gets decidedly more complicated when John Ambrose (Fisher), Lara Jean's 5th-grade, Model UN crush comes back to town. Ah, young love, never gets old!
'Cheer'
Available to stream now.
Starring: Monica Aldama, Lexi Brumback, Gabi Butler, La'Darius Marshall, and most importantly, Jerry (Harris)
What it's about: Somewhere in my 4th continuous hour of watching Cheer, I could no longer recognize my being as not a member of the Navarro cheer squad, the team the popular docu-series films while they train for the country's biggest cheer competition. I shouldn't have to mat talk you into binging cheer, but just in case you're hesitating: YOU MUST WATCH CHEER BECAUSE IT IS TRULY AMAZING. That is all.
'Miss Americana'
Available to stream now.
Starring: Taylor Swift. And her cats.
What it's about: The super being that is Taylor Swift gives us a rare (though still highly controlled) peak inside her private life, sharing details from her time out of the public eye (yes, including that whole Kanye-snake era). Swiftie mega-fan or not, viewers will find "Miss Americana" hard to pull away from.
'The Last Thing He Wanted'
Available to stream now.
Starring: Anne Hathaway, Ben Affleck, Rosie Perez
What it's about: Based on the popular Joan Didion novel of the same name, a D.C. journalist (Hathaway) gets tangled up in the story she's trying to break. Directed by Dee Reese, it's a wild, albeit, sometimes overly complicated, ride, best enjoyed with a friend on a late Saturday afternoon.
'Love Is Blind'
Available to stream now.
Starring: Conventionally attractive singles
What it's about: Is love truly blind? That's the question contestants are faced with as they suss out potential spouses they date without seeing (they can only hear them through a thin wall). If they choose to get engaged, the two finally see each other for the first time, then live together for one month before walking down the aisle. Totally ridiculous? Yes. A must watch? Also yes. Am I ashamed? Kind of yes.
'All The Bight Places'
Available to stream now.
Starring: Elle Fanning and Justice Smith
What it's about: In this heart-tugger based off Jennifer Niven' novel of the same name, two people (Fanning and Smith) fall into each other's lives while grappling with their own inner turmoil. Both a love story and a devastating look at mental health, don't watch without tissues in close proximity.
'Lost Girls'
Release date: March 13
Starring: Amy Ryan, Thomasin McKenzie, Lola Kirke, Oona Laurence

What it's about: Inspire by true events, Mari (Ryan) investigates the disappearance of her daughter after police dismiss the case based on her daughter's status as a sex worker. Along the way, Mari uncovers a dozen unsolved murders of sex workers, forcing police to finally take the case seriously. Internet sleuths, get your thinking caps on.
'Hollywood'
Release date: May 1
Starring: Darren Criss, Jeremy Pope, and David Corenswet
What it's about: Described by creator Ryan Murphy as "a love letter to the Golden Age of Tinseltown," Hollywood will be a seven-episode limited series about actors and filmmakers in the 1940's. Details are scare, but if it's anything like Murphy's previous works (American Horror Story and Pose, to name a few) then we're in for a small-screen treat.
'The Half Of It'
Release date: Spring 2020
Starring: Leah Lewis, Daniel Diemer, Alexxis Lemire, Collin Chou, Wolfgang Novogratz
What it's about: There's few details about this upcoming romcom, but we're already calling it as the next Netflix must-watch. According to Netflix, 'a shy Chinese-American, straight-A student finds herself helping the school jock woo the girl they both secretly love. In the process, each teaches the other about the nature of love as they find connection in the most unlikely of places." A LGBTQ-friendly romcom? We're here for it.
'The Kissing Booth 2'
Release date: Fall 2020
Starring: Joey King and Jacob Elordi, Joel Courtney
What it's about: After finally making their secret romance official, Noah (Elordi) heads off to college, leaving still-in-high-school Elle (King) juggling a new LDR, college applications, and a budding friendship with a new guy. Cue drama. Cue us watching.
...
For more stories like this, including celebrity news, beauty and fashion advice, savvy political commentary, and fascinating features, sign up for the Marie Claire newsletter (subscribe here (opens in new tab)).
Megan DiTrolio is the editor of features and special projects at Marie Claire, where she oversees all career coverage and writes and edits stories on women's issues, politics, cultural trends, and more. In addition to editing feature stories, she programs Marie Claire's annual Power Trip conference and Marie Claire's Getting Down To Business Instagram Live franchise.